This was an even-keeled Chris Holtmann. A pleased, even happy Chris Holtmann. But also a Chris Holtmann who didn't feel like going overboard.
And it was all intentional.
After coaching his Ohio State team to a 77-44 victory against Morehead State on Wednesday evening, the head coach called it a "good win." It improved the Buckeyes to 3-0 to start the season. But "most importantly," Holtmann said, he saw improvement from the game three days beforehand. Better connectedness. Better job running the offense through the paint. Better ball movement. Better play in transition. Better effort. Better leadership from seniors CJ Walker and Kyle Young. A better across-the-board performance.
That visceral game-to-game advancement, more so than most years, has to be a theme of this year's Ohio State team, which is the ultimate work in progress.
"Your focus has to be on progress, and your focus has to be on growth," Holtmann said. "I think you can't be consumed, at this point, with outcomes. I think if all we're driven by right now is outcomes, we all know we're judged on that, but at the end of the day it really does have to be about progress and growth for this group and bringing our bench guys along, our young kids along."
Three games into a season, no college basketball coach across the country would ever say they have a finished product on their hands. They're far, far too consumed with getting better on a daily basis.
But teams aren't created equal, and the Buckeyes certainly have a longer way to go to reach their ceiling than most.
"I don't think there's any question," Holtmann said. "I don't think there's any question that we are a work in progress more than, really, in any of our four years here together."
Gone is last year's leading scorer and rebounder, Kaleb Wesson. Gone is Andre Wesson, a two-year starting forward who averaged 30 minutes per game the past team seasons. Gone is two-year starting shooting guard Luther Muhammad. Gone is DJ Carton, a high-flying point guard.
There was a lot for the Buckeyes to replace, and the unconventional offseason did them no favors. Now the season has gotten underway, it's become increasingly clear that they need time before eventually peaking later in the season. 
It's a team filled with newcomers and guys in different roles, and the two injured players and the incoming freshman who hasn't yet enrolled only add to the mystery of what this team will look like in a few months.
The leading scorer through three games has been 6-foot-7 forward Justice Sueing (15 points per game) who is still trying to figure out how he best fits after transferring from Cal and sitting out last season. Young has been deployed as an undersized center who has some tough matchups ahead to prepare for while also working to expand his offensive game. Starting power forward E.J. Liddell just scored double-figures in his third straight game for the first time ever, underscoring the significantly increased role he has this season. 
Zed Key, a true freshman big man, was the first man off the bench for the opening two games, and fellow first-year wing Gene Brown is playing 13.7 minutes per game. Jimmy Sotos, a Bucknell transfer, fully intended to sit out this season until the Buckeyes applied for an immediate eligibility waiver and – after initially getting it denied – eventually had it approved. He fouled seven times before scoring his first points as a Buckeye, and it's clear he'll need some time to get used to this team. Justin Ahrens remains a wing in search of a steady rotation spot.
Duane Washington Jr. and Walker are asked to largely do similar things as they were last year, but Washington in particular has been charged with bettering his decision-making and efficiency.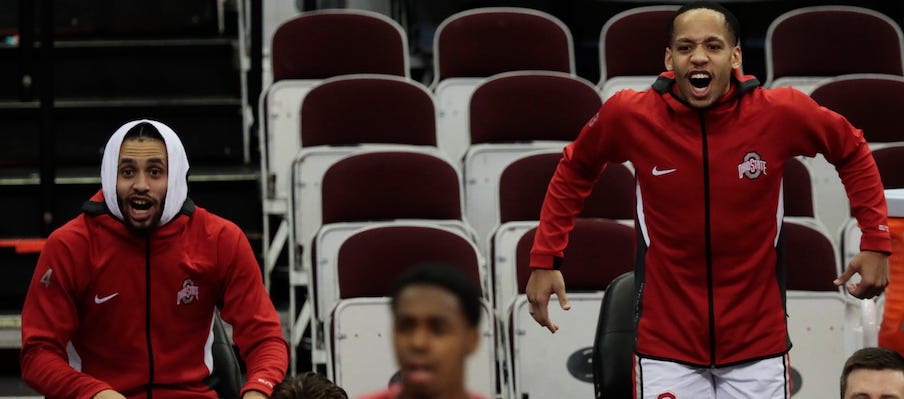 The three wild cards also exist in Seth Towns, Musa Jallow and Meechie Johnson. 
Towns, who's been sidelined for nearly 1,000 days since suffering a knee injury in the 2018 Ivy League championship game, warmed up for the first time on Wednesday but didn't make his long-awaited debut. Whenever that happens, he'll need some time to knock off the rust and nobody seems to know how long that'll take. Jallow's recent lower-leg ailment is the latest injury to beset him. Johnson will enroll at Ohio State in a week or two but likely won't play until January, and even then his contributions will be limited considering he's supposed to be in high school.
"More than any of our four years together, I think what has to define us as a group is gradual progress, because we're not there," Holtmann said. "We're not in the same place we were, we're just not quite as far along as maybe we were at this point last year. Some of that is health-related, and some of that is we have a sophomore who's certainly one of our best players, we have Justice who's new. I think a lot of that is a byproduct of some of that stuff."
Nobody watching the Buckeyes play so far should consider this close to what this team hopes to be once March rolls around. And if it looks the exact same in a few months, something would have gone wrong along the way.
So many new faces are on the court, and so many guys have stepped into spots with adjusted or increased responsibilities. Naturally, it'll take some time for Ohio State to coalesce, so Holtmann must ensure the players buy into what the coaches want to do on a daily basis to maximize this group over the coming months.
"We're probably playing a little bit more youth than maybe I thought we would play. So I think your focus has to be on a growth mindset," Holtmann said. "I've said that over and over, but that has to define this group. You can say that and as a coach lose sight of it really, really quickly. Quickly. You can talk about having a growth mindset and then as a coach you can get consumed and be outcome-focused. So you have to have discipline there as a coach and as a coaching staff because that has to be really the direction your players take from you."