Basketball season is just about here.
At 2 p.m. on Wednesday, Ohio State will take the court at the Schottenstein Center where it'll face off with Illinois State in the first of six non-conference matchups. Head coach Chris Holtmann joined the media on Monday to preview both the opener and the season as a whole.
A few important things to note from his Zoom press conference:
Impact Of One Positive Test
Illinois State will pull into Columbus on Tuesday, and upon arrival everybody who traveled with the team will get tested for coronavirus. The next day, well before the two teams are slated to tip off in the afternoon, they'll get tested again.
A positive test by anyone would mean the game "will not happen," per Holtmann.
"Both teams need to have clean tests the next couple days," he said. "Our training staff is in contact with their training staff and making sure that their tests are negative."
Both on Monday and at his virtual press conference 12 days beforehand, Holtmann said he doesn't expect to play every single game on the schedule. One of the reasons? The potential of cancelations stemming from a single positive test.
Ohio State, when putting together its abbreviated non-conference slate, ensured its opponents would be willing to abide by those testing and cancelation procedures.
"When we scheduled the game those were some of the conversations we had on the front end. That in order for us to play this game, this is what is going to have to happen," Holtmann said. "This is the Big Ten standard. So we have had those conversations with every non-conference opponent."
As of now, the Buckeyes will play four home non-conference games (Illinois State on Wednesday, UMass-Lowell on Sunday, Morehead State on Dec. 2 and Alabama A&M on Dec. 5), one on the road (Notre Dame on Dec. 8) and one in Cleveland (North Carolina on Dec. 19). The other 20 games will be against conference opponents.
Those Big Ten games might not be called off in the event of a single positive COVID-19 test.
"As far as I understand right now, because teams are under different testing protocols, that is really a non-conference decision. So conference games will be different," Holtmann said. "Because we're in regular testing as a program ourselves, I don't believe that that would necessarily mean our game would be off if we have one positive test on our side. I think it all involves contact tracing, as you're all well aware of, and limiting the spread and the concern about that, which I totally understand and respect."
Not Sure Yet
Musa Jallow hasn't played a college basketball game since Ohio State's March 24, 2019 second-round matchup with Houston. That represented the culmination of his sophomore season when he averaged 2.9 points, 2.9 rebounds and 0.7 assists in 15 minutes per game.
The 6-foot-5 wing hoped to take a leap as a junior during the 2019-20 season, but that never came to pass. Jallow required arthroscopic procedure on his right ankle before play began, then he had reconstructive ankle surgery in January.
Just a couple of days from the beginning of his redshirt junior season, Jallow's status remains up in the air.
"He'll be a game-time decision," Holtmann said. "He's making progress. We've been able to get him in more live work. It'll ultimately be a game-time decision with him in terms of his availability and the amount of minutes that we feel comfortable he can play."
If Jallow plays, he'll provide depth on the wing with his athleticism and defense-first mentality.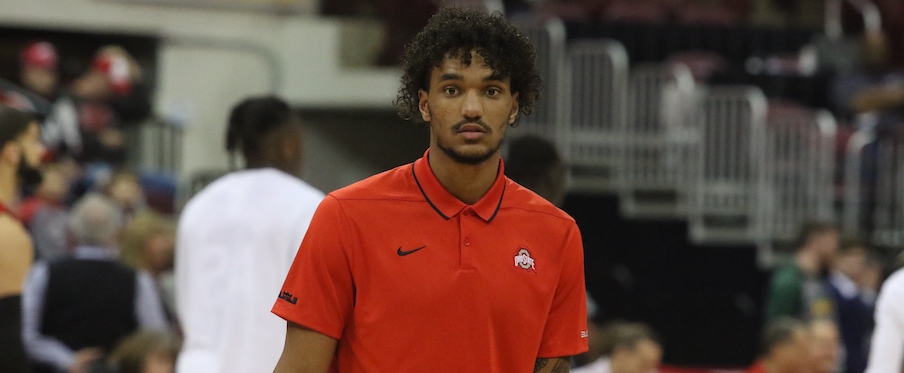 Latest update = No update
Seth Towns originally was set on suiting up for the Buckeyes by the time the season began, telling Eleven Warriors in June that he would "no question" be ready to go. The optimism at the time has since been replaced by the reality of the situation: He needs more time before getting back to action.
The Harvard graduate transfer will sit out the beginning of the season as his rehabilitation from multiple knee surgeries continues. Holtmann said he's "making progress."
"I couldn't tell you right now when we think he'll be ready to go in game action," Holtmann said. "He has done more in practice in the last couple weeks. We've begun to add him into some live action, but I couldn't give you a timeline right now."
Once he's back to playing in games, whenever that may be, Towns will likely need some time to work himself back into form. It's been more than two and a half years since the 23-year-old forward played a college basketball game. But the last time he did, he wrapped up a sophomore season in which he averaged 16 points, 5.7 rebounds and 1.8 assists in 27.9 minutes per game.
No Fans, No Families
Like the football team, Ohio State will not allow family members of players and coaches to attend basketball games. That policy remains in place through the remainder of 2020. 
Players got the news last week.
"They were disappointed, but they've moved on here quickly," Holtmann said. "I hope that at some point that will change and they'll be able to get their parents to come see them play."
Pro Talk
Jae'Sean Tate's NBA career has begun. Kaleb Wesson's could begin in the near future.
Tate, after beginning his professional career overseas, inked a three-year contract with the Houston Rockets. It's reportedly for just above the minimum salary. Wesson went undrafted last week and has begun looking for a team but hasn't made any decisions yet.
Holtmann was asked about both of them on Monday.
On Tate: "I don't have to say to anybody listening to this call how special of a player and a kid Jae'Sean Tate is. He embodies so much of what you want in a competitor, a teammate. He has taken a path that, if you go and you look at NBA rosters right now, you'll find guys that have been in the league for five, six, seven, eight years that have taken a similar path to Jae'Sean Tate, But it's usually guys like him that have the stuff that is required. He's got tremendous work ethic. He has NBA defensive versatility, there is no question. I'm thrilled for him. I just got done texting him. I love him as a kid. I think he's going to have a long career. He's going to have to prove it like everybody does. I'm 100 percent convinced he's going to have a long NBA career."
On Wesson: "There's no question in my mind that Kaleb can and will help an NBA organization. Not getting drafted, I think what most people understand now, can often be a better situation for young players because they get an opportunity to find a team that really does value their specific skillset. There is no question in my mind that Kaleb is going to really add his game, his skillset to an NBA organization that wants him. So I'm excited about that and have been in contact with his family the last couple weeks. They were given indications that he could potentially go down this road leading up to it. But he's in a really good place right now."