Everyone acts like they think they know what they're doing when it comes to March Madness, but I think that's a bunch of garbage. Every year, people pretend to have watched more than three and a half games of men's college basketball as they fill out their brackets like they're Nostradamus when in reality they're blindfolded lemurs with a dartboard.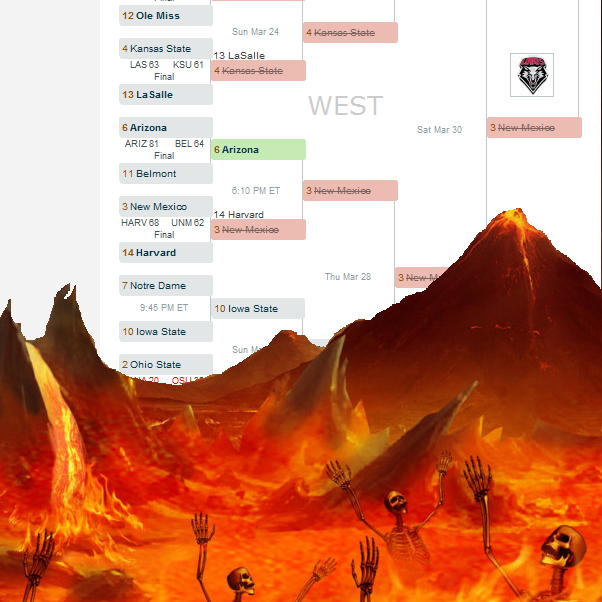 "Oh yeah, I've been following Seton Hall pretty closely this year, watch out for them out of the West with that 11 seed." You know nothing, you big doofus liar, you saw a 20 second highlight of them on SportsCenter and then read one of Lunardi's articles in early February. You'll get like 70% of the first round correct and then be cast down into the lake of fire with the rest of us heathens by the second weekend.
I have been historically awful at predicting what's going to happen in March Madness, but I embrace the insanity and have never pinned too many of my hopes on much of anything, and especially not the Buckeyes going out and winning a ton of games.
With one exception.
The 2010-2011 Ohio State men's basketball team was good. Really, really, really good. They had a legit superstar in Jared Sullinger, averaging 17 points and 10 rebounds a game. They had a solid number two guy in William Buford, capable of lighting up any opponent on a given night. They had a long range sniper in Jon Diebler, who had finally fulfilled his destiny and was hitting over 50% of his threes and adding 12 points a game. They had veteran leadership in David Lighty, a tough defender who had evolved into a decent offensive threat. Matta could rotate in players like Dallas Lauderdale, Aaron Craft, Deshaun Thomas, and hell, even Lenzelle Smith got some playing time.
It was as deep a team that Matta ever had, and after kicking ass in the regular season (they started 2010-2011 by winning 24 in a row) and taking home the Big Ten tourney trophy, they had earned their number one overall seed in the NCAA Tournament with a 32-2 record.
I was pumped, certain that this was as much a team of destiny as the 2006-2007 team seemed to be.
Then the brackets came out.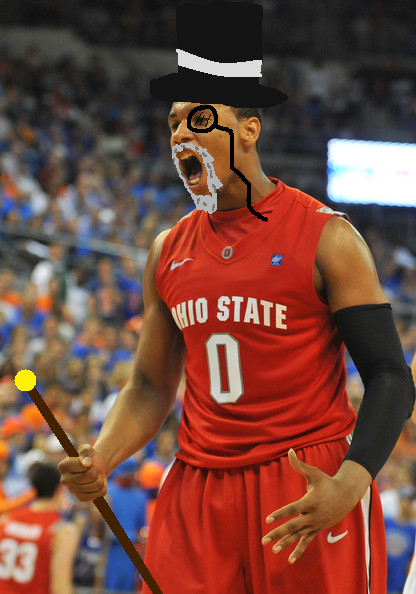 You can view the whole thing here, but the long and short of it was that Ohio State got utterly screwed. Despite being the overall No. 1 seed, they were put in a regional with a North Carolina team led by Tyler Zeller and Harrison Barnes, a Kentucky team with a nucleus one season away from a national title of their own, a Marquette team with Jimmy Butler and Jae Crowder, and a solid Syracuse squad that could trip up anybody.
The other No. 1 seeds had it easier, but the most glaring example was Kansas; the Jayhawks coasted to the Elite 8, in part because the highest seed to make that round besides themselves in the Southwest regional was 10th-seeded Florida State. And even then, they still didn't make the Final Four, because VCU and Shaka Smart was tearassing through the tournament.
Meanwhile, the Buckeyes made it to the Sweet 16 to face Kentucky, but narrowly lost 60-62 largely in part to a terrible shooting performance by Buford (although Aaron Craft scoring all of two points despite being on the court for 36 minutes shouldn't be overlooked, either). Matta and company had fewer turnovers, only one fewer rebound, and fewer fouls, but still couldn't generate enough offense to get them over the hump.
It was frustrating, annoying loss that taught us to never put our faith in any selector to do the right thing with it comes to tournament seeding, and also planted a seed in the back of our minds that maybe Thad Matta has some possible deficiencies as a head coach. But really, if it hadn't been Kentucky, it could've been any of those aforementioned teams. The Buckeyes simply had a tougher road to travel than what the other No. 1s were staring down, kind of defeating the whole "overall No. 1" thing in the first place.
The only silver lining to this was that ultimately the 2011 NCAA Men's Basketball Tournament was chaos for every No. 1 seed involved; none of them got past the Elite 8 and the champion was a No. 3 seed defeating a No. 8 seed in a game that had 56 total points. Oh, sorry, my mistake, it just felt like that. 94 total points.
For short-circuiting a fantastic season because of some really terrible seeding and forcing me to write about Air Bud, the 2011 NCAA Men's Basketball Tournament was The Worst.