Unless something unexpected changes, Ohio State has completed next season's roster.
Andre Wesson graduated, Kaleb Wesson has entered his name into the NBA draft pool for consideration, DJ Carton has chosen to transfer and Alonzo Gaffney is moving on. Chris Holtmann has added Seth Towns from Harvard and Zed Key and Eugene Brown III as incoming freshmen. The Buckeyes are also in the mix for transfer guards who would have to sit out next season, including Santa Clara's Trey Wertz and Wichita State's Jamarius Burton, who included Ohio State in his top-five on Thursday. But they're not targeting anyone with immediate eligibility right now.
Technically, Kaleb Wesson retains the option to stay in school for his senior season until June 3, but all indications are that he'll remain in the draft. With the assumption that he won't be back, we're diving into what Ohio State's roster will look like for the 2020-21 season.
Player-By-Player Analysis
CJ Walker (Redshirt Senior)
What he's done: Walker began his career at Florida State, playing 12.5 minutes per game off the bench as a freshman before entering the starting lineup to play 23.2 minutes per game as a sophomore. He then opted to transfer to Ohio State, where he sat out the 2018-19 season. Last year, he averaged 8.7 points and 3.5 assists in 29 minutes per game as the Buckeyes' starting point guard. Down the stretch with Carton away from the team, Walker found his groove, scoring at least 11 points in the final six games while also improving his assist-to-turnover ratio. 
Next season's outlook: As the only true point guard on the roster, Walker will enter next season as the team's most indispensable player. Given how rarely he sat out after Carton's departure last season, he should set a career high in minutes in 2020-21. A returning captain and someone Holtmann has constantly referred to as a future coach, Walker will run the show as a fifth-year senior. For the Buckeyes to reach their ceiling, they'll need him to continue his strong late-season play into his final year at Ohio State.
Kyle Young (Senior)
What he's done: The fourth-year senior big man played sparingly as a freshman, started half of the season as a sophomore then became a full-time starter as a junior. Young, standing 6-foot-8, averaged 7.5 points and 5.8 rebounds in 22.9 minutes per game last season. When healthy, he's shown an ability to impact games significantly with his hustle, physicality and rebounding. A 58.5 percent shooter as a junior, Young knows his role and sticks to it. He has battled lower-body injuries, though, in each of the past two seasons.
Next season's outlook: Not having Kaleb Wesson inside anymore would mean Young will likely start at center. It'll be quite a bit different for Young, who played alongside the big man the past three seasons, but Ohio State needs him to thrive in it. If he can expand his offensive game, potentially adding range to his shot, he'd become an even more important big man. Regardless, he'll be locked into a heavy-minutes frontcourt spot.
Seth Towns (Redshirt Junior)
What he's done: Towns hasn't played since March 2018, but the last time he stepped on the court he did so as the Ivy League Player of the Year. A 6-foot-7, 215-pound forward, he joins Ohio State as a graduate transfer from Harvard, returning home to Columbus. As a sophomore with the Crimson, he averaged 16 points and 5.7 rebounds per game while shooting 41.9 percent from the field and 44.1 percent from 3-point range. He was one of the top immediately eligible transfers on the market, choosing Ohio State over Duke and others.
Next season's outlook: Though he hasn't played in two years, Towns will immediately compete for a starting forward spot – provided he's healthy. He most recently had surgery on his left knee a few months ago, and he should be back to full health around June or July, but either way he's expected to have some degree of rust. A healthy Towns could become Ohio State's top 3-point shooter, and he also adds an ability to shoot off the bounce. First, he needs to get healthy. But provided that isn't an issue, Towns will be a major piece of the Buckeyes' 2020-21 plans.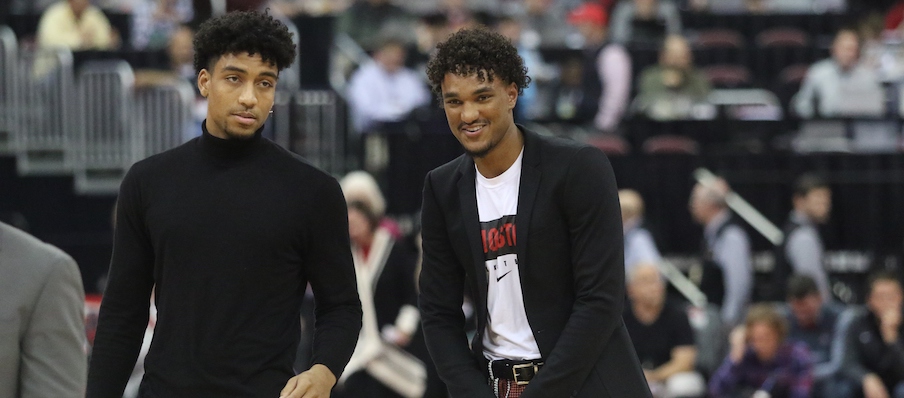 Musa Jallow (Redshirt Junior)
What he's done: After playing 68 games across his first two seasons, including 23 starts, Jallow sat out his junior year with an ankle injury. He had arthroscopic surgery shortly before the season began then had reconstructive surgery in January, which ensured he'd remain on the sidelines the rest of the season to take a redshirt. Jallow, in his first two years as a Buckeye, made most of his impact on the defensive end of the court. The 6-foot-5, 200-pound wing is one of the team's best athletes. Offensively, he's been a low-impact player, averaging 2.7 points in 14.5 minutes per game across both seasons.
Next season's outlook: Since Jallow didn't play last season and Ohio State's biggest strength will be its depth among wings and forwards, his possible role in 2020-21 is a bit unclear as of now. He'll have to both show he's healthy and that he serves minutes in a crowded group. His defense and athleticism will be the two aspects of his game that get him on the court soonest, but it won't be easy to stand out. He's one of six players between 6-foot-5 and 6-foot-7.
Justice Sueing (Redshirt Junior)
What he's done: Much like Walker was a year ago, Sueing has to be feeling a bit impatient. He had to sit out the entire 2019-20 season after transferring from California. As a Golden Bear, the 6-foot-6, 210-pound forward was second on the team in scoring as a freshman (13.8 points per game) before leading the team in points per game as a sophomore (14.3). He shot 43.3 percent from the field, 30.7 percent from 3-point range and 73.4 percent from the foul line while averaging 5.7 rebounds per game across both seasons. While sitting out of games this season, Sueing had foot surgery in January that Holtmann estimated would sideline him for three or four months.
Next season's outlook: All reports of Sueing's in-practice performance – prior to his injury – were overwhelmingly positive. He's expected to immediately offer a scoring punch in 2020-21, especially given his ability to get to the rim. As a sophomore, he shot more total free throws (165) than anybody on Ohio State's roster last season. He'll offer the Buckeyes a slasher they haven't had in recent years. Sueing could additionally play "point forward" at times to spell Walker.
Luther Muhammad (Junior)
What he's done: Muhammad's defensive prowess has made him a starter for 56 of his 64 career games. The lanky 6-foot-3, 185-pound shooting guard is widely regarded as the team's best perimeter defender. Offensively, he's been up and down throughout his career. His 2-point percentage increased as a sophomore (37.3 to 43.8), but his 3-point percentage dropped (37.5 to 34.7). For the second season in a row, Muhammad also went through a prolonged midseason shooting dry spell.
Next season's outlook: Given the importance Holtmann places upon defense, Muhammad has the edge to start at shooting guard beside Walker again as a junior. He's still expected to be the team's best defender of guards. However, since he'll again be a major part of the rotation, the Buckeyes will need him to take a step forward offensively. He wasn't any more impactful on that end of the court last season than he was as a freshman. 
Justin Ahrens (Junior)
What he's done: The 6-foot-5, 180-pound sharpshooter hasn't yet wedged his way into Holtmann's regular rotation. As a freshman, he averaged 3.2 points in 9.6 minutes per game, with most of his contributions coming down the stretch. An offseason back injury hindered Ahrens for the first half of his sophomore season, but he never found a consistent role, putting up 2.9 points in 10.1 minutes per game. Though he has shot 39.6 percent from 3-point range across both seasons, his defense has limited his playing time. He's also been a one-dimensional offensive player, with 106 of his 123 shots coming from behind the arc.
Next season's outlook: Since Sueing is eligible, Towns is joining the team and Jallow will presumably be healthy, Ahrens still doesn't have a clear path to playing time. Yet on a team that loses a pair of high-volume 3-point shooters in the Wesson brothers, his ability to rain triples could get him on the court. But ultimately Ahrens, who needs a healthy offseason after his back injury greatly hindered him last summer, has to improve his defense to become a larger part of the rotation.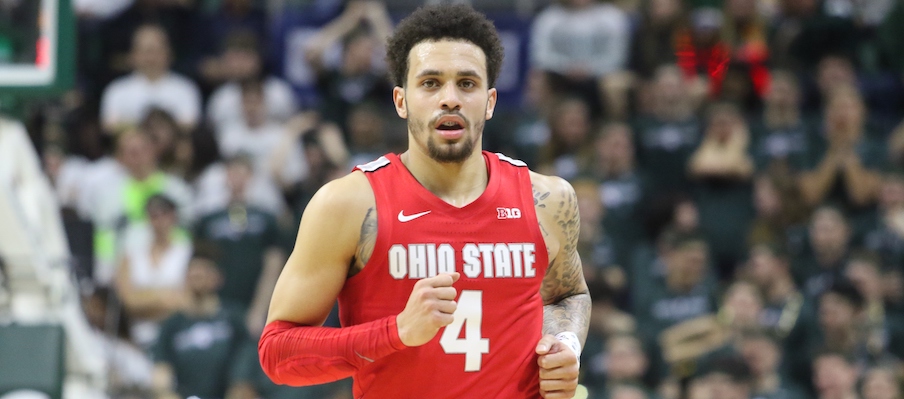 Duane Washington Jr. (Junior)
What he's done: Though he's been inconsistent between games and has had his fair share of struggles with shot selection, Washington turned into one of Ohio State's top offensive threats last season. After averaging seven points in 17.2 minutes per game as a freshman, he was second on the team with 11.5 points in 24.9 minutes per game. The 6-foot-3, 190-pound guard shot 40.3 percent from the field and 39.3 percent from beyond the arc. After DJ Carton began a leave of absence, he became the backup point guard.
Next season's outlook: Now an upperclassman, Washington will again be counted on for his scoring. To take the next step, though, he's got to find a way to shoot better percentages with a greater deal of consistency. He took at least eight shots while hitting below 40 percent from the field in 10 games last season. Two aspects of Washington's game – shooting and ability to run the offense – will be especially important in 2020-21. The Buckeyes are losing two 40-percent 3-point shooters, meaning he'll be arguably the top outside threat, and they'll also need him to serve as Walker's top backup at point guard.
Ibrahima Diallo (Sophomore)
What he's done: Though a redshirt looked like a possibility after he joined Ohio State late in the 2019 recruiting cycle, Diallo played in eight games as a freshman, recording 1.3 points and 1.9 rebounds in five minutes per contest. In limited action, he looked raw both physically and technically. He's not lacking any length, but he wasn't anywhere near as polished as he needed to be to play consistently in Big Ten games.
Next season's outlook: A long-term project, Diallo should have an uptick in minutes next season, but it's unlikely he becomes a regular in Holtmann's game-to-game rotation. To do that, he'd need to show quite a bit of improvement on both sides of the court. He'll likely impact games most with his length defensively and as a rebounder in 2020-21 since the Buckeyes will be relatively undersized in the frontcourt. While universally liked as a person within the program, Diallo still has a ways to go to become a consistent contributor.
E.J. Liddell (Sophomore)
What he's done: Recruited as a top-50 overall prospect out of Illinois, Liddell flashed incrementally throughout his freshman season, usually getting between 10 and 20 minutes off the bench behind Young. Down the stretch, the 6-foot-6, 236-pound power forward turned a corner. He dropped 17 points against Iowa, blocked five shots versus Nebraska and tallied 17 points and 11 rebounds to lead the Buckeyes to a win over Illinois, his home state team. He averaged 6.7 points, 3.8 rebounds and 0.9 blocks in 16.6 minutes per game.
Next season's outlook: For Ohio State to reach its potential in 2020-21, Liddell needs to go from being a solid role player to one of the team's best players. Likely shifting into a starting role, there's a decent chance he'll lead the Buckeyes in scoring next season. Whether he can do so will largely be reliant on him taking strides to expand his offensive game in the offseason. He shot 46.4 percent from the field and 19.2 percent from 3-point range as a freshman. Defensively, he's a punishing shot-blocker. But likely without Kaleb Wesson inside anymore, he'll be more relied upon as an interior defender despite being relatively undersized.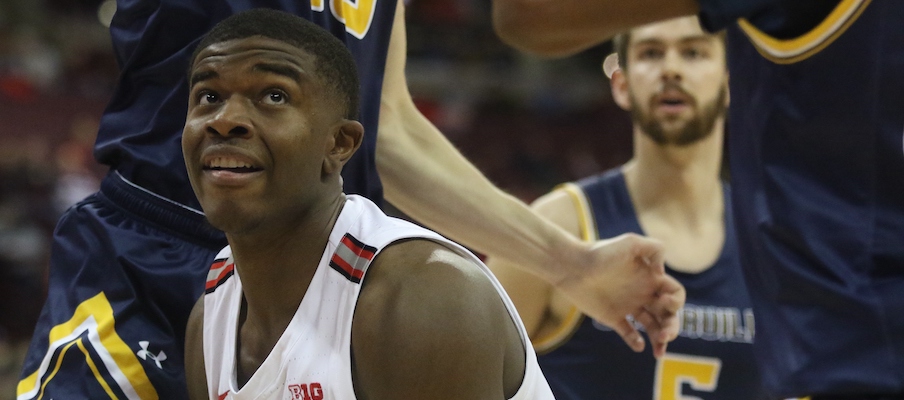 Zed Key (Freshman)
What he's done: Based largely on starring in June's NBPA Top 100 Camp that earned him more than one scholarship offer per day for a week-long period, Key went from a borderline top-300 overall prospect to the No. 154 player in his class. Ohio State got heavily involved, extending a scholarship then hosting him for an official visit in September. Less than two weeks later, the 6-foot-8, 230-pound forward committed to play for the Buckeyes.
Next season's outlook: On a team suddenly bereft of interior depth, the potential for Key to earn an important role as a freshman exists. He could play minutes off the bench as a backup power forward and center next season. A bit of a throwback big man, Key isn't flashy, but his touch around the rim, length and rebounding stand out. He'll be the closest comparison to Kaleb Wesson on the 2020-21 roster, provided the outgoing big man doesn't change his mind and stay in school.
Eugene Brown III (Freshman)
What he's done: A native of Georgia, Brown became an Ohio State target last summer with assistant coach Jake Diebler leading the charge. Shortly after an official visit in September, he announced his commitment, choosing the Buckeyes over Butler, Georgia, Georgia Tech, Texas A&M and Louisville. The 6-foot-6, 185-pound wing was the No. 113 overall prospect and 22nd-ranked shooting guard in his class.
Next season's outlook: Because of the depth at his position, Brown won't be expected to play a significant role as a true freshman. He happens to be entering the program at a time when Ohio State is chock full of wings. He does, however, offer an intriguing combination of 3-point shooting and defensive potential, which would be the reason why he manages to break the rotation or earn minutes in 2020-21.
Projected Depth Chart And Possible Rotation
Throughout his three years at Ohio State, Holtmann has shown a willingness to adjust his starting lineup throughout the season.
So, what am I going to do? Project which five players Holtmann sends onto the court to start next season in seven months. Seems easy enough considering, as we all know, nothing at all will change in half of a year.
Projected Starters

| POSITION | PLAYER |
| --- | --- |
| POINT GUARD | CJ WALKER |
| SHOOTING GUARD | LUTHER MUHAMMAD |
| SMALL FORWARD | SETH TOWNS |
| POWER FORWARD | E.J. LIDDELL |
| CENTER | KYLE YOUNG |
The biggest lock to start is Walker, the only true point guard on the roster who also played the most minutes last season among returning players. Young, a fellow senior, is a safe bet to slot in at center, as well. Provided Liddell takes the second-year leap most will expect of him, he should start in the frontcourt alongside Young.
That likely leaves two starting sports for four players: Muhammad, Washington, Sueing and Towns. 
As of now, Muhammad and Towns are the picks to join the others in the starting five. Muhammad gets the nod due to his defensive prowess, and Towns entering the opening lineup because of his shooting stroke. Washington and Sueing would offer a tremendous scoring punch off the bench in this scenario.
However it shakes out, those seven players – Walker, Muhammad, Washington, Sueing, Towns, Liddell and Young – will all be in Holtmann's rotation. Who will join them as regulars remains a bit of a question.
Jallow and Ahrens bring wildly different skillsets to the table, but they'll be competing with each other for somewhat limited minutes on the wing due to the depth at their positions. Inside, Ohio State will need either or both Diallo and Key to play at least semi-regularly given the lack of experienced big men. Brown is the easiest to project as the odd man out of the rotation simply due to the veteran wings littering the roster.