Steve Pikiell deserves all the credit in the world.
For so, so many years, it seemed impossible that Rutgers would ever turn into a legitimate contender. But as the Scarlet Knights (17-7, 8-5 Big Ten) prepare to take on Ohio State (15-8, 5-7 Big Ten) at 7 p.m. Wednesday at the Schottenstein Center, Pikiell's program both has a better overall record than the Buckeyes and is four spots higher in the Big Ten standings.
| Who | Where | When | TV |
| --- | --- | --- | --- |
| Rutgers (17-7, 8-5) | Schottenstein Center | 7 p.m. | BTN |
"Most of their group from last year's back – I think a lot of their rotation players," Chris Holtmann said on Tuesday. "So there's some consistency in year four with his program to where you have the kind of guys that he's wanted to recruit – big, long, really good athletes – and then he's always done a great job coaching them. I think the consistency of their roster has helped in a lot of ways."
The Scarlet Knights have lost two of their past three games and needed to mount a sizable comeback to top Northwestern in overtime on Sunday, yet they remain receiving votes in the Associated Press top-25 poll and are ranked 33rd by KenPom.
For Ohio State, which lost on Sunday at Wisconsin, Wednesday evening's showdown with Rutgers represents an opportunity to grab a quality win at home in the midst of a turbulent Big Ten portion of the season.
"I think we're a team that's still growing and still going through frustrations and yet also some really good moments, some really positive moments," Holtmann said. "I think we have guys that are going through the normal stuff you go through in a long season where you're playing really confident and then you kind of stub your toe and go through some things. I think it's the whole gamut."
Three Key Scarlet Knights
Geo Baker (6-foot-4, 185 pounds)
Baker's season-long numbers don't scream efficiency. He averages 10 points per game on 38 percent shooting from the field and 26.8 percent shooting from behind the 3-point line. Yet has he an uncanny ability to catch fire from the field, which is exactly what he did against Northwestern earlier this week with 25 points. 
Myles Johnson (6-foot-11, 255 pounds)
Only one player in the Big Ten – Purdue's Trevion Williams – has a higher offensive-rebounding rate than Johnson, Rutgers' big-bodied center. He'll be tough to keep off the glass. Johnson averages 8.7 points and 8.1 rebounds in 24.2 minutes per game. He also has had 1.6 blocks per game.
Akwasi Yeboah (6-foot-6, 230 pounds)
On a team bereft of quality 3-point shooters, Yeboah stands out. Knocking down 38.8 percent of his triples, he's been the only legitimate 3-point threat on his team the entire season. Nobody else shoots better than 30.4 percent from beyond the arc. It'll be important for Ohio State to keep Yeboah from heating up from deep.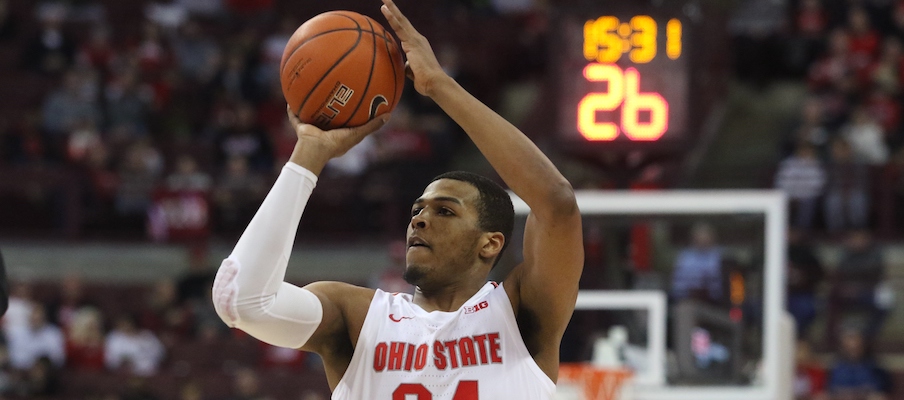 Three Key Buckeyes
Kyle Young
This is the type of game in which Ohio State needs everything it can get from Young, a scrapper and impactful rebounder who'll be challenged with Rutgers' physicality. Both he and Kaleb Wesson have to crash the boards against one of the Big Ten's top offensive-rebounding teams. Young averages 7.5 points and 5.8 rebounds per game, though he played fewer than 20 minutes in two of the past three games. 
CJ Walker
Against statistically one of the best defenses in the country, it'll be up to Walker to run the show on offense. He has averaged 34.3 minutes in the three games since DJ Carton began his leave of absence, and it's unlikely that he plays fewer than 30 minutes in any upcoming game. Walker went 2-for-8 from the field in Sunday's loss to Wisconsin and had three turnovers compared to two assists. Ohio State will need more from him against Rutgers and beyond.
Kaleb Wesson
Wesson followed up his best all-around performance of the season against Michigan with an inefficient game in the loss to the Badgers. He also picked up two fouls in the first half, leading to a run from Wisconsin. Versus Rutgers, a team that thrives defending inside the arc, the Buckeyes – who don't have an abundance of offensive options who can score in the paint – need Wesson to make his presence known down low.
Three Numbers To Know
Adjusted Defensive Efficiency
Whenever Holtmann talks about how he evaluates his team, he references efficiency rather than per game statistics, so it's fair to count him impressed with Rutgers' defensive metrics. The Scarlet Knights have the 10th-best adjusted defensive efficiency in the nation, which also ranks second in the Big Ten behind only Maryland.
Offensive Rebounding Percentage
For the duration of Pikiell's tenure, Rutgers has ranked within the top 50 nationally in offensive-rebounding rate, and that has continued this season.
The Scarlet Knights rank 30th in the country with an offensive-rebounding percentage of 33.6. Johnson, who leads the team in all categories on the glass, has the 18th-best individual offensive-rebounding rate in the nation. 
3-Point Percentage
We've heard this story before, right? A team about to face Ohio State hasn't shot the ball well from beyond the arc at all this season. Too often, those types of opponents have put up some of their best marks of the season. Rutgers, which ranks No. 331 in the nation with a measly 3-point percentage of 29.1, will try to do the same. The team has only one player – Yeboah (37 percent) – who has hit more than 30 percent of his 3-pointers this season.
Still, Ohio State's defense has been an antidote for poor opposing 3-point percentages, so it's hard to count out a one-night-only renaissance for Rutgers from behind the arc.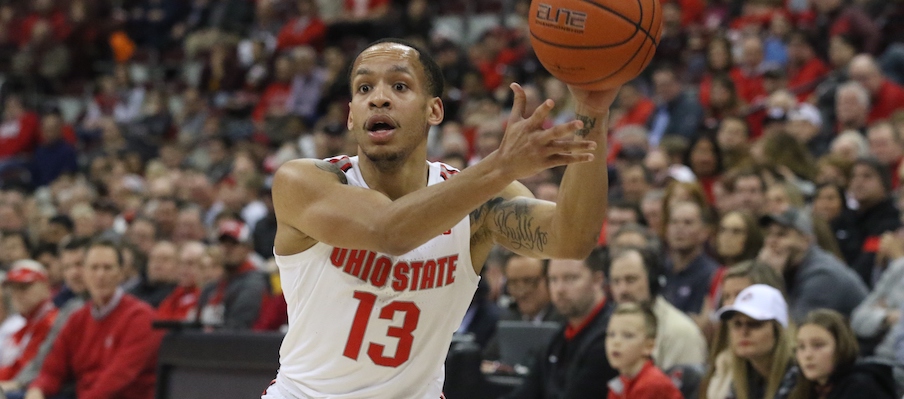 Other Notes
Rutgers has played significantly better at home than on the road in the Big Ten. It's 1-4 on the road in conference game games, and it lost a neutral-site game to Michigan.
Holtmann says Rutgers has been a top-25-30 team this season: "That's been clear and obvious, really throughout the year."
Holtmann on Sunday's loss to Wisconsin: "That was probably the most disappointing thing collectively with us the other day, and I take responsibility for it, I just don't think we responded to the adversity of the game very well."
Holtmann on the limitations of Kyle Young and Luther Muhammad in practice due to injury precautions: "I think some of the lack of practice time has probably impacted Kyle more than they have Luther."
Holtmann on whether Ibrahima Diallo is an option: "He's got to continue to get better. He's always an option – I think we saw maybe in the Minnesota game – and he's getting better in practice. He needs to stay ready. I'm not saying we will use him or won't use him, but he needs to stay ready."
Luther Muhammad on his injuries that he has played through: "I'm going through shoulder injuries. It's really just maintain and continue to do rehab every day, strengthening my shoulders and really making sure I ain't doing really too much extra or anything that may jeopardize it, as far as practicing. And also I had back spasms before the Northwestern game, so I've really just been maintaining that as well. It's really just being loose and ready for the games, for practice and just being ready to go and ready to work hard."
How It Plays Out
This is a game Ohio State should win. But the same was said before the Buckeyes dropped home games to Wisconsin and Minnesota in January. Holtmann's bunch is a 5.5-point betting favorite, per Bovada, and is projected to win by six points, according to KenPom's metrics. 
Yet we're picking a Rutgers win on Wednesday night. The Scarlet Knights have an effective, physical defense that will force Ohio State to vary its attacks in ways it has struggled with. They don't have a particularly dangerous offense, though, especially from the outside, so Wednesday's game could turn into a slog.
Prediction: Rutgers 64, Ohio State 62