In early January, Indiana beat Ohio State at Assembly Hall for the first time in four years. It was an ugly game as the Buckeyes shot just 33% from the field. It was Ohio State's fourth loss in as many games. 
Last Saturday, with Indiana in Columbus for a rematch, it was a different story. D.J. Carton had recently announced that he was stepping away from the team for mental health-related reasons, leaving the Buckeyes without their second-leading scorer for the foreseeable future, but Ohio State went on to earn a much-needed win over the Hoosiers anyway.
While the victory was mostly a team effort, Justin Ahrens was the top contributor off of the bench. Ahrens has struggled to find minutes for much of the year, averaging just over 10 minutes per game while playing in 16 of the Buckeyes' 21 games. His defensive issues have been well-documented, but as a shooter, he has the ability to shift the trajectory of a game.
Ahrens does not need the ball much to be efficient. The sophomore from Versailles, Ohio, is third on the team in three-point shooting percentage (40.5%) and has only taken four two-point shots this season. His usage rate of 15.2% is the second-lowest on Ohio State's roster, yet his offensive rating is the third-best on the team.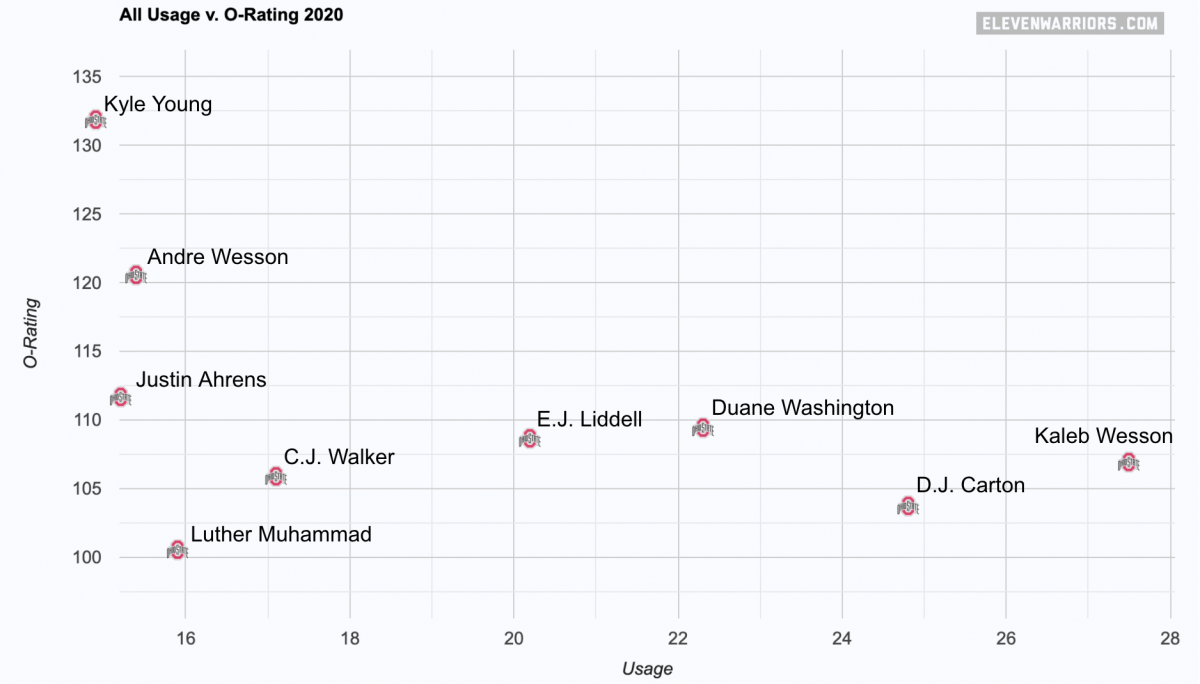 Continuing, Ahrens consistently takes shots in the flow of the offense, with all but one of his baskets this season and all of his three-pointers coming off of assists. 
The mark against the sophomore has been his defensive deficiencies, but Ahrens' defensive rating is only marginally lower than Duane Washington's. Like Washington, Ahrens is worth the burst of offense when he is placed in defense-first lineups, such as those that include Kaleb Wesson and Luther Muhammad. 
With D.J. Carton taking a leave of absence, it is the perfect time for someone outside the starting five to earn minutes and contribute. Ahrens, who has had his best two games of the season in the last nine days, is pushing to be the first wing off the bench.