A dominant November. An impressive December. An abysmal January.
Welcome to déjà vu in Columbus.
For the second year in a row, Ohio State's men's basketball team opened up its season with a strong performance in the non-conference portion of the schedule, shot up in the polls and proceeded to follow that up with an utter collapse in January. Almost poetically, for the second straight season the Buckeyes will enter February with a 13-7 overall record, having lost six of their past eight games and sitting outside of the Associated Press top-25 poll.
Chris Holtmann never likes in-season NCAA tournament bubble talk, and once again he never could have suspected in mid-December that it would be a narrative just a month and a half later. But such a collapse requires a deeper look at Ohio State's standing as it turns toward February with 11 games remaining in the regular season.
The Bracket Projections
Morale among Ohio State fans following the past eight games couldn't get much lower. It's worth noting, however, that every single NCAA tournament expert that releases a bracket throughout the season currently has the Buckeyes in the field of 68.
ESPN's Joe Lunardi? A No. 8 seed. CBS Sports' Jerry Palm? A No. 9 seed. Bleacher Report's Kerry Miller? A No. 8 seed. SB Nation's Chris Dobbertean? A No. 7 seed. Stadium's Tim Krueger? A No. 9 seed. The Washington Post's Patrick Stevens? A No. 9 seed.
Bracket Matrix is arguably the most useful NCAA tournament projection website. Rather than using just one person's opinion, it combines a boatload of brackets and takes the average of the seeds to create an aggregate bracket. Ohio State is a No. 8 seed on Bracket Matrix, and it has an average of an 8.04 seed among the brackets used, ranging from a No. 6 seed on 11 brackets to a No. 11 seed on three of them.
Most importantly, all 98 brackets cited by Bracket Matrix have the Buckeyes in the NCAA tournament field right now.
If every bracketologist has Ohio State on the right side of the bubble, that indicates the Buckeyes aren't even on the bubble yet. They'd have to continue their downslide for those debates to begin.
These projections would, of course, change should they continue to lose winnable games down the stretch. But as the field currently stands with the calendar flipping to February, Ohio State is in.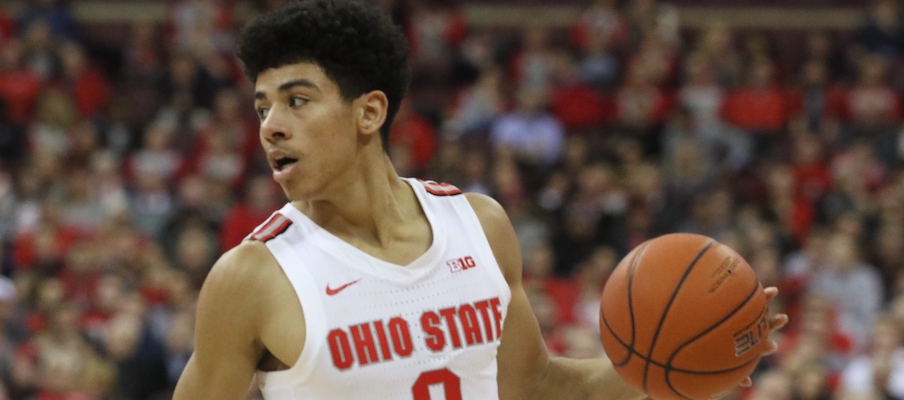 The Résumé
What Ohio State did in the first month and a half of the 2019-20 season props up an unsightly 3-6 Big Ten record. Also, it has a few solid wins and perhaps most importantly, has avoided any catastrophic losses.
In the Quadrant system, which ranks victories and defeats within four categories, the Buckeyes have three Quadrant 1 wins and no Quadrant 3 or Quadrant 4 losses. The trio of victories came against Villanova and Penn State at home and Kentucky at a neutral site, and the five losses to West Virginia at a neutral site and Maryland, Penn State, Minnesota and Indiana on the road all came in Quadrant 1 games.
The non-conference wins against Cincinnati and North Carolina are both viewed as Quadrant 2 victories. The Buckeyes' only non-Quadrant 1 losses so far happened in the past month when Ohio State dropped home games to Wisconsin and Minnesota. In both of them, the Buckeyes lost by fewer than five points.
In all Quadrant 3 games (Northwestern, Kent State) and Quadrant 4 games (Nebraska, UMass Lowell, Purdue Fort Wayne, Morgan State, Stetson, Southeast Missouri State), Ohio State came out victorious. Winning those gives the Buckeyes a bit of a cushion.
The team's average NET win is against the No. 162 team and its average NET loss has come versus the No. 31 team.
Per the Team Sheets released by the NCAA on Tuesday, Ohio State at the time was No. 19 in NET rankings, No. 41 in KPI, No. 12 in BPI, No. 12 in KenPom, No. 32 in Sagarin and had the No. 36 strength of record. It also had the 57th-best strength of schedule in the country.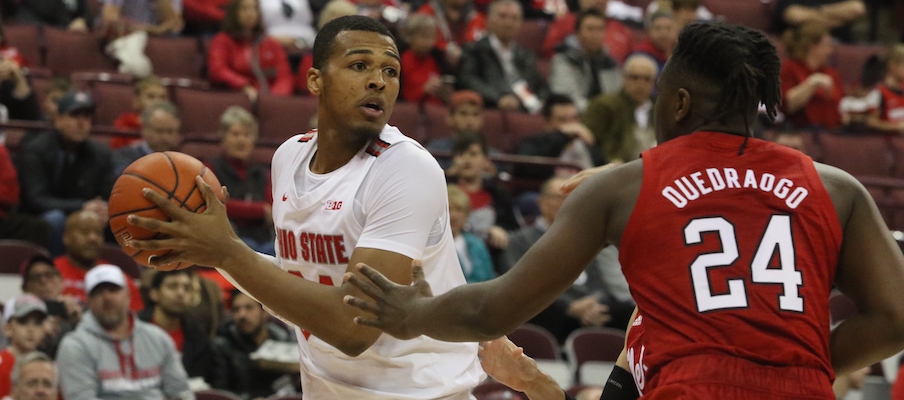 The Road Ahead
To make the NCAA tournament, Ohio State doesn't have to turn into the team that AP top-25 voters ranked No. 2 in the nation in December. 
Just a year ago, the Buckeyes also rocked a 13-7 record entering February and had an all-around worse résumé with fewer impressive early-season victories. They proceeded to go 5-6 in their final 11 regular-season games, won one game in the Big Ten tournament and secured an 11 seed in the tournament. 
Ohio State can't completely collapse down the stretch. But it has more wiggle room than some believe.
Of the final 11 games of the regular season, six of them are Quadrant 1 games, four are Quadrant 2 games and one is a Quadrant 3 game. It doesn't have any more Quadrant 4 games remaining. 
The Big Ten tournament, which is impossible to project right now, caps it all off. That shouldn't be discounted, though, since there's a chance the Buckeyes would've missed last year's NCAA tournament had they lost to Indiana in the conference tournament.
Here's the breakdown of the remaining regular season games:
Feb. 1: Indiana at home (Quadrant 2, No. 47 in NET)
Feb. 4: Michigan on road (Quadrant 1, No. 35 in NET)
Feb. 9: Wisconsin on road (Quadrant 1, No. 32 in NET)
Feb. 12: Rutgers at home (Quadrant 1, No. 21 in NET)
Feb. 15: Purdue at home (Quadrant 2, No. 38 in NET)
Feb. 20: Iowa on road (Quadrant 1, No. 20 in NET)
Feb. 23: Maryland at home (Quadrant 1, No. 14 in NET)
Feb. 27: Nebraska on road (Quadrant 3, No. 166 in NET)
March 1: Michigan at home (Quadrant 2, No. 35 in NET)
March 5: Illinois at home (Quadrant 2, No. 31 in NET)
March 8: Michigan State on road (Quadrant 1, No. 8 in NET)
The problem with the remainder of the schedule? The Buckeyes face a bunch of well-regarded opponents that'll be tough to beat. The benefit of that? There are many opportunities ahead to impress the selection committee and only one remaining game against a truly bad team.
Without knowing how the rest of the field will shake out or how the selection committee views the Buckeyes compared to how outside experts rate them, it's unrealistic to give a foolproof evaluation of what they have to do to make the NCAA tournament. A few games, though, stand out as especially important.
Home matchups currently viewed as Quadrant 2 games against Indiana, Purdue, Michigan and Illinois are winnable. So, too, is the Quadrant 1 home game with Rutgers. As has been the case all season, going on the road within the Big Ten and returning home victorious is difficult, so the Buckeyes – and their 1-4 in-conference road record – need to take advantage of games at the Schottenstein Center in ways they didn't with their close losses to Minnesota and Wisconsin.
To avoid a worst-case scenario, Ohio State can't afford to lose its only non-Quadrant 1 or 2 game remaining. That'll come against Nebraska on the road on Feb. 27. An upset that evening would unequivocally be the worst loss of the season for a team that hasn't dropped a game to a team ranked lower than No. 47 in the NET rankings. For comparison, the Cornhuskers are No. 166 in NET.
Beating Nebraska and winning at least four of the other 10 games doesn't exactly scream "This team needs to make the NCAA tournament." But Ohio State went 5-6 in the final 11 games last season before winning a game in the Big Ten tournament to make the field of 68. Doing so again in February and March this year would likely again be enough for a bid. 
Down the stretch, the Buckeyes don't exactly have to blow the world away to get in. They just have to do enough.
That path begins against Indiana on Saturday, when the Buckeyes have a chance to secure their most impressive win since beating Kentucky on Dec. 21.