January games in the Big Ten never rise to must-win status.
But given how Ohio State (12-7, 2-6 Big Ten) has performed over the course of the past month, its road tilt with Northwestern (6-12, 1-7 Big Ten) on Sunday evening is pretty dang important. A loss to the Wildcats in Evanston, Illinois, would tie the Buckeyes at the bottom of the Big Ten with Northwestern and Nebraska, the two teams that entered the season picked to finish in the conference's cellar. Needless to say, that would be a disaster, and talk of them missing the NCAA tournament would pick up.
| Who | Where | When | TV |
| --- | --- | --- | --- |
| Northwestern (6-12, 1-7) | Evanston, Illinois | 6:30 p.m. | BTN |
Ohio State's latest loss, the sixth in the past seven games, came in demoralizing fashion by three points at home versus Minnesota on Thursday.
"We've just got to take it on the chin and get to the next game," Kyle Young said after the loss. "The game's over. There's nothing we can do about it now. We play Northwestern on Sunday, so we've got to get back to prepping for them."
Luckily for Young's team, Northwestern has been as bad as expected this season.
The Wildcats enter Sunday with a 6-12 overall record and 1-7 mark in the Big Ten. Their only conference win came two weeks ago when they topped the Cornhuskers by five points at home. To their credit, they lost by only four points on the road at both Indiana and Illinois, but they haven't won any other Big Ten game yet. Since beating Southern Illinois University Edwardsville on Dec. 15, Northwestern holds a 1-8 record. 
What does a completely movable object do against a stoppable force? We'll find out Sunday night.
Three Important Wildcats
Miller Kopp
As a 6-foot-7, 210-pound sophomore forward, Kopp hasn't wasted any time turning into Northwestern's top offensive threat. He leads the Wildcats with 13.3 points per game, hitting 42.1 percent of his shots from the field, 40.7 percent of his 3-pointers and 86.4 percent of his free throws. Kopp has scored at least 12 points in each of the past eight games, hitting at least two triples in all of them. It'll be pertinent for the Buckeyes to prevent him from getting open looks from behind the arc.
Pat Spencer
Nobody in the Big Ten has a more unprecedented path to basketball than Spencer. Before becoming a starting guard for Northwestern, he was the nation's best lacrosse player at Loyola University Maryland, winning the Tewaaraton Award and becoming a four-time All-American. After getting picked first overall in the 2019 Premier Lacrosse League Draft, he decided to make a graduate transfer to play basketball for the Wildcats.
Despite an untraditional path, the 6-foot-3, 205-pounder turned into an impact player, averaging 11 points, 3.9 assists and 3.7 rebounds in 27.9 minutes per game. On a bit of a hot streak, he has scored at least 14 points in five of the past six games. Spencer's prone to turnovers, though, coughing the ball up 2.7 times per game.
Ryan Young
In a conference filled with high-level centers, Young fades into the background. But at 6-foot-10 and 235 pounds, the redshirt freshman will challenge Kaleb Wesson in the interior. He put up 9.9 points and grabs 6.4 rebounds in 26.7 minutes per game. With only three made 3-pointers and three blocks, Young is a classic low-post center who doesn't protect the rim with much length. That's an area the Buckeyes should attack.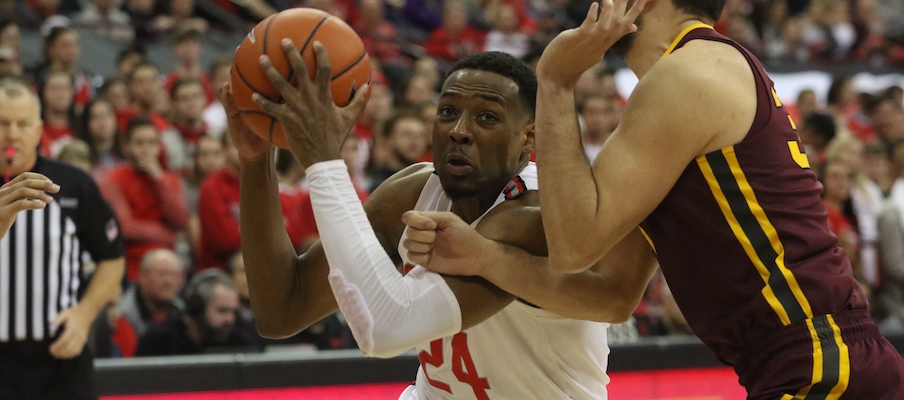 Three Important Buckeyes
Kaleb Wesson
Against Minnesota, Wesson had a difficult matchup against Daniel Oturu, a blossoming center who could soon turn into a first-round NBA draft pick. The junior minimized Oturu's offense, allowing only 11 points, a few of which came on high degree-of-difficulty shots. While Wesson's defense thrived, though, he couldn't get much offense going, making 1-of-10 shots.
Against Young, Wesson has a prime opportunity to have a bounce-back scoring performance. The Buckeyes will try to get him going early.
Andre Wesson
Since Northwestern doesn't exactly have a deep roster of efficient scorers, keeping Kopp in check will be pertinent. That could be the elder Wesson's responsibility. Should he get tapped to cover Kopp, Wesson will be one of the most important two-way players of the game. On offense, he needs to continue his prowess from beyond the arc – hitting 46.7 percent of his 3s – because the rest of his team has struggled from deep.
DJ Carton
With Kaleb Wesson in an advantageous matchup, Carton could have some opportunities to play off of the big man. Northwestern also forces turnovers and steals at one of the lowest rates in the nation, so Carton should be free to operate without giveaways being an overwhelming fear.
Three Numbers To Know
Turnover Percentage
Northwestern doesn't force many turnovers, but it also doesn't turn the ball over on offense. Ohio State doesn't fare well in either metric, sitting outside of the top 200 nationally in both statistics. 
The Wildcats ranks 25th in the country in their own turnover rate, able to control the ball well. Spencer is their only player with a turnover rate greater than 20.7. For comparison, Ohio State has four players – Alonzo Gaffney (36.4), DJ Carton (26.8), CJ Walker (23.5) and Kaleb Wesson (21.2) – with turnover rates higher than 20.7. Northwestern ranks 314th in opposing turnover rate, meaning it's not a team that will put loads of pressure on the Buckeyes' guards.
Effective Field-Goal Percentage
Shooting metrics don't look kindly upon Northwestern. 
Adjusted field-goal percentage: 48.1 (232nd-best)
Two-point percentage: 47.8 (221st-best)
Three-point percentage: 32.4 (208th-best)
Of the team's eight players who average at least 18 minutes per game, only two of them – Kopp and Robbie Beran – shoot better than 33.3 percent from beyond the arc.
Free-Throw Rate
The one area from which the Wildcats thrive as shooters? The free-throw line. There, they have hit 75.6 percent of their shots, the 43rd-best mark in the nation. 
The problem? They rarely get to the stripe. Northwestern ranks 281st in the country with a free-throw rate of 28.1. Ryan Young leads the team with 3.9 free-throw attempts per game.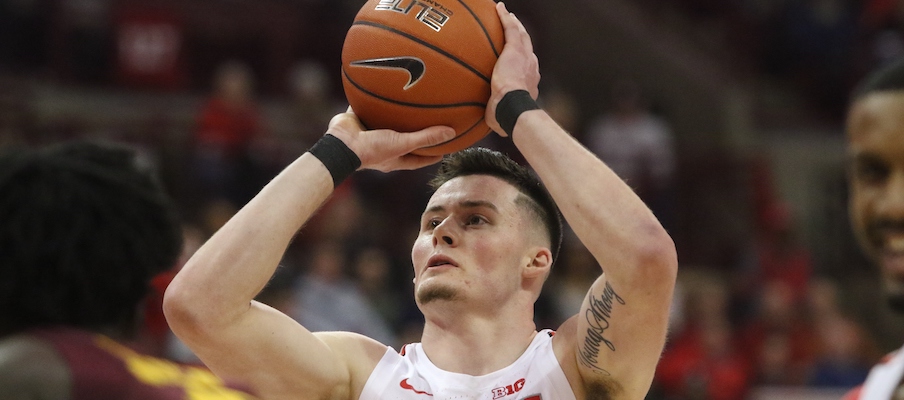 Other Notes
Ohio State has a 119-47 lead in the all-time series with Northwestern, including a 49-32 lead in Evanston.
Boo Buie, a freshman guard, is one of three Northwestern players to average at least 10 points per game. He missed most of January with a fractured left foot but returned in his team's most recent game – a 77-66 loss to Maryland on Tuesday – and is expected to play on Sunday.
How It Plays Out
Is Ohio State a more talented team than Northwestern? Yep. Should Ohio State beat Northwestern? Definitely. After seeing Ohio State lose winnable games over the past month, does it feel a bit foolish to pick the team to beat Northwestern? Yes, but I'm going with it anyway. If anything, it's a reflection on how poorly the Wildcats have played this season.
Northwestern has a rudderless offense and the second-lowest adjusted defensive efficiency in the Big Ten. If Ohio State's an NCAA tournament-worthy team, it'll win on Sunday.
Prediction: Ohio State 68, Northwestern 64