Ohio State's first game against Penn State of the 2019-20 season might not have been the peak of the opening two months, but it was right up there.
Facing the Nittany Lions (12-5, 2-4 Big Ten) on Dec. 7, the No. 21 Buckeyes (12-5, 2-4 Big Ten) rolled to a 106-74 victory, cracking 100 points for the first time since 1991, well before every current player was born. Everything seemed to go their way in Columbus. They shot 57.4 percent from the field and 53.8 percent from beyond the 3-point arc, hit 81.1 percent of their 37 free-throw attempts, had a 37-25 rebounding edge and committed only nine turnovers.
Ahead of the second Ohio State-Penn State matchup, this one coming in University Park, Pennsylvania, on Saturday afternoon, Chris Holtmann made sure to say he expects the next game between these two teams to play out quite differently.
| Who | Where | When | TV |
| --- | --- | --- | --- |
| Penn State (12-5, 2-4) | Bryce Jordan Center (University Park, Pennsylvania) | 12 p.m. | ESPNU |
"It was very much an outlier," Holtmann said on Friday. "Fourteen made 3s is an outlier in college basketball in general. That's certainly not something that our guys at this point after they've been through a difficult stretch, I think they understand that. But I'll remind them, for sure. yesterday we focused on a lot of our cleanup stuff, but certainly I'll remind them that it was an outlier. The reality is we're going to face a completely different Penn State team than the one we saw in December."
Both teams have spent the better part of the past few weeks trying to get back on track.
Ohio State finally ended a four-game losing streak by beating Nebraska at home on Tuesday, and even in that game the team had Duane Washington Jr. and Luther Muhammad out with suspensions. They'll be back on Saturday.
"It was always, in my mind, probably going to be a one-game suspension," Holtmann said. "I just wanted to kind of think through it a little bit more, to be honest with you. Have a little bit of additional conversations. That was always my intent."
Penn State is on the verge of losing its fourth game in a row. The Nittany Lions have dropped consecutive games to Rutgers, Wisconsin and Minnesota, falling out of the Associated Press top-25 poll.
Regardless of the recent struggles, Holtmann's preparing for a strenuous game.
"Got another really tough road game against a really good Penn State team," Holtmann said. "I think it's probably in a lot of ways our biggest challenge of the year to date given how we have struggled there in the past, how good they are. (They're) tough. They're a spirited group, well coached, athletic. Stevens is obviously an extremely difficult matchup. They're certainly going to be hungry, I'm sure, for revenge. We need to have good preparation here."
Three Important Nittany Lions
Lamar Stevens
It's rare that Penn State has one of the best players in the Big Ten, but that's the case right now. Lamar Stevens, a 6-foot-6, 225-pound senior forward, will be in contention for a first-team All-Big Ten selection at the end of the year once again. He averages 16.1 points, 7.1 rebounds and 2.4 assists in 29.4 minutes per game.
Izaiah Brockington
If there's any non-Stevens player that Ohio State fans remember from the first game between these two teams, it's probably Izaiah Brockington. The 6-foot-4, 200-pound sophomore guard led his team with 19 points off the bench. He's had notable fluctuations in his production this season, but if he's on, he can be hard to stop.
Myreon Jones
On a team bereft of 3-point shooting, Myreon Jones stands out. The 6-foot-3, 175-pound sophomore guard is the only player averaging at least five points per game who shoots better than 30 percent from 3-point range. He hits 39.4 percent of his triples, averaging 13.9 points per game.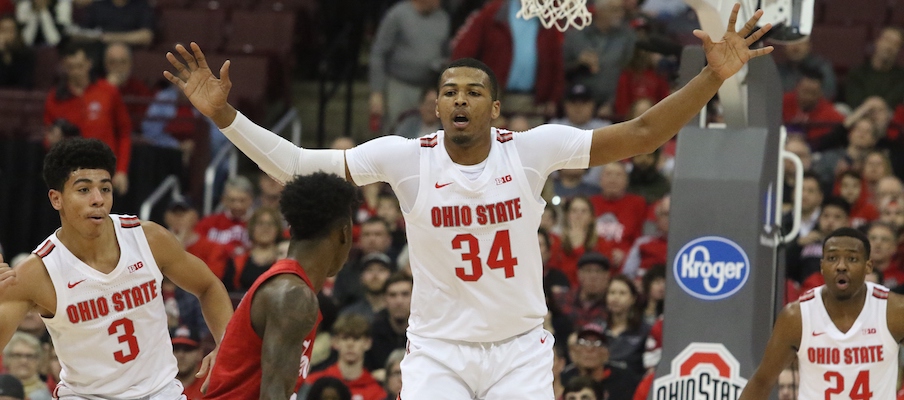 Three Important Buckeyes
Kaleb Wesson
In the first game between these two teams, Wesson thoroughly dominated Mike Watkins and the rest of Penn State's frontcourt, scoring a season-high 28 points and grabbing 10 rebounds. He doesn't need to put up those numbers again, but having an efficient game in one of the key individual matchups of the afternoon will be important for Ohio State.
Duane Washington Jr.
The last time Washington played Penn State, he was in the middle of his early season stretch of hot shooting. That died down in the games before his suspension, and now he'll try to relocate his offensive rhythm. The Nittany Lions will test his defense and physicality, but on the other end it's important for Ohio State that Washington finds a way to score efficiently.
Andre Wesson
Nobody has been more consistent recently than Wesson, the team's sole senior who averages nine points and 3.9 rebounds in a team-high 28.1 minutes per game. He has scored in double figures each of the past three games, and he might need to do so again on Saturday.
Three Numbers To Know
3-point Percentage
Though Penn State has the 41st-best adjusted offensive efficiency in the nation, per KenPom, its 3-point percentage leaves much to be desired. The Nittany Lions have hit only 30.7 percent of their shots from beyond the arc, the 276th-best mark in the country. Considering Ohio State ranks third in opponent 2-point percentage and 120th in opponent 3-point percentage, those rates actually play into the Buckeyes' hands.
Steal Percentage
Ohio State has struggled with turnovers this season, and though it only coughed the ball up nine times in the first matchup between these two teams, that's an area to watch on Saturday. Penn State ranks 29th in the country, getting a steal on 11.8 percent of opponents' possessions. Six players on the team average at least one steal per game.
Block Percentage
Penn State doesn't have an abnormally tall team, but it ranks 12th in the country with a block on 15.5 percent of opponents' possessions. Much of that can be attributed to Watkins, who averages 3.2 blocks per game. 
Other Notes
Alonzo Gaffney has been held out of practice in recent days with a knee injury. Chris Holtmann said on Friday that they do not yet know the severity of it. He's not expected to play against Penn State.
Ohio State leads the all-time series with Penn State, 36-17, and has a 13-9 edge on the road.
Chris Holtmann is 2-3 against Penn State in his three years as Ohio State's head coach. All three losses came in his first season after getting hired. He's 0-1 when facing the Nittany Lions on the road, losing 79-56 on Feb. 15.
How It Plays Out
No one quite knows how this game will go. Bovada has Ohio State as a one-point favorite, and KenPom and Bart Torvik – statistics-based sites – give Ohio State a one- or two-point advantage. Based on both teams' past month, that's a reasonable level of uncertainty.
We're picking a slight victory for the Buckeyes, who should be rejuvenated with Washington and Muhammad back. They match up well against Penn State's offense, which does most of its damage inside the arc, and they're able to score against they Nittany Lions, as they showed in December.
Prediction: Ohio State 69, Penn State 65