We're still months away from Ohio State opening up fall camp. The Eleven Warriors offseason mailbag is here in the meantime to help bridge that gap, answering your burning questions about both football and basketball.
Will Tuf Borland and Pete Werner hold off their competition and keep their starting jobs? Will there be LB by committee? Will you walk on to show them how it's done? — Sanantonefan
Werner's starting spot at strongside linebacker appears relatively safe. He held off K'Vaughan Pope throughout spring practice. However, it's worth noting that when Ohio State deploys the Bullet, Werner will typically be the player coming off the field. He had just 30 fewer snaps than Malik Harrison last season, but I suspect that gap will widen in 2019.
Borland's spot is much more interesting. Both Teradja Mitchell and Baron Browning are gunning for snaps at middle linebacker, and since Borland missed most of spring practice with a knee injury, Al Washington hasn't coached him much on the field. I suspect all three linebackers will have some sort of role, but Ohio State hasn't given much of an indication of what they'll be. If you made me guess right now, I'd project Borland to start but rotate with his backups situationally.
And, uh, you don't want me applying to the NCAA for another year of eligibility. Let's leave those memories of playing right guard in high school in the past where they belong.
Does Kaleb Wesson come back a beast? — KBonay
He certainly could, and Ohio State's coaches hope he will. If Wesson can turn into a first-team or second-team All-Big Ten center, both the floor and ceiling of Ohio State will continue to rise.
He put up 10.2 points and 4.9 rebounds in 20.7 minutes per game as a freshman, then he averaged 14.6 points and 6.9 rebounds in 25.9 minutes per game as a sophomore. There's no reason to think those numbers will continue to rise in Year 3, though the Buckeyes will have more scoring options in 2019-20, which means he won't be as heavily relied upon on offense. 
Among the keys to his offseason: continue to learn how to play without fouling, improve strength and explosiveness, improve his conditioing for the second year in a row (doesn't necessarily mean lose weight since he can use his size to his advantage) and work on finishing around the rim. 
Nebraska football and basketball...buy or sell? — Hovenaut
Buying football stock. Scott Frost is the real deal.
Dabbling in basketball stock, but not going all in. I want to see Fred Hoiberg's Nebrasketball in action first.
Which starter from the Urban Meyer years would make the best future college football coach? — Mastro16
Can't go wrong with Terry McLaurin for this answer.
Few players have commanded such respect as McLaurin, a two-time team captain. He's both personable and intense. Intelligent and tough. Thoughtful and fearless. Good luck trying to find anyone around Ohio State's program to say a bad word about him.
Let me toss in another under-the-radar candidate: Tuf Borland. The fans might have not enjoyed his play at times last season, but there's a reason why he'll have a chance to become the second three-time team captain in Ohio State history by the time his career ends. He commands respect.
Can players jump in the transfer portal anytime (year-round) or is there a date that the transfer portal closes for the year? What is your over-under for the amount of Ohio State players jumping into the transfer portal for the rest of the year? — Keze
Yes, players can hop in the portal at any point in the year. Don't think there will be a ton before the calendar year ends, so I'll set the over-under at two.
How deep does the rotation go next year in basketball, will we get 9 or 10 guys meaningful minutes every game? — RollRedRoll
Welcome to possibly my biggest question of the basketball offseason: How will Chris Holtmann figure out how to rotate this group?
Those who will definitely be in the rotation: DJ Carton, CJ Walker, Luther Muhammad, Duane Washington Jr., Andre Wesson, Kyle Young, E.J. Liddell and Kaleb Wesson. Those are eight players who each could hypothetically average at least 18 minutes per game. 
Musa Jallow and Justin Ahrens were role players last year, and they'll likely need to work to earn consistent playing time in 2019-20. The roles of freshmen Alonzo Gaffney and Ibrahima Diallo have yet to be determined.
It's feasible that Holtmann goes nine or 10 deep each game, with some combination of Jallow, Washington, Ahrens, Gaffney and Diallo playing based on matchups. Keeping everyone happy won't be an easy task for the coaching staff.
How many football scholarships do you expect to be available in 2020? Take a swing at players declaring early. — Hetuck
Ohio State will have 18 seniors this fall: Damon Arnette, Jordan Fuller, Binjiman Victor, Austin Mack, Chris Chugunov, Jashon Cornell, Rashod Berry, K.J. Hill, Jonathon Cooper, Malik Harrison, Justin Hilliard, Liam McCullough, Davon Hamilton, Joshua Alabi, Robert Landers, Branden Bowen, C.J. Saunders and Jonah Jackson. Technically, Kevin Woidke is also currently on scholarship, but we won't count him until we know whether he'll remain on scholarship this fall.
Underclassmen surprise every year. Someone who no one is currently even considering as an early entrant seemingly always leaves, and vice versa. But let's make a many-months-early projection anyway.
Chase Young is the obvious answer. Might as well put him with the group above. He's gone after his junior season. I'll pick J.K. Dobbins and Jeffrey Okudah to leave early, too. The pair of Texans will only be third-year players in the fall, but they've both shown NFL-quality play already. 
After them, it's tough to have any level of certainty. I'll make two more picks, though: Thayer Munford and Shaun Wade. There hasn't been much talk about Munford, but despite injuries, he played well as a first-year starting left tackle. Wade will have a sizable enough role in 2019 to consider leaving early.
Other darkhorse candidates include Luke Farrell, Wyatt Davis, Brendon White, Baron Browning and Josh Myers, but I'm picking all of them to return in 2020.
So, not accounting for transfers and other attrition, that's 23 open scholarships.
How do you think the coaching staff is meshing, and how improved do you think our defense will be this year? Also, what is your guess for Fields' final stat line for the season? — Outdoorbuckeye
Hard to tell how they're meshing since they've only coached together for 15 spring practices, but there weren't any obvious red flags.
The most interesting coaching dynamic was how the defensive staff split its time. Larry Johnson, of course, took control of the defensive linemen. Al Washington coached the linebackers, but he was frequently joined by Greg Mattison. At times, they split the position up into inside (middle and weakside) and outside (strongside and Bullet) linebackers, and they flip-flopped who coached each of them. Jeff Hafley and Matt Barnes coached the cornerbacks and safeties. They split time with each position group.
The defense as a whole should be noticeably improved. The defensive line, despite losing Dre'Mont Jones, returns Chase Young to lead a deep front. The linebackers, all of whom returned, should collectively improve. With Jordan Fuller, Jeffrey Okudah and Damon Arnette all back in the secondary, the defensive backfield has talent. And, of course, the defense underwent a scheme change. 
Early Fields stats? I'll toss out 3,500 passing yards and 800 rushing yards with 34 passing touchdowns and nine rushing touchdowns.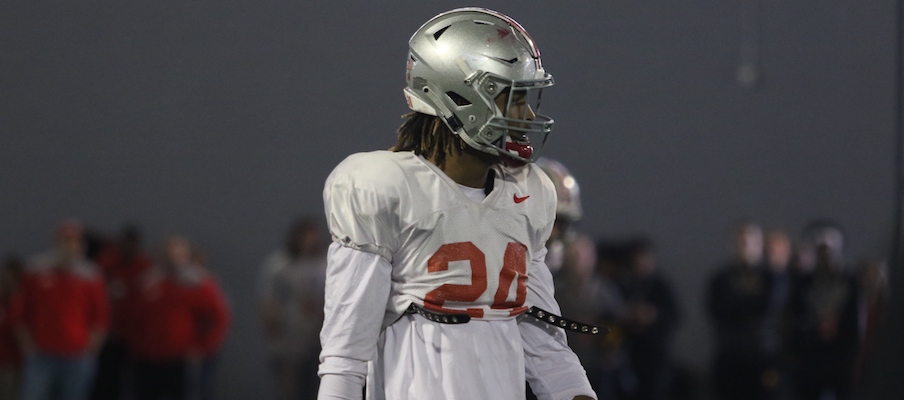 Rank these players in order of defensive snaps played next season: Wade, Proctor, Browning, Mitchell, T.Smith, Harrison, Vincent, Togiai — Minnbuck
First off, I love this question. 
Let me give you my list of projected snaps from most to least, and then I'll explain my reasoning: Shaun Wade, Tyreke Smith, Teradja Mitchell, Taron Vincent, Baron Browning, Tommy Togiai, Zach Harrison.
To me, the first one's easy. Wade has the potential to play a ton of snaps because he can play three different positions, and he's a third-year player who has made steady strides. No reason to think he shouldn't be relied upon even more as he continues his development in 2019. He'll have a healthy dose of playing time at nickelback, cornerback and safety.
Though both Chase Young and Jonathon Cooper remain, Smith will have a significantly increased role, which is why he's slotted second. Ohio State needs a consistent pass-rusher to pair with Young, and Smith looks like he could fill that.
Things begin getting much, much more complicated after Wade and Smith. Mitchell, Vincent and Browning could end up in any order and it wouldn't surprise me.
Al Washington couldn't stop gushing about Mitchell this spring, so it would be hard to imagine him not having some sort of role on defense. Vincent will rotate at 3-technique, and he could even start. And who knows with Browning. He has spent the past year working at middle linebacker and was ahead of Mitchell on the depth chart this spring, but he hasn't reached the lofty potential of a top-10 overall recruit.
Togiai, on most teams, would be much higher. Widely regarded as the strongest player on the team, he's ready for more snaps. But he happens to play the same position as two experienced fifth-year seniors — Robert Landers and Davon Hamilton. Expect him to be in line for a starting gig in 2020. But this fall, he'll be limited.
Harrison brings up the rear. He's a physical specimen, but Ohio State doesn't lack depth at defensive end, and Larry Johnson won't force too much responsibility on him. 
What has been your favorite story to cover this past year? Or what has excited you the most on either the football team or hoops squad?  What has left you scratching your head? — HotSauceCommittee
My personal favorite story: Talking to the three Olentangy Orange students who pulled off the broadcast of Zach Harrison's commitment. In this job, you naturally talk to a lot of powerful folks in the sports world. But the pure joy of three high school kids who took such a thrill in retelling one of the best days of their lives is unmatched.
Most exciting? Every Ohio State fan that has wanted their team to play tough non-conference matchups has to love what Chris Holtmann has put together. Cincinnati, Villanova, Kentucky, West Virginia and an ACC opponent yet to be named. The early season marquee matchups will feature the Buckeyes' four freshmen, too.
To answer the final part of your question, I still don't quite understand the Greg Mattison hire. Sure, he has more college football experience than anybody else Ryan Day could have hired as co-defensive coordinator, and he has experience as a defensive coordinator. But at 69 years old, he seemed content sticking as a position coach at Michigan until retirement.
Mattison is a respected recruiter, but not a top-notch recruiter. He's a well-regarded defensive coordinator, but likely not a game-changer. Many people view his strongest suit as being a position coach — specifically as a defensive line coach — but he's not coaching a singular position at Ohio State. A few months after the hire, I'm still questioning Day's move.
What's the more likely trap game for the Bucks in 2019? Is it (A.) @ Nebraska 9/28, (B.) @ Northwestern 10/18, (C.) @ TSUN 11/30 or (D.) None of the above. Buckeyes don't do trap games. — GrandTheftHarley
Well, it certainly isn't D. And I wouldn't go with C either, since that's not exactly a trap game – not when you devote an entire subset of drills to that single opponent for the entire year.
Nebraska, Northwestern and Maryland are the three games I'm looking at as trap games.
I'll pick the Cornhuskers with the qualifier that by the time Ohio State plays them, they might not even be eligible to be labeled a trap. Seemingly everyone has their eyes on that one, including me.
With Kaleb Wesson announcing that he is returning, is this year's basketball team a top-15 team to start the season? Where do they end? What are reasonable expectations? — BuckeyeBen7.7
Nope. Not top 15 to begin the year. I imagine the Buckeyes will slot around 20-25 to open the season, though there's a chance the voters leave them out since they'll be heavily relying on newcomers. 
I expect Ohio State to finish among the top five teams in the Big Ten, and I believe any finish below would be a bit of a disappointment. Michigan State will enter the season as the clear conference favorite, but the Big Ten isn't overly deep, especially with John Beilein leaving, recent injuries, transfers and NBA early entrants. 
Is Ibrahima Diallo ready for a backup role at center? — Blackcoffee
Not if you're expecting him to provide more than just a few minutes per game in year one. He's extremely raw, and despite his 7-foot frame and 7-foot-8 wingspan, his playing time will likely be limited as a freshman. Since he's a defense-first player at this junction in his career, that aspect of his game will determine how much Holtmann and the coaches can rely on him in the 2019-20 season.
Who is the most underrated football and most underrated basketball prospect that OSU is looking at in the 2020 class? And why? — Ddeck25
Tough for me to answer the football portion of the question since I haven't been covering that in-depth. Among the signees, Craig Young intrigues me. He was ranked No. 610 overall in 2019, but he's a high-level athlete for a three-star prospect. He'll start his collegiate career at linebacker but could really end up anywhere on defense. 
Among basketball prospects, Donovan "Puff" Johnson fits that label. The 6-foot-7 wing is the No. 102 overall prospect, though he'll likely rise in the near future. Ohio State extended an offer on April 28, when he began rising as a prospect. Since then, he's picked up a flurry of offers, including one from North Carolina where his brother Cameron played.
Johnson knows what he's good at – scoring – and doesn't deviate. His left-handed release from beyond the arc looks as smooth as anyone his age. Considering he blew up in the recruiting scene in the past couple of months, he'll be a difficult pull for the Buckeyes. But if they pull it off, Johnson would give them a multi-level bucket-getter.
Will Urban Meyer ever coach again? — Todd-Not Boeckmann
You sick of this question already? Hope not, because it's not going away any time soon, especially with Urban Meyer joining Fox's pregame show on Saturdays this fall.
Here's the truth: no one knows. Not me. Not you. Not Ryan Day. Not Gene Smith. Probably not even Meyer, himself.
So, do I think he'll coach again? Don't know. Let's first see if he can fill that competitiveness and desire to be great at something with another job or activity. If he can't? I wouldn't rule out heading to the sidelines again.