The first time Jake Diebler took a job at Ohio State, it was fair to question whether he took a step backward in his career trajectory.
After spending two seasons on Bryce Drew's staff as one of the youngest assistant coaches in the country, he left Valparaiso in 2013 to join Thad Matta's program as a video coordinator, taking both a pay cut and a reduction in the importance of his responsibilities. But he made the move to learn from Matta, inhaling everything he could from one of the most successful coaches in program history.
No one wondered whether Diebler made the correct decision in 2016, when a three-season stint in Columbus ended and Drew hired him as an assistant coach on his inaugural coaching staff at Vanderbilt, putting him on the bench at an SEC school.
Diebler lasted three seasons in Nashville, Tennessee, before Drew was fired and the coaching staff was let go. Out of a job, he began "aggressively looking" for his next opportunity. That led to "some really good conversations" with other programs about open positions.
Two weeks after Diebler was sent into unemployment, Elon hired Mike Schrage, opening a spot on Chris Holtmann's bench. Seventeen days later, Holtmann announced Diebler as Schrage's replacement.
He's already back at the flagship university in his home state of Ohio.
"If you'd have told me six months ago or a year ago or three years ago that, hey, you're going to be back at Ohio State at this point, I would have said, 'Sounds nice, I know my wife would really like that,'" Diebler said on Thursday. "But in this profession, you don't get to draw it up. You don't get to just say, 'At this point in my career, I'm going to be here, and at this next point, I'm going to be here. I think in the back of my mind, we always felt like Ohio State would be a great place to be at, regardless of whatever point you're at in your career.
"So I didn't anticipate being back here (so quickly). But I've learned that God does work in mysterious ways and to never doubt or question when he makes something obvious to you and reveals something for you."
Diebler, who starred at Upper Sandusky before playing at Valparaiso, was born in and grew up in Ohio.
"I believe in everything that this place stands for. I think it is one of the very best universities in the world. So, from a recruiting standpoint, from my perspective, recruiting's the fun part because I get to tell people about how special this place is."– Jake Diebler
His father, Keith, coached high school basketball in Ohio for more than 40 years. One of his brothers, Jeremiah, also coached high school basketball in Ohio. His wife, Jordyn, attended Ohio State, and the couple has a 13-month-old daughter named Jaymes.
Oh, yeah. Don't forget the other Diebler.
"I have a relative who was an OK player here, as well," Diebler said with a smile.
Of course, he was referring to Jon, colloquially known as Threebler. Jon set the Ohio state high school record for most career points, and he developed into a knockdown shooter for the Buckeyes in the Matta era.
"This is home," Diebler said. "I think there's something to be said about when you have an opportunity to return home and do what you love with the people that you love and around people that you love and that you're close with. I think it's special. So, yes, to say I'm excited and to say my wife is excited and my family is excited I think is an understatement, as many of you could imagine. But nevertheless, I think it's something to express because it really is a blessing, it is an honor to be here. We view it that way."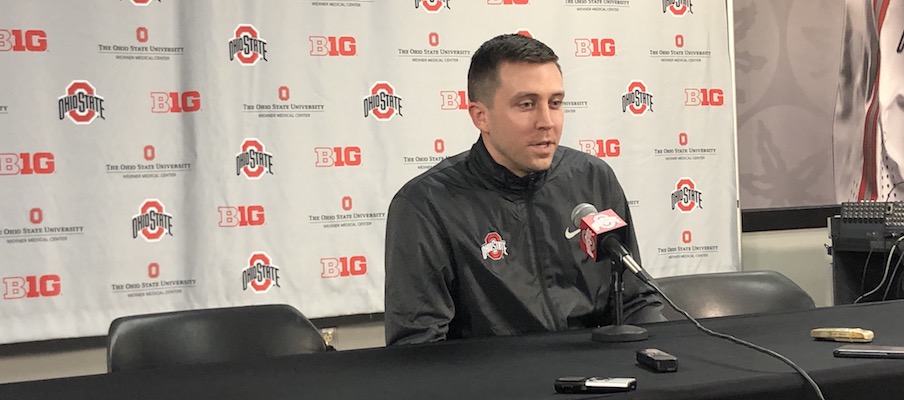 Prior to this offseason, Diebler didn't know Holtmann much. He had popped his head into the Schottenstein Center a couple times to catch Holtmann running practice, and he saw the head coach when he worked out his brother and a few other former players, but that was "probably the extent of it."
Despite a relative unfamiliarity, the opportunity to work for Holtmann played a role in Diebler's decision to return to Ohio State.
He watched from afar as the Buckeyes bucked low expectations for a pair of successful seasons in Holtmann's first two years. In the 2017-18 season, Diebler saw the Holtmann-led team finish second in the Big Ten, and it consisted of a few key players whom he had relationships with.
"When coach Holtmann came in and you still had guys like (Jae'Sean Tate) and Keita (Bates-Diop) who I had relationships with, it was like, 'Let's get this thing going,' and they did really quickly," Diebler said. "So that was great to see. And again, part of that's from a fan perspective. But I do think, yeah, it was hard personally to see what coach Matta went through toward the end, but it was great to see also the quick turnaround."
Diebler called the opportunity to work on Holtmann's staff a "no-brainer," intimating he would have strongly considered coaching with him even if he wasn't at Ohio State.
Now on Holtmann's staff along with Ryan Pedon and Terry Johnson, Diebler said he doesn't know his specific responsibilities yet. At the moment, he said he's focusing on finding where he'll be best utilized on the previously compete staff.
"I think I've had an ability to relate to guys and relationship-building, which I think is beneficial in recruiting and beneficial in connecting with the current teen," Diebler said. "That's an area I think I've excelled at so far in my coaching career. And player development and those type of things that not only do I think I've done well, but I love doing, too."
He was the lead recruiter at Vanderbilt for Darius Garland, a likely top-10 pick in the 2019 NBA Draft. Diebler's already-built relationship with four-star wing Keon Johnson played a major role in Johnson including Ohio State among his three finalists.
Now, for the first time as a full-time assistant coach, the Ohioan has a chance to recruit for the Buckeyes.
"I believe in everything that this place stands for," Diebler said. "I think it is one of the very best universities in the world. So, from a recruiting standpoint, from my perspective, recruiting's the fun part because I get to tell people about how special this place is. I think that to work somewhere that you believe in so much can only enhance your ability to recruit, in my opinion."