There's a chance Daniel Giddens' Buckeye career could get a second life.
The former Ohio State big man transferred from the program following the 2015-16 season, ultimately landing at Alabama. Now, after a redshirt and two playing seasons with the Crimson Tide, Giddens is on the move again as a graduate transfer, and is reportedly considering a return to Columbus.
Hearing Giddens is likely visiting #OhioState this week https://t.co/6Nl1ZMRUQZ

— Alex Gleitman (@alexgleitman) April 1, 2019
A return to the program from which he transferred three years ago would be odd and is certainly not common, but it's not unprecedented. There are actually quite a few examples of a player returning to his original school following a transfer, especially in recent years.
Murphy Holloway transferred from Ole Miss to South Carolina following the 2009-2010 season to be closer to his family during difficult circumstances, but his heart always remained with the Rebels. Holloway ultimately never played a minute for the Gamecocks, and transferred back to Ole Miss after his family issues were resolved, playing his final two seasons of eligibility with the Rebels.
There's also Brandon Reed, who transferred from Arkansas State to Georgia Tech in 2010 after he was named Freshman of the Year in the Sun Belt. Reed played two seasons with the Yellow Jackets before returning to Arkansas State as a graduate transfer.
Donnavan Kirk might be the most high-profile example. After two seasons at Miami where he didn't contribute the way he expected, Kirk transferred to to DePaul where he played extensively and improved his game before returning back to Miami as a graduate transfer his senior season.
"I am a lot stronger than when I came in to Miami as a freshman," Kirk said, according to State of the U. "My body is better. I am more intelligent. I have learned so much about the game. I am a better shot-blocker and a better shooter. I made a lot of strides in my game at DePaul. But I still have a lot of strides to make."
It even happened as recently as this season when Michael Gilmore returned to VCU for his final season of eligibility. Gilmore left VCU after his sophomore season in 2016, transferring to Miami where he was dismissed six months later for "failure to meet team expectations." Gilmore then enrolled at Florida Gulf Coast, where he played one season in 2017-18 before going back to VCU as a graduate transfer for the 2018-19 season.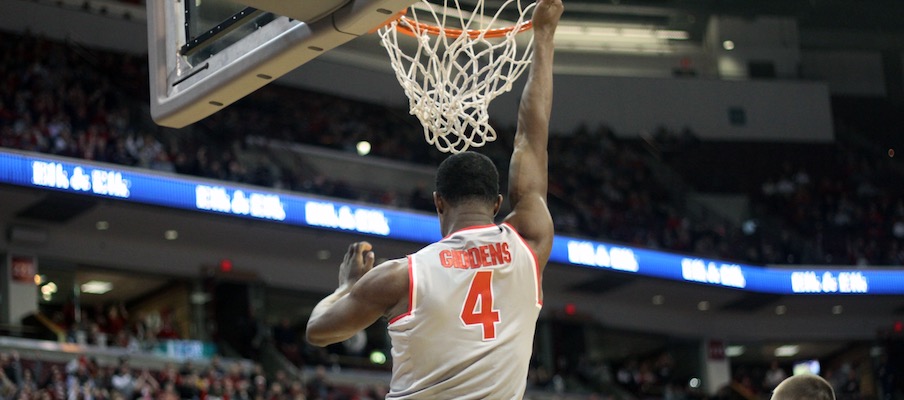 Every situation is unique, but there are plenty of examples of successful reunions if Giddens does decide to return to Ohio State, and that reunion could make sense for both parties.
With the transfer of Jaedon LeDee, the Buckeyes do need more depth in the post to complement Kaleb Wesson, and they need someone who can contribute immediately. While Ohio State continues to pursue 7-foot incoming freshman Ibrahima Diallo, Giddens would offer a level of polish and experience that Diallo would not.
As for Giddens, he's searching for a place where he can crack the rotation contribute immediately and finish his college career strong. And he liked Ohio State as a program and a school enough to choose to go there out of college, it makes sense he'd like it enough to want to return.