Justin Ahrens has heard the message over and over from Chris Holtmann.
"Coach always emphasizes move on to the next play," he said after Ohio State's 90-70 win against No. 22 Iowa on Tuesday.
Make a 3-pointer, like he did six times on Tuesday? Move on. Turn the ball over? Start thinking about the next play.
With 4:30 remaining in Tuesday's game, Ahrens tossed a lazy cross-court pass toward Keyshawn Woods that never reached its intended recipient's hands. Isaiah Moss batted the ball out of the air, corralled it and began a one-man fast break with the intention of cutting Ohio State's 11-point lead to single digits. But as Moss rose up to slam the ball threw the rim, Andre Wesson leapt and swatted the ball out of his hands.
No sir!

It's Andre Wesson with the rejection at the rim, and @OhioStateHoops has No. 22 Iowa on its heels: pic.twitter.com/rW2ioYFQ6m

— Big Ten Network (@BigTenNetwork) February 27, 2019
The idea of moving on to the next play suddenly seemed foreign to Ahrens.
"Really when I saw that I was like," said Ahrens, dropping his jaw to mimic his amazement in the moment, "Like he just pinned it above the glass right by the square. That was a critical play in the game for us. They could've got momentum off that layup and got another steal maybe. You never know."
Chris Holtmann, who admitted "it was getting tighter there," called the rejection a "huge momentum play." Yet Wesson's play that led to a 12-3 run to end the game was just a footnote in a win the Buckeyes needed so desperately.
Ahrens dropped a career-high 29 points, equalling how many points he scored in the 26 prior games he hadn't started. Kaleb Wesson battled early foul trouble, but had 18 points, 11 rebounds and four assists. Duane Washington Jr. powered the offense with 10 first-half points off the bench. Andre Wesson scored 11 points and was a plus-20 while on the court. C.J. Jackson had a six-to-one assist-to-turnover ratio. Keyshawn Woods dropped 13 points.
Nearly every player performed well, leading to the type of win that had seemed so elusive.
The Buckeyes didn't have a single top-25 win and had lost all seven games to the six teams above them in the Big Ten standings. They opened the 2019 calendar year with a 5-9 record after beginning the season with a 12-1 record, and with each passing week, their NCAA tournament odds seemed to diminish.
Ohio State hadn't beat an NCAA tournament-level opponent since defeating Minnesota on Dec. 2.
Nearly three months after that streak began, the Buckeyes knocked off Iowa, positioning them well for an at-large bid. Even Ahrens didn't have his 29-point game – the best performance of his career – at the front of his mind.
"Honestly, that's great," Ahrens said. "But we're really just focused on punching our ticket to the tournament, and really that's all on our mind right now. We're really focused on that. We're focused on getting better day by day, and we're excited for it."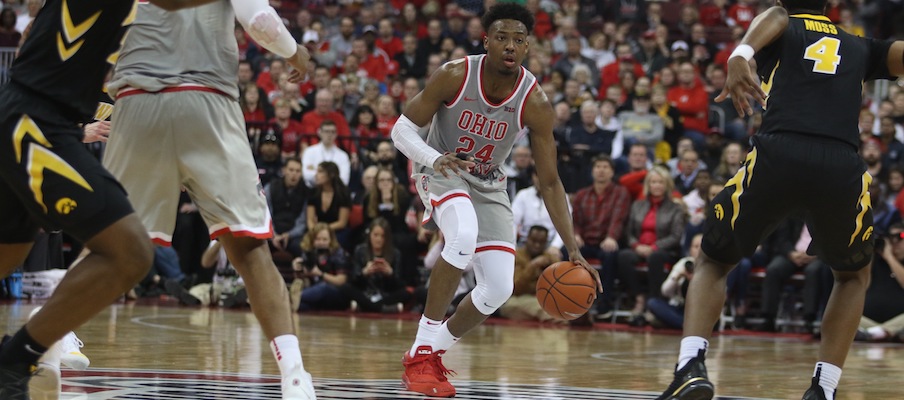 For the past couple months, Holtmann has emphasized process. Day-by-day improvement. A steady mindset with continual progress. He hasn't often discussed the NCAA tournament and almost never broaches the topic with his team, preferring not to look ahead.
That approach paid off on Tuesday with a much-needed victory versus the Hawkeyes.
"I think you need great kids and you need regular dialogue and you need honest conversations and guys that care about the team," Holtmann said. "And I think if you have those things and you have those things on a daily basis, you give yourself a chance to play better as the season goes on. No, I don't think we would've been able to do this if we didn't have some of those things. But those things also aren't guaranteed for the last two weeks of the season.
"So it's really kind of a daily disciple for us as a group to be about the right things and to be focused on the right things and to move forward."
Holtmann wanted to pump the brakes on any possible hype after the victory, but that's hard for many to do after what transpired on Tuesday. The Buckeyes got their win against a ranked team, and one of their less-heralded players had a breakout performance.
Entering the game against the Hawkeyes, Holtmann know the Buckeyes had to score. A lot. In the past five games, his team hadn't cracked 65 points. That level of offensive performance simply wouldn't be enough against Fran McCaffery's offense-first team.
"If we couldn't score the ball and make some shots, we felt like it could be a difficult night just because they're really good offensively," Holtmann said.
Enter Ahrens.
The 6-foot-5 sweet-shooting freshman from Versailles scored just four points in 11 first-half minutes but quickly caught fire in the second half. Ahrens drained five 3-pointers and scored 25 points in the second half, cruising past his prior career best of nine points to finish the game with 29 points.
"If I got the ball when I got hot, it was going up," Ahrens said. "I haven't really played all year, so they probably didn't have the scouting report."
McCaffery said he knew about Ahrens, who had six points in Iowa's win against Ohio State in January. His team simply couldn't contain the sharpshooter.
The constant open looks began with the play of Kaleb Wesson, who the Buckeyes ran the offense through. He finished multiple and-one opportunities and had, in Holtmann's mind, as much of an impact in the second half on the outcome as Ahrens.
"He opened up so many things for so many people," Holtmann said. "And-ones for other guys. Finishes for himself. When we needed it, when we were having trouble stopping them, think about the number of and-ones we had in a row there when they just kept scoring. As a coach, I look at his impact as significant as any."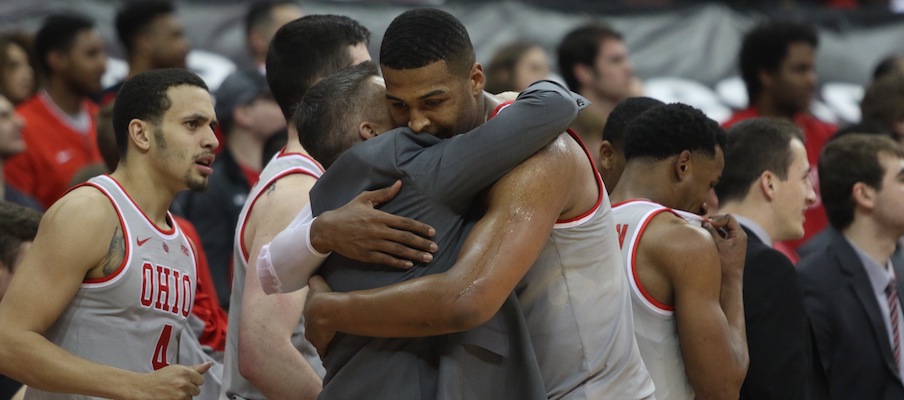 Ahrens played off of Wesson and found himself with ample room to get off shots.
"When we run that four-out, one-in look with Kaleb inside – you know teams are always coming to double him – it really opens the floor up for open shots, open driving lanes and things like that, so it was good," Ahrens said.
For most of the season, Ohio State has endured prolonged scoring ruts. But the Buckeyes never went more than three minutes without a point and had only a couple two-minute droughts.
Everyone pitched in including Andre Wesson, who didn't get bullied on the post facing players four or more inches taller than him.
"That's where you're looking at so many contributions from so many guys," Holtmann said.
Tuesday's win meant so much to Ohio State because of the NCAA tournament implications. Ahrens outright said so. The victory greatly strengthened the Buckeyes' case for an at-large bid.
In order to ensure it doesn't get left out, Ohio State still has to finish the season strong, and that certainly doesn't escape the Holtmann and his one-game-at-a-time mantra.
"Obviously this was a home win against a very good team who's had a very good season. So we acknowledge that," Holtmann said. "But unfortunately it's not going to help us one bit when we play one of the best teams in the league on Saturday on the road."
Sure, the performance against Iowa help the Buckeyes in West Lafayette, Indiana, versus Purdue. But it both shows what the team can be when most of the key players perform at high levels and increased its NCAA tournament odds, and that certainly matters.