Chris Holtmann doesn't want to use the term "must-win game," and nor do his players. But Ohio State's game against Northwestern is about as close as a matchup can come to that cliche.
The Buckeyes will take on the Wildcats at 8:30 p.m. Wednesday at the Schottenstein Center looking to stabilize themselves from a two-game game slide and avoid a costly loss that could have them on the outside of the NCAA tournament picture looking in.
| Who | Where | When | TV |
| --- | --- | --- | --- |
| Northwestern (12-13, 3-11) | Schottenstein Center | 8:30 p.m. | BTN |
With six regular-season games remaining, Ohio State is widely projected as a nine, 10 or 11 seed in the tournament, though that could change since four upcoming games come against ranked opponents. The Buckeyes will face Northwestern twice in the next couple weeks, and both games will be their only opportunities to play a team not in the upper half of the Big Ten. Therefore, they can't afford a letdown similar to what happened in the loss to Illinois.
But like most coaches, Holtmann won't discuss about the NCAA tournament or Ohio State's status as a bubble team with his players.
"We've talked about it in the past a time or two, but I'm not quite sure what the benefit of talking about it is. What are you gaining from that?" Holtmann said. "Our focus needs to be on getting better and preparing for Northwestern and trying to limit our turnovers and trying to do basketball things that this team needs to do to improve and try to keep our guys in a positive mindset and a positive frame of mind.
"They know there's a lot of season left to be played, but our only focus needs to be on can we be better today in preparation for what's coming tomorrow. It sounds boring, and I'm OK with that."
Holtmann is fine with that because he knows he can't afford a slip-up versus. Northwestern.
After Wednesday's game between the Buckeyes and Wildcats in Columbus, the teams will effectively have a rematch in Evanston, Illinois, on March 6. Having played nearly the entire regular season before even facing off once, let alone twice, there won't be many surprises by either team.
"It's just a weird scheduling quirk that I'm not sure why it comes up like it does. I'm sure there are other teams in the Big Ten outside of us and Northwestern that faces that," Holtmann said. "It'll obviously mean that both teams will know each other really well when we play each other a second time. You kind of know each other really well at this point anyway because of how much film is available and how much of the season has been played. But when you're playing that quickly, obviously we're not worried about that now, but it's unique how quickly your turnaround is."
Opponent Preview
Northwestern has won just three Big Ten games, beating Indiana, Rutgers and Illinois, and hasn't tasted victory in nearly a month. But it has come close multiple times recently, losing its past four games by between one and nine points. 
In order for Ohio State to extend the Wildcats' six-game losing streak, it must minimize the damage done by a trio of seniors – 6-foot-7, 200-pound forward Vic Law, 6-foot-6, 195-pound guard Ryan Taylor and 6-foot-8, 235-pound center Dererk Pardon.
"Veteran group," Holtmann said. "Vic Law's a tremendous, tremendous player. I've got a lot of respect for he and Pardon and the contributions that they make to their team. You can tell how much those guys care about winning and playing to win. Obviously those guys have been through a lot of battles in the Big Ten. They've kind of played, it seems like from Day 1 since they arrived, a really important role. I've got just tremendous respect for Chris Collins and the job he does. They're so disciplined in how they play – I'm talking defensively and offensively."
Law, Pardon and Taylor all average double figures and posses size that might pose a challenge for Ohio State's smaller-than-average group.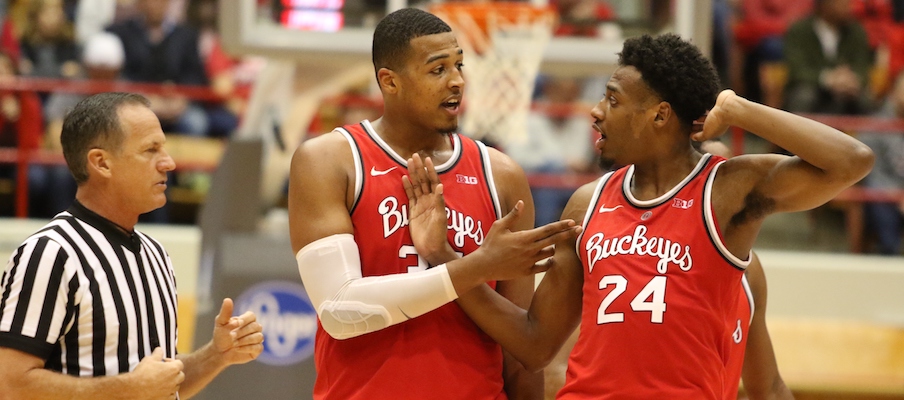 Law averages a team-high 15.5 points but hits just 39.4 percent of his shots. He's a volume shooter who can do damage from multiple levels of the offense and has hit 32.8 percent of his 3-point attempts. When he find his shooting touch, he can propel Northwestern's offense, and he has scored 20-plus points six times this season.
Taylor, who averaged 11.1 points per game, is the Wildcats' best perimeter shooter, hitting 34.4 percent of his 6.4 3-point attempts per game. The Evansville transfer has hit a rough patch recently, though, and has made more than one triple in just two of his past seven games.
Kaleb Wesson will be challenged by the big-bodied Pardon, who averages 13.6 points and a team-high 7.8 rebounds. 
"(Wesson's) got to do a good job competing and fighting because he's going against a guy a couple years older who's a really physical player," Holtmann said. "A couple guys that are big bodies he's going to be going against."
Northwestern isn't a very efficient scoring team, shooting 40.9 percent from the field this season. Of its top eight scorers, only one player – Pardon – shoots better than 40 percent. But the Wildcats' defense has allowed opponents to hit just 42.3 percent of their shots and 29.6 percent of 3-point attempts.
Ohio State Preview
Wesson's string of tough matchups in the Big Ten won't end on Wednesday. Pardon, who attended Villa Angela-St. Joseph, will test him defensively and force him to work offensively for his points.
Holtmann noted that Wesson got tired in the loss to Michigan State, which also happened last year as the year progressed. He said Wesson has worked with the strength and conditioning staff to avoid that happening again, but it's something to watch the remainder of the season.
Both Luther Muhammad and Duane Washington Jr. have also dealt with fatigue, but for a different reason. As freshmen, they've never played a season this long.
Washington scored in double figures in three of the first four games but has cracked double digits just three times since then. Recently, Muhammad also has struggled, shooting 4-for-25 in the past three games. In order for Ohio State to maximize itself on both ends of the court, it must have Muhammad playing better.
"A guy like Luther who kind of from Day 1 has been a pretty high-minute guy might feel it more than others," Holtmann said. "And we feel it as a team when he struggles."
C.J. Jackson suffered an ankle injury in the second half of Ohio State's game against Michigan State but didn't seem overly concerned about that possibly holding him out of Wednesday's game, saying on Tuesday that "it's getting better by the day."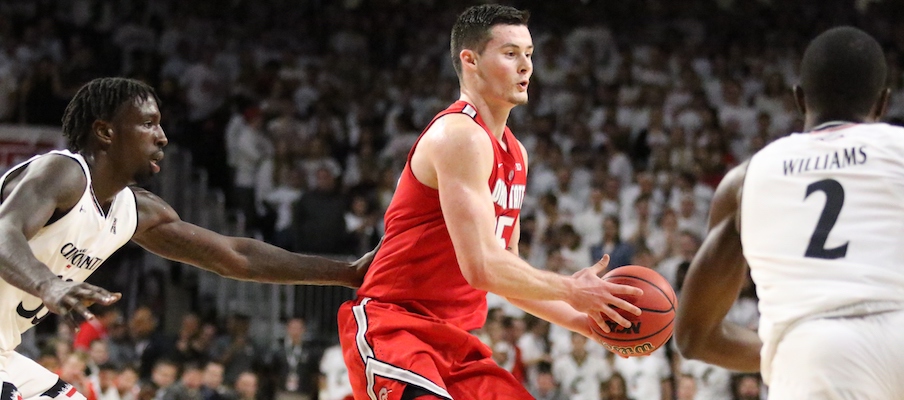 Kyle Young has played in the past four games since returning from a stress fracture that kept him out of four games, but he hasn't cracked 25 minutes in any game and hasn't played more than 20 minutes in the past three games. Holtmann said Young is still working through some pain which has kept him from playing more.
"Still just trying to keep up with rehab every day, stuff like that. Trying to make my leg stronger," Young said. "Icing all the time, stuff like that. I figured I was going to have some soreness here and there. I'm not really trying to let it affect my game or anything like that. I just still want to go out there and play as hard as I can every play. Usually when I get going and stuff, it feels pretty good."
How It Plays Out
Provided Law doesn't find his shooting stroke, Wesson doesn't get bullied inside by Pardon and Taylor doesn't get too hot from beyond the arc, Ohio State should be in good shape on defense. Northwestern's offense isn't anything special, especially compared to Michigan State's, which the Buckeyes held to 62 points last game.
Ohio State has certainly struggled to score points at times, but it's more efficient than the Wildcat offense which is why the Buckeyes are a seven-point favorite.
Prediction: Ohio State 65, Northwestern 58