New month, new results?
Ohio State surely hopes that's the case. After opening the season with a 12-1 record, breezing through non-conference play with only a single blemish and winning both Big Ten game in December, the Buckeyes went 1-6 in January, dropping their overall record to 13-7 and 3-6 in the conference.
| Who | Where | When | TV |
| --- | --- | --- | --- |
| Rutgers (11-9, 4-6) | Schottenstein Center | 12 p.m. | BTN |
Four days after losing its final game of January to Michigan, Ohio State will hope to avenge one of its six January losses in its first game of February when it takes on Rutgers at noon Saturday at the Schottenstein Center. The game will be televised on BTN.
The Buckeyes' loss to Rutgers on the road was arguably the team's worst loss of the month. They fell, 64-61, despite holding the lead with less than two minutes remaining. Montez Mathis hit a shot to give Rutgers a one-point advantage with 1:07 remaining. Geo Baker follower Luther Muhammad's missed jumper with a made shot that increased the lead to three points. C.J. Jackson had a chance to tie the game, but he couldn't nail the 3-pointer.
The loss in New Jersey marked the second in a five-game losing streak, the program's longest in 21 years. Michigan State, Purdue, Maryland, Iowa and Michigan beat the Buckeyes last month, as well.
"We won one game in January, but we know we're not going to give up," Keyshawn Woods said. "We're going to fight. We've been in every game. Mentally, once we can stop with the mental turnovers and mental errors and stick with it and stay together, we're going to be fine. The good thing about basketball is we still have more games to play. January is behind us." 
Results haven't been optimal for Ohio State, but Chris Holtmann – who called the stretch the most difficult of his coaching career – hasn't blamed effort or personnel problems. After the latest loss to Michigan, he said there weren't issues within the locker room.
He doesn't think the team's approach in February needs any drastic changes.
"I think our attitudes and our approach have been good," Holtmann said. "I think we understand kind of what league play is about. The tough days aren't over. We're trying to dig in for the long haul and continue to improve and get better. We've got a group that wants to be coached and has a good daily approach. I've been pleased with our daily approach."
Opponent Preview

Rutgers has an 11-9 record this season and is 4-6 in the Big Ten, which might not seem like much. But the four in-conference wins are already more than the Scarlet Knights had in the prior four seasons, in which they won just one, two or three games. 
A three-game losing streak in the middle of January threatened to halt the team's momentum gained from beating Ohio State, but Rutgers followed that up with a three-game winning streak. It beat Nebraska, Penn State and Indiana, winning each game by eight or fewer points, to enter Saturday looking for its fourth straight victory.
Rutgers has used size, length and physicality to bother opponents, including Ohio State. Holtmann said the Scarlet Knights were one of the two most physical teams the Buckeyes have played this year, along with Michigan State.
"I think we are more prepared for what they bring to the table," Woods said. "We played them once and we know how physical the game is going to be."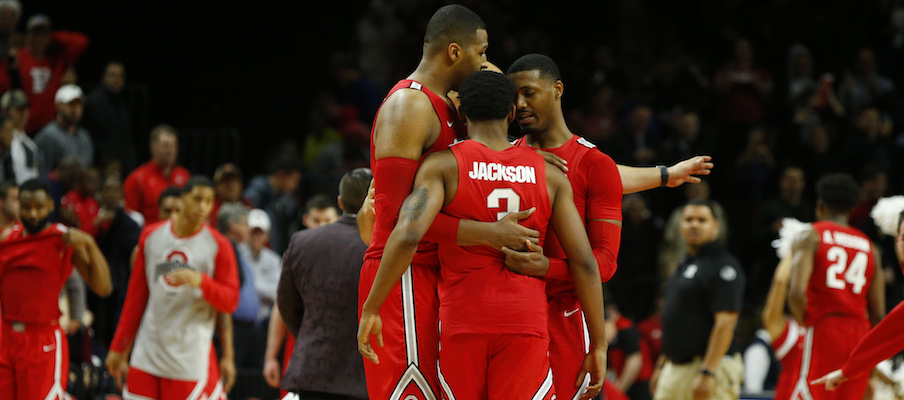 The Scarlet Knights don't start a player under 6-foot-4 and even have impressive height off the bench.
"They have a lot of length, which creates problems offensively," Holtmann said. "There is a reason why I think they've had a great stretch here. They are playing really well, they've got talented kids and they are obviously playing really confidently."
Montez Mathis, Ron Harper Jr., Shaq Carter and Gio Baker each scored in double figures against Ohio State in January. 
Eugene Omoruyi, Rutgers leading scorer and rebounder this season with 13.9 points and 7.4 rebounds per game, only played seven minutes in the first matchup between the teams due to a dislocated knee cap suffered in the game. He's expected to start on Saturday, and Holtmann views him as a "terrific mismatch problem."
Ohio State Preview

Kaleb Wesson looked like he turned a corner in December. The 6-foot-9, 270-pound big man averaged 18.8 points and 7.7 rebounds per game that month, including a 31-point performance against Youngstown State. He also had a pair of double-doubles bookending the career-high scoring afternoon.
That progress continued into January with a 25-point game versus Nick Ward and Michigan State. But trouble popped up the following game. He got into early foul trouble, which led to a 16-3 run from the Scarlet Knights. When he played, he played well, scoring 18 points and grabbing seven rebounds. But without him, the team looked lost on offense, and even at times with him in the game, Ohio State didn't know how to react when he went minutes without scoring. 
Wesson hasn't topped 11 points in the past five games, scoring seven or less points three times. Against Rutgers, the Buckeyes need peak Wesson, and they need guards and wings to hit shots that they haven't recently.
"I feel like we've struggled shooting the ball at times," Holtmann said. "Yet, our percentages are still in the top half of the league in terms of 3-point shooting – I think we're fifth right now. I actually have more confidence in that than our ability to get to free-throw line. We've got guys who can hopefully shoot it at a better clip."
How It Plays Out

It's not too early to call this a must-win game for Ohio State. The Buckeyes would have a tough road to the NCAA tournament if they can't win this game. Though they lost to the Scarlet Knights earlier this season, they're heavy favorites to win on Saturday.
Ohio State (No. 34-ranked team, per KenPom) is favored by 9.5 points over Rutgers (No. 88-ranked team, per KenPom). While the Buckeyes could pull off a double-digits win, a closer victory seems most likely. Don't discount the Scarlet Knights, though. Their size bothered Ohio State once, so it could happen again.
Prediction: Ohio State 69, Rutgers 66