Chris Holtmann had not lost three games in a row as a head coach since the end of the 2011-12 season at Gardner-Webb. He hasn't lost four straight since the Runnin' Bulldogs dropped consecutive games to Coastal Carolina, Liberty, High Point and Radford.
With Ohio State's back-to-back-to-back losses to Michigan State, Rutgers and Iowa, a Holtmann-coached team dropped three in a row for the first time in six years. The Buckeyes are in danger of that streak extending to four games, despite opening the season with a 12-1 record, including wins in their first two Big Ten games of campaign.
| Who | Where | When | TV |
| --- | --- | --- | --- |
| No. 19 Maryland (15-3, 6-1) | Schottenstein Center | 6:30 p.m. | FS1 |
They will take on No. 19 Maryland, which is 15-3 and 6-1 in conference play, at 7 p.m. Friday at the Schottenstein Center. The Buckeyes and Terrapins are headed in the complete opposite directions.
While the Buckeyes have lost three games in a row, the Terrapins won six straight games and have lost three times the entire season. Maryland's three losses to Virginia, Seton Hall and Purdue have each come by five points or fewer. Ohio State's has lost three games in a row by a combined 22 points.
Keyshawn Woods said the Buckeyes didn't realize in the moment that they were taking steps back from their play earlier in the season, but it became apparent after studying recent games.
"But the more and more we done watched film of the last three games, the more and more we done noticed that we've been off a little bit," Woods said. "So, that's what we've been doing since the Iowa game. We've just been focusing on us, being who we are, getting back to being that tough-minded team that everybody always said that we were when it comes to playing tough."
The schedule for the Buckeyes doesn't get any easier. Following the Maryland game, Ohio State takes on Purdue before heading on the road to face Nebraska and Michigan before heading back home to play Rutgers, which already beat them, and Penn State, the team that beat them three times last year. Holtmann has consistently called the Big Ten this year the best conference he has ever coached in.
But optimism still resides in Ohio State's locker room, even if some players need a confidence boost.
"We've just got to find our rhythm again, to be honest," Woods said. "Once we find our rhythm again, get back to really executing on our offensive end and really getting up into guys on defense and really playing defense the way we know how to play defense, I think everything will be fine. It's on us. Nothing the coached can do. It's really more on us as players and our unit."
Opponent Preview
Maryland, coming off six wins in a row including victories against Indiana, Nebraska and Wisconsin, has played well enough to propel itself near the top of the Big Ten, while Ohio State has done the exact opposite, falling below .500 in conference play.
The Terrapins possess a dangerous mix of youth and experience, which has led to them to their recent success.
Anthony Cowan Jr., a junior 6-foot guard, leads the team with 17.8 points per game, hitting 42.4 percent of his shots and shooting 35.2 percent from 3-point range. He also leads the team with 4.4 assists per game.
"He's really dynamic as a point guard," Holtmann said. "He is really fast and incredibly shifty. He's crafty. He does a great job getting to the free throw. He can make really big shots. We're going to have to have a great team approach with him. The thing that makes them so good is they have excellent shooting collectively and they have two interior threats."
Muhammad, Ohio State's top perimeter defender, will likely be tasked with guarding Cowan. The Terrapins have other weapons than him, though.
Bruno Fernando, a 6-foot-10, 240 pound sophomore, poses the latest challenge to Kaleb Wesson in the paint. He nearly averages a double-double, putting up 14.6 points and 9.9 rebounds per game. Fernando uses his size to his advantage, hitting 67.8 percent of his shots and blocking more than two shots per game.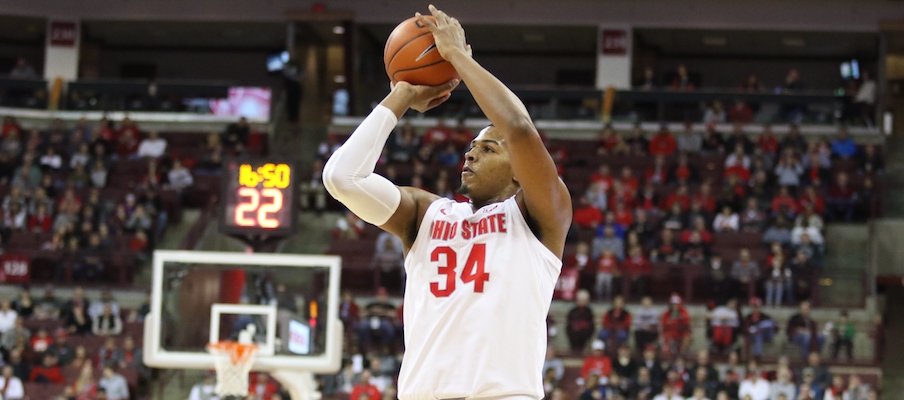 A fellow forward, 6-foot-10, 215-pound Jalen Smith, also averages double-digit points per game. He has a longer shooting range that Fernando and will attempt 3-pointers, but has hit just 25 percent of his 32 triples.
"Bruno has shown an incredible ability to score with his back to the basket, and so has Jalen Smith," Holtmann said. "They are loads inside. It will require a great team defensive effort."
Opponents have shot just 40.9 percent against Maryland and hit 33.8 percent of their 3-pointers.
Ohio State Preview
Not much has worked for Ohio State lately. A long list of problems has cropped up – namely, turnovers and scoring – and Maryland will challenge the Buckeyes to see whether their problem areas have been softened.
Some of the problems stem from Kaleb Wesson's inability to stay on the floor. He picked up two fouls in the first three minutes of both of the past two games. When he leaves the game, the Buckeyes don't have a consistent primary scoring threat, and opponents have realized that.
"I think teams are clearly going at him maybe more so," head coach Chris Holtmann said. "I think also they're attacking him because I think they have an understanding of how important he is for this particular group."
Holtmann said the team is still trying to figure out who can be counted on to score when Wesson exits the game.
"I think Keyshawn (Woods), when we've played well, he's been aggressive and has had good nights, C.J. (Jackson) and then I think our freshmen have had good moments as well," Holtmann said. "Kyle (Young) has played off some of those guys. Andre (Wesson has) had moments where he's been able to score the ball. But I think that's what we're trying to figure out a little bit as a team is where that's going to come from."
To beat Maryland, Ohio State needs Wesson. Fernando and Smith will pose problems for what would be an undersized frontcourt if he leaves. And on the other end of the court, the Buckeyes wouldn't have much scoring without Wesson.
How it plays out
I think that after three losses in a row with similar reasons for the defeats, Ohio State will manage to keep Wesson on the court for extended stretches. Plus, I believe Holtmann will mix things up just enough to keep Maryland off balance and pull out the victory.
Muhammad on Cowan and Wesson in the paint will be the two keys to a Buckeye victory. Beyond them, Ohio State needs someone else to step up as a secondary scorer, and I think Woods finally breaks out of his dry spell.
Prediction: Ohio State 74, Maryland 71