Following Ohio State's loss to Michigan State, Chris Holtmann definitively said his team – and program – was not yet on the level of Tom Izzo's. Kaleb Wesson disagreed, though, saying he doesn't "think they're any better than we are."
Four days later, the Buckeyes lost to Rutgers, dropping their second game in a row for the first time this season. The Scarlet Knights fans stormed the court, and Rutgers athletics director Patrick Hobbs called it a "great program win."
| Who | Where | When | TV |
| --- | --- | --- | --- |
| Iowa (12-3, 2-3) | Carver Hawkeye Arena (Iowa City) | 2:37 p.m. | BTN |
Ohio State hasn't lost three games since it hired Chris Holtmann to run the program in the summer of 2017, but it's in danger of that happening. The Buckeyes head on the road to take on the Iowa Hawkeyes at 2:37 p.m. Saturday in Iowa City, Iowa.
Both Holtmann and Andre Wesson stressed they don't see this game as a must-win, saying they look at every game through the same lens.
"I think more than anything, it's about progress and growth right now," Holtmann said on Friday. "We're trying to grow and improve. We're trying to grow and improve with each passing day and each experience, just trying to grow and improve. We certainly don't want to be a prisoner of the moment. We're trying to move forward and improve and grow."
Holtmann never wanted the impressive 12-1 stretch to begin the season to end, but he also wasn't shy about the team's weaknesses.
For the entire season, he has continually pointed out both his team's deficiencies and opponents' strengths. For 12-of-13 games, though, Ohio State just kept finding ways to win. Michigan State handed the Buckeyes their first loss, and Rutgers gave some a reality check.
"You guys have heard me talk about it now for a month and a half, and in some cases we were able to get away with it," Holtmann said. "People might have thought it was coach speak, but it was stuff that I really thought at the time. We've got a great group, we really have a great group that I believe wants to continue to grow and improve and knows it's a long season."
Opponent Preview
Iowa, just like Ohio State, cruised through non-conference play and picked up a couple quality wins, but has struggled against a few Big Ten opponents.
The Buckeyes lost just one game to a non-conference opponent – Syracuse – and beat Illinois and Minnesota, but have lost back-to-back games to Michigan State and Rutgers. Iowa swept its non-conference schedule, picking up wins against Oregon, Connecticut and Pittsburgh, but have begun Big Ten play with a 2-3 record, losing to Purdue, Michigan State and Wisconsin.
After dropping its third loss of the season in a 16-point defeat by the Boilermakers, Iowa has won back-to-back games against Nebraska and Northwestern. Holtmann said the Hawkeyes' play has been "really good here of late."
"A group that has a nice blend of veterans and some really impressive young players, freshmen," Holtmann said. "(Fran McCaffery's) got a terrific system, and having returned what they have returned, you can tell those guys have really embraced that and are playing at a really high level. It's a really good Iowa team, as many projected them to be this year. Should be a great environment. I think it's going to be another sellout or close to it."
Tyler Cook, Iowa's leading scorer, missed last game with a sore knee, but expects to return to action against Ohio State. The 6-foot-9, 250-pound forward averages 17.3 points per game and also grabs a team-best 8.3 rebounds per contest.
Nine Iowa players average at least 15 minutes per game and four score double-digit points per game. Joe Wieskamp puts up 11.4 points per game and hits 43.8 percent of his 3-pointers.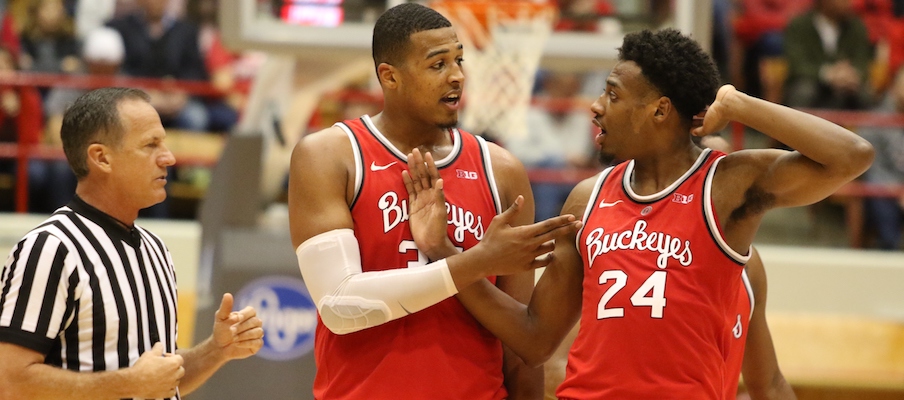 The Hawkeyes lead the country with 26.7 percent of their points coming from the free-throw line. They make more free throws per game and attempt more per 100 possessions than any other team in the country. Iowa hits 76 percent from the charity stripe.
"They're really physical," Holtmann said. "In order to get to the line, you've got to have seekers and not avoiders, and they have big-bodied seekers that are seeking contact."
Ohio State Preview
When Keita Bates-Diop left games last season, Ohio State had options. Jae'Sean Tate and Kaleb Wesson were there to pick up the scoring.
This season, when Wesson exits the game, offensive production gets dicy. For a couple long Wesson-less stretches against Rutgers' zone defense, the Buckeyes couldn't do much, allowing the Scarlet Knight to extend their lead.
"Obviously, I mean, the stats show we haven't played very well (without Kaleb in the game)," Andre Wesson said. "Kaleb, obviously he's a big part of our offense. We try to play inside-out. When that big presence is out of the game, it kind of messes up our flow, and it's kind of hard to transition from inside-out to not having him in there, to play more outside-in, kind of. It's just something that we've still got to figure out, but we're definitely going to figure it out."
Holtmann took a more optimistic tact, noting that the Buckeyes have run a successful offense without Wesson in games earlier this season, specifically citing the game against Creighton.
He admitted no one needs to be a "professional scout to understand we're a different team without him in the game," saying that some players need to take steps to become more productive when Wesson sits.
"I don't know that I see it as much as a sidekick as much as we need to have multiple secondary options kind of based on game to game," Holtmann said. "And I don't know right now that you can say, 'Hey, listen, it falls on one guy's shoulders.'"
How it plays out
In recent seasons, Iowa's defense has held it back from reaching its potential. Though the Hawkeyes still allow 72.3 points per game, they hold opponents to a respectable 43.8 percent shooting percentage and 29.5 3-point percentage.
Wesson should keep Ohio State close with Iowa, but the Buckeyes need more than just him to keep up with the high-scoring Hawkeyes. Cook and Wesson will be a fascinating interior battle, but Iowa might have just too much consistent offensive production elsewhere.
Prediction: Iowa 83, Ohio State 81