The disappointment throughout Ohio State's locker room following a 69-68 loss to Penn State was evident, as the Buckeyes were bounced from the Big Ten Tournament for the second straight season after just one game.
The difference, of course, is that the Buckeyes have a chance at redemption with the NCAA Tournament on the horizon, albeit two weeks away. 
Ohio State's collective season, which featured a pair of wins over top-three teams, has put the Buckeyes in position to play in the Big Dance for the first time since 2015, when the Scarlet and Gray were bounced in the second round by Arizona. 
His team won't find out for almost a week who they are playing, but Chris Holtmann said Friday after the loss to Penn State that his team has "earned the right" to play on the biggest stage in college hoops, and will relish the extra practice time as well.
"We are going to play a very good team, whoever that is. The great thing is, we get a chance to practice and get a little bit better," Holtmann said. "We've got something to play for, that's the bright side of this. Our guys have earned the right to play into March."
A 24-8, 15-3 season has all but guaranteed the Buckeyes a spot in the tournament, but Ohio State goes into the extended break with a sour taste in its mouth, something that could be used as motivation going forward. 
When asked if he wanted his team to put the game behind them or use it as fuel to get better during the layoff between games, Holtmann said he wants to find a healthy mixture of both. 
"They should be angry and disappointed. Not in their effort, I thought the effort was good, but in the result," Holtmann said of the loss to Penn State. "We will go back and look at the tape and I think some guys will be challenged in some areas in how they played and how we played. We will all take responsibility for it and move forward. We knew it was going to be a tough challenge."
For four of Ohio State's upperclassmen, the Buckeyes' next game could very well be their last, should they fall in their next tournament game. Jae'Sean Tate, Keita Bates-Diop and Kam Williams were all freshmen on the 2014-15 team that advanced to the second round of the tournament, and are now entering their final weeks as Buckeyes in Columbus. Michigan transfer Andrew Dakich is also preparing for his final weeks as a college basketball player. 
Williams said the loss to Penn State should motivate everyone on Ohio State's roster to elevate their game even more in the tournament, especially knowing the next game could be the last for the seniors.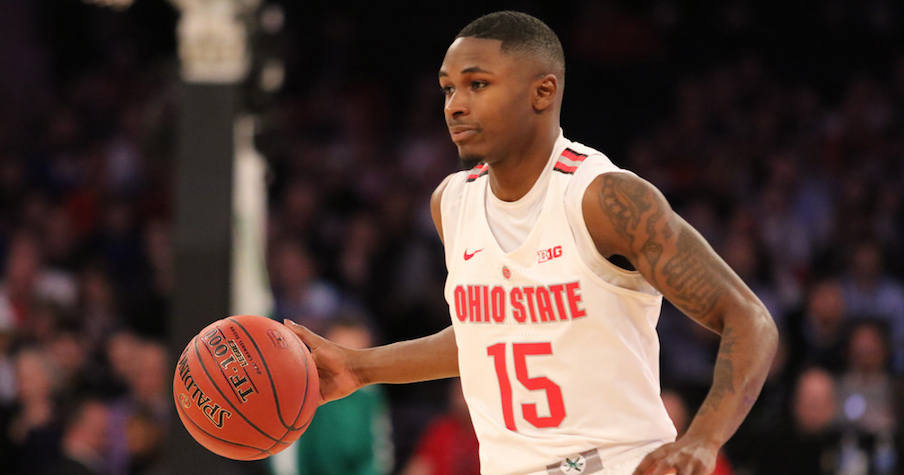 "After a loss like this, everybody should be that much hungrier. Coaches just told us the refs, and everybody else, is going to honor the hungrier, tougher team. I feel like once we get that in check, we will be put in a position to win," Williams said. "Tonight didn't end the way we wanted, but we still have basketball to play, more opportunities to get better. When it comes to me, as long as I am playing basketball, I am happy. That is all I can really ask for."
Williams said the mindset, at least for him, moving forward will be that he has one last chance to suit up for Ohio State, an opportunity he doesn't plan on taking for granted. 
"Just staying positive. We have another opportunity with the team to play basketball. Tonight definitely hurt because we obviously wanted to win, and play till Sunday," Williams said Friday. "It's March. Tournament time, anything can happen. We just have to watch the film, get back on our P's and Q's and hopefully we can be successful come tournament time."