ANN ARBOR, Mich. – Ohio State's loss to Michigan was less surprising than its 23-point shellacking at the hands of Penn State on Thursday, but the loss to the Wolverines made a bigger impact. 
The Buckeyes no longer control their own destiny for a Big Ten title following a 74-62 loss to their archrival on Sunday afternoon, but Chris Holtmann doesn't seem overly concerned. 
"If you're a college player and you go into a couple of games on the road against good teams and you expect them to be easy or expect not to deal with some adversity – and we haven't had a lot of that throughout the Big Ten season – everybody goes through that," Holtmann said. "This is what we signed up for. This is what (the players) signed up for when they signed to play in the Big Ten and this is what I signed up for to coach in. 
"We had a heck of a start. We just have to take steps to play better."
The last time Ohio State suffered back-to-back losses was late November, when the Buckeyes dropped their final game of the PK80 Invitational to Butler, followed by a home game to Clemson. Following that stretch, Holtmann's squad won 13 of its next 14 games. 
Despite falling into second place in the conference behind Michigan State, Holtmann said he hasn't addressed the standings with his team, adding there are still a number of games to be played. Ohio State is guaranteed at least four more games this season: two regular-season games, and at least one in each postseason tournament. 
"There is too much basketball to be played. Our last two (regular season) games are going to be really challenging," Holtmann said. "I don't know if that affects (our mindset) in any way."
Ohio State senior forward Jae'Sean Tate, who poured in 20 points and corralled a career-high 15 rebounds against Michigan, echoed his head coach's comments, pointing out that the Buckeyes need to use the loss to the Wolverines as a learning experience.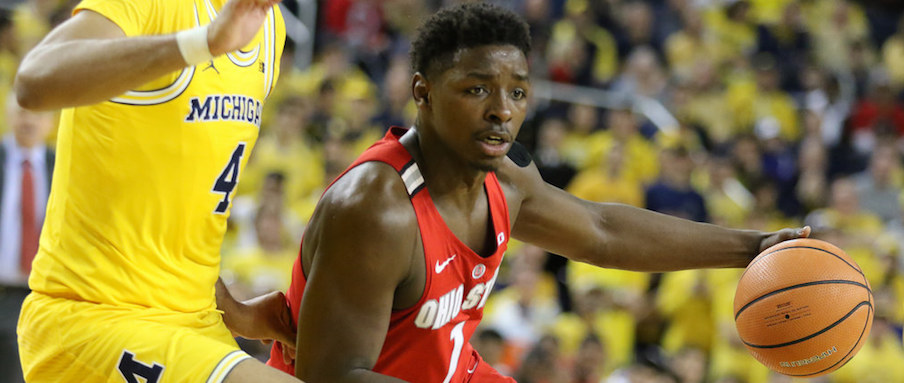 "It's the same thing. We have to learn from this one, we have to learn from Penn State. Rutgers is a better defensive team than both of these (teams)," Tate said. 
The Buckeyes' next opportunity for stopping the two-game slide will come at home on Tuesday, on Senior Night, against a Rutgers team that currently sits in last place in the Big Ten, has not won a road game all season and has collected just three conference wins in 2017-18. 
The Scarlet Knights do, however, boast a pair of athletic scoring guards in Corey Sanders and Geo Baker. Ohio State's guard play has struggled in its last two losses, as C.J. Jackson, Andrew Dakich and Kam Williams combined for just seven points and two assists in the loss to Michigan. The depth issues that many thought Ohio State would struggle with all season have resurfaced in recent games on both ends of the floor, an issue that Holtmann said he will address in practice ahead of the Rutgers contest.
"It's certainly telling the way that teams have played us, really for a while now," Holtmann said. "They are pressing our guards to make plays and we have to figure out as coaches if there are some things we can do. We have to challenge our guards to make better decisions in those situations. I am confident that they will."
As he has all season, Holtmann will likely rely on the likes of Tate and Keita Bates-Diop to help push Ohio State through its difficult stretch. The pair of Buckeye veterans have been labeled as OSU's unquestioned leaders throughout the season, and even though Bates-Diop has struggled with his shot in recent games, Holtmann appears to remain confident. 
"We have to makes some strides moving forward with a very quick turnaround. I think we did some good things today ... Michigan just played better today," Holtmann said. 
"We're going to take this one on the chin. There is no point in being sad about it now," Tate added. "The tougher team won tonight, and we have to pay better attention to detail."