When was the last time you went to the movies?
Think about what movie you were watching, and try to think back about your expectations for that motion picture. 
If you, like me, were last in the movie theatre waiting to see "Star Wars: The Last Jedi," then your expectations for that piece of cinema were likely sky-high, much like they are for nearly every Ohio State football season. 
Now try to remember the last movie you went into with zero expectations. That is the 2017-18 Ohio State men's basketball team. A movie with no realistic prospects that suddenly has caught your attention with about 45 minutes left until the end. 
I'm here to tell you that no matter what happens in those last 45 minutes, enjoy it, because this movie likely doesn't have a sequel. 
Why doesn't this movie have a sequel? Because while Ohio State will have another season in 2018-19, it likely won't qualify as the cinematic masterpiece that this year is turning out to be. The 2017-18 Buckeyes have everything you could want in an underdog sports movie, and down the stretch, Ohio State has everything still on the line. 
Chris Holtmann is the ultimate player's coach, and Keita Bates-Diop is the player that anyone with a pulse can cheer for. He has endured a season-ending injury and went through a family crisis with his brother that would shake most anyone to their core. Yet here he is, the star of the movie, defying the odds and leading his team to heights no one thought reachable seven months ago. 
---
Ohio State's motion picture started as most thought it would and frankly, was slow getting into the action. The Buckeyes defeated lesser competition and lost to Gonzaga, Butler, Clemson and North Carolina, giving you the feeling that you were getting what you paid for; an average at best movie, with just enough suspense to get you through without walking out.
Then about halfway through, the twist that no one saw coming. Ohio State not only defeated the No. 1 team in the country, it trounced it. To make the surprise twist even better, the movie didn't stop there.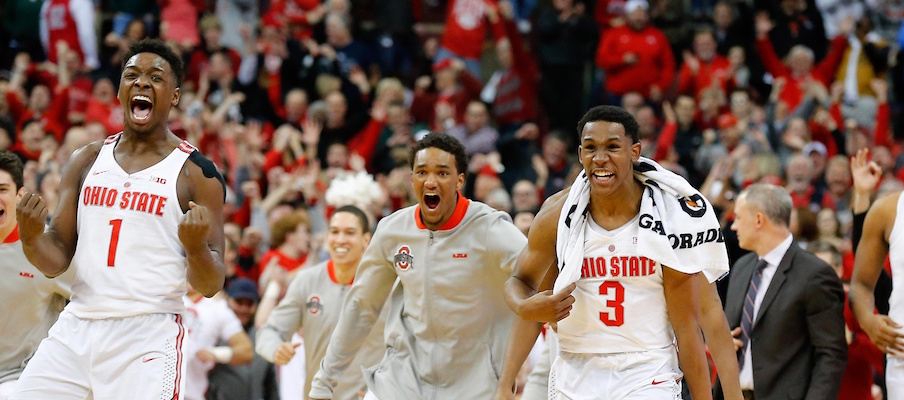 The Buckeyes rolled their way into the top-25 with wins over Maryland and Rutgers and suddenly, the movie that you had little to no expectations for became interesting. Could this be one of your closet favorites? 
Ohio State back-to-Earth moment came when Tony Carr handed the lovable team its first conference loss with a shot that literally brought the Buckeyes to their knees, as C.J. Jackson collapsed to the floor and Bates-Diop dropped his head in defeat. Once again, the movie could have stopped there – the underdog team falls just short – yet there is still more to come. 
---
The reality is, no one knows how this movie is going to end. Hell, even Holtmann has admitted throughout the course of the season that he has been surprised by how his team has performed, especially in Big Ten play. 
In one of the famous Eleven Warriors Slack conversations following an Ohio State win, one of our writers quipped that the Buckeyes were going to make the Final Four, or perhaps even win a national title. As someone who has covered this team all season, I cautioned him not to get his hopes up for such a climactic finish, because there are still so many factors at play. 
For starters, Ohio State has to travel to Purdue on Feb. 7 to take on a Boilermaker team that hasn't lost since Nov. 23. The Buckeyes also have to travel to take on a Michigan team with revenge on its mind, after Ohio State overcame a 20-point deficit to knock off its rival in early December. 
The heart and soul of this Ohio State team, and perhaps the John Watson to Bates-Diop's Sherlock Holmes, Jae'Sean Tate perfectly summed up the final act of the 2017-18 Buckeyes without giving any spoilers as to how it might end. 
"The opportunity is hard not to think about," Tate said Monday when asked about the possibility of winning a Big Ten title, "but like we've been saying all year, we have to take it one game at a time. We can't let a game two weeks from now be our focus. We take it day by day, practice by practice. At the end of the season, if we played hard for 40 minutes, then good things will happen."
No one, not even Tate, knows how the movie is going to end when the final buzzer sounds. That said, everyone who sat down in early November to watch this motion picture – even those who walked in a little late – should sit back and enjoy the final act, because a movie like this might never come around again.