For the better part of Ohio State's game against Texas Southern, things were going as many thought they would.
The Buckeyes carried a 13-point lead into halftime and extended their lead to as many as 17 early in the second half. Then, a familiar trend began to surface for Ohio State basketball; the lead slowly started to slip away. 
A 17-point lead was cut all the way down to four with 7:41 to play, as the Tigers were playing with momentum. Ohio State fans had seen this movie before. 
On Dec. 6, 2016, Ohio State led visiting Florida Atlantic by 11 with under 10 minutes to play, only to see the Owls come back to shock the Buckeyes, 79-77 in overtime, in what would be the second of 15 losses Thad Matta's final OSU team would suffer. 
Fast forward nearly a year later to a similar Ohio State huddle, first-year coach Chris Holtmann remained calm as his young team let a big lead get washed away.
"Coach was very calm. He was saying the entire time, 'This is exactly what we want. This is fun.' He was just trying to keep our heads level because it is very easy to get psyched out of your mind in those intense situations," Ohio State sophomore center Micah Potter said. "Coach was very calm and did a really job of keeping us all calm. With that, we just continued to play our game and ended up making a run."
After Texas Southern cut Ohio State's lead to two, the Buckeyes closed the game on a 23-7 run to pull away from the upset-minded Tigers, winning 82-64. 
Going into the timeout following Texas Southern's run, Holtmann said he noticed that the Buckeyes appeared to be tense, but he wanted to make sure his young team didn't lose confidence. 
"A little anxious, for sure. You could tell this is a little familiar territory (for them), but we are going to be in a lot of those moments," Holtmann said. "That was our first moment in that situation together, where a team had made a run. Players win games. In that moment, that is a great example of players winning games. They responded and made the next right play and it was multiple guys. It started with getting a few defensive stops.
"I told our guys when they made a run, 'This is what we want. To see how we respond in these moments.' I was really pleased with our guys' response in that moment."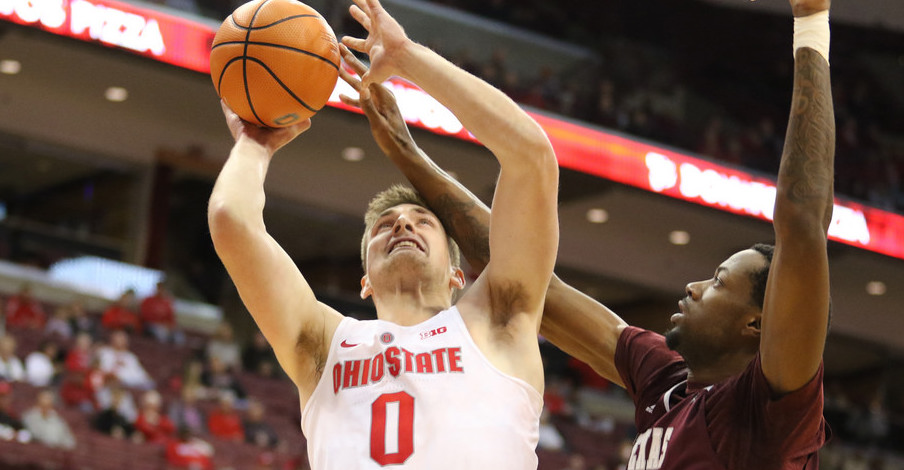 Ohio State's run to close the game was spearheaded by Potter, who scored seven of his season-high 17 points in the final 6:11 of the game. The Mentor, Ohio native was asked to play an expanded role in the post for the Buckeyes after freshman forward Kaleb Wesson was suspended prior to the game for "failure to meet the expectations of the men's basketball program." Potter, who entered Thursday night's game averaging 16.5 minutes per game, played 31 minutes against the Tigers. 
Potter said he learned of Wesson's suspension during the team's shootaround before the game, adding he was willing to take on whatever role he needed to in order for the Buckeyes to pick up the victory. 
"Whatever I have to do to help the team," Potter said. "Whether that may be playing all 40 minutes or me not playing at all and being a voice on the bench, I am going to do whatever I can to help this team."
Holtmann said the Buckeyes could have used Wesson's ability in the post against Texas Southern, but added he was pleased with the way Wesson handled the suspension. 
"Kaleb is a great kid, and this is a part of maturation for freshmen. He is very important to what we're doing. We really could have used him (tonight). I think he would have been really effective attacking the zone," Holtmann said. "He responded great. I heard him more than anyone else on the bench, so that was great to see."
Ohio State's win over Texas Southern likely won't impress any selection committees come March, but it could very well serve as a stepping stone for the rest of the season. The Buckeyes overcame a suspension and a second-half surge from the Tigers to come away victorious Thursday, which Potter said was important for the young team moving forward. 
"There are always going to be times of adversity with a brand new team and a brand new staff," Potter said. "It is going to get worse the rest of the year, we have tough competition coming through. It was a small little test for us, and we passed it."