Thad Matta is only 49 years old. That does not seem right.
He should be a lot older, especially after the past two seasons in which the Buckeyes finished in the bottom half of a bad Big Ten. His players haven't been NCAA Tournament participants since 2015 when they slipped in as a bubble team. At the time that was considered a down year for his program. Yeah.
Toward the very end of that season Matta became Ohio State's winningest coach, so with every game his Buckeyes have managed to win over the past two lackluster years since he has extended his lead over three Basketball Hall of Fame coaches. Don't look it up - they're Harold Olsen, Fred Taylor and Gary Williams. Matta has more Ohio State wins than all of them and should pass Williams - who is both 23 years older than him and retired from coaching - for total wins this season.
Thad Matta is running out of time to rediscover his Hall of Fame form.
He's got a career record of 439 wins against 154 losses which gives Matta a .740 winning percentage. That's a Rick Pitino/Phog Allen/Jim Boeheim victory frequency, albeit at Ohio State which unlike Kentucky, Louisville, Kansas or Syracuse does not hold basketball as its flagship sport. Among his contemporaries, it's a better winning percentage than what Tom Izzo (62 years old) Bob Huggins (63) or Billy Donovan (51) have produced.
Matta is not only young, he's objectively destined for Hall of Fame enshrinement. 
Bob Knight was still actively coaching when Matta was hired away from Xavier 13 years ago. A significant number of Buckeye basketball enthusiasts and stakeholders wanted Ohio State's most famous national championship benchwarmer and alumnus to replace Jim O'Brien back then. He was available, too (every coach at Texas Tech is available). A few seasons in Lubbock would have been adequate rehabilitation from his Indiana exit for a triumphant and spiteful return to the Big Ten.
That was 2004, when Knight was 15 years older than Matta is right now. That does not seem right, either.
What also feels off is the slow drip of time until his basketball team gets a seventh straight opportunity to improve upon the previous season, which it has now failed to do on six straight occasions. The Buckeyes have gone from winning the conference to playing on the conference tournament's first day. There isn't much room left to drop in the Big Ten. Only the bottom of the bottom remains uncharted.
Ohio State is seemingly devoid of any strength training program and has shed more players to transfer than it has retained recently. Game attendance is in free-fall - earlier this year a wrestling match brought more fans to the Schott than most basketball games do. Optimistically, the decline has been punctuated by a series of coaching and recruiting missteps similar to those that contributed to the 2008-09 season; a blip that was quickly and resoundingly fixed. But realistically, it's there's no such thing as a series of blips.
Malaise has engulfed the program, personified by Amir Williams and Marc Loving bringing visceral low energy and total abandonment of any urgency to basketball games for six straight seasons, in which neither had any trouble accumulating court minutes. Why is an onion nobody wants to peel. The roster has relied on too many enigmas for too long.
What OSU BASKETBALL is going through right now is quite normal - for OSU basketball. It's just not normal for THAD Matta.
Ohio State lacks a rock-solid, reliable foundation player or three. We're still waiting for one to emerge, and this is not the only waiting game in town - Matta is running out of time to rediscover his Hall of Fame form. This means the university is inching closer to being forced to make an extremely uncomfortable decision about its 49-year old coach. 
Fortunately, Ohio State has unparalleled expertise when it comes to uncomfortable decisions about Hall of Fame coaches. The current state of the basketball program is similar to what happened when John Cooper won too much for too long. It also happened when Earle Bruce reliably won nine games every year. It's just enough equity that creates the sour spot between blissful job security and rightful termination.
Rarely does OSU get lucky enough to have a Hall of Fame coach in steady decline assault an opposing player on live television. Earle wasn't fired until he finally failed to win nine games. Coop's program was rotting at its core, and the 1999 and 2000 seasons were enough of a downturn to complement his Michigan and postseason failures and justify his removal.
Matta is Ohio State's greatest basketball coach, even right now. His biggest problem is that he is his own measuring stick.
It's easy to forget Ohio State's place in college basketball, despite being a top-20 program with money, facilities and geography to its advantage. It's not the jewel Ohio State fans expect it to be - even Eldon Miller is in the Ohio Basketball Hall of Fame. His enshrinement statement makes a point of highlighting that four of his ten Ohio State teams made the NCAA Tournament, which dovetails nicely into remembering exactly what Matta stepped into in Columbus when he left a Xavier program he was already turning into a monster:
"You know, I think from the standpoint of and I've said this – nobody ever remembers the past. Nobody remembers when we came in or what we took over in this program with sanctions and visits and postseason bans and all that stuff.  You know, I've always said this:  I give credit to Matt Marinchick, Tony Stockman, and Brandon Fuss-Cheatham. They were our first senior class and they kind of helped us set the tone."

...

"I think, personally, for me, the people it probably means the most for me is my wife and my two daughters.  Because I've gone probably, well, going on eight years with a disability, and they're the ones that have suffered the things that I can't do as a father – I can't do as a husband. I have some really, really bad days in terms of coming home after games and they've got to help me get my shoes and socks off, and for them to stay the course with me, it means a heck of a lot more to me for them than it does for myself."
Matta has dug Ohio State out from bleak conditions before, and he did it with weathered players like Marinchick, Stockman and Fuss-Cheatham. He's more than capable of doing it with veterans like JaQuan Lyle, Jae'Sean Tate and Keita Bates-Diop. What's required is the type of urgency that has been lacking throughout the Williams and Loving eras, during which college basketball has almost casually left Ohio State behind.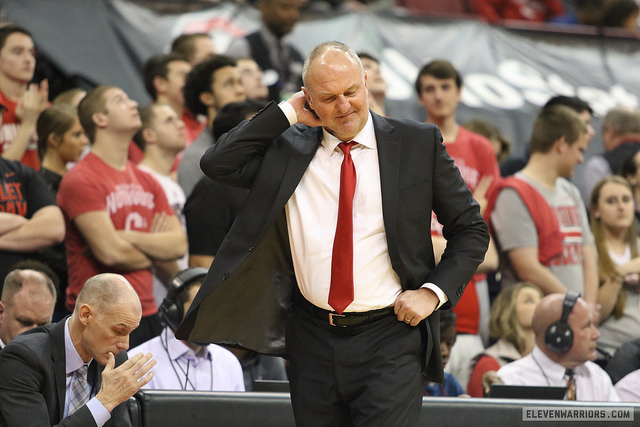 The football program provides a good example of what urgency looks like, and it has less to do with it being the university's flagship than it does about putting the program ahead of anyone's vanity.
Urban Meyer's offseason aftertaste is a shutout loss in the college football playoff. The urgency to correct the program's lingering problem since its 2014 title run was swift and carried out within weeks of the Clemson game. Matta's season concluded with a loss to Rutgers and no postseason invitation at all. That's a hell of an aftertaste, and nobody is quite sure what's being done to correct it.
As a result the chatter - a generous term for the relative silence that surrounds Buckeye basketball these days - carries a tone similar to a family debating if it's finally time to put a beloved pet down. It shouldn't be a difficult decision - Matta is too young and has been too great. He has pulled the Buckeyes out from the steeper depths before; there's no reason to believe he cannot do it again.
It's just important to remember - and amplify - the historical context of both the coach and the program he needs to save from itself: What Ohio State basketball is going through right now is quite normal - for Ohio State basketball.
It's just not normal for Matta. And that's what he's up against as he attempts to rediscover the standard he brought to the program - before it ages him out of it.