We're nearing the end of May and are headed straight toward Peak Offseason. The weekly 11W Offseason Mailbag will do its best to help cure that as it is here to talk all things Ohio State football, basketball and recruiting.
---
Does the basketball team replace the departed guys with less than, equal to or greater talent? — KBonay
This question is from last week, but I didn't have room to fit it in so I'll start the Week 2 mailbag with it because it's an interesting question. 
Obviously, the expectation is that the core of six returners will be better than they were a year ago. That will ultimately determine the success of next year's team. There needs to be significant progress from those six guys for Ohio State to get to where it wants to be.
As far as the four incoming players, I'd be surprised if all of them made significant contributions next season. There just aren't enough minutes available right away as the aforementioned core will see a bulk of the minutes.
With that said, a few are going to have to play. I think C.J. Jackson will play a role similar to what A.J. Harris played last season as the backup point guard. Derek Funderburk is a different type of player Ohio State didn't have last year as he's an athletic guy who can play as a big or on the wing. Micah Potter is also different in the sense he's far more advanced offensively than any big the Buckeyes have had recently. And Andre Wesson compares to Mickey Mitchell in terms of size and position, but Wesson is already further along defensively and he's a capable shooter — two things Mitchell was not, even though he was an exceptional passer.
So, to answer the question, I'm not sure the overall talent is much greater among the incoming guys, but the fits seem better than they were a year ago. And if everybody sticks around, Ohio State seems like it has a strong foundation going forward.
He's reassembling the puzzle, but what are your thoughts on Ohio State returning as a serious contender under Thad Matta? — Hovenaut
Another hoops question from last week I figured I'd take a stab at.
Ohio State had an incredible amount of success from 2010-13, advancing to the Final Four, Elite Eight and Sweet 16 twice while additionally finishing in first or second place in the Big Ten four-straight years. That's going to be very tough to duplicate again, and would be for any program — not just Ohio State.
With that said, Matta is one of the top two or three coaches in the league and he is leading a program that can certainly get back to contending for league titles. I'm of the belief the 2011 and 2012 recruiting classes set the program back a few years and that's what we've witnessed the last two years.
Ohio State has also been drilled by early professional departures probably more than any other program in the Big Ten in the last 10 years (Michigan would also be in the running for this No. 1 spot). So, assuming that doesn't happen again (JaQuan Lyle, Keita Bates-Diop could both bolt after next season), I'd expect the Buckeyes to be much improved this season and then contend for the league title in two years when Bates-Diop, Kam Williams, Jae'Sean Tate and Trevor Thompson are all seniors.
In your opinion, who is the next must-have recruit for Thad and why? — Aznchipmunk
I don't know that there is a "must-have" recruit right now for Ohio State. I think the Buckeyes absolutely want Markell Johnson, but the uncertainty of everything surrounding him — what class he's going to be in/what school he wants to attend — has the staff a little bit bothered and it wouldn't surprise me at all to see them move on. Sitting around and waiting for Johnson to make a decision could potentially cost you another recruit if Markell winds up going someplace else.
In 2017, Ohio State seems to be one of the top candidates for a five-star guard, M.J. Walker. Maryland appears to be the frontrunner right now, but adding an elite talent like Walker would be huge for Thad Matta and Co. even if he winds up as a one-and-done.
Every time Dan Dakich does an OSU game, he says Marc Loving has the potential to be Evan Turner. Do you see that as a reasonable comparison? How do you see Loving performing this year and how good can he be? — MacG91
Can Marc Loving be Evan Turner? Well, no. But he doesn't have to be and that's part of the reason I think he's so scrutinized by much of the fanbase. For some reason, Loving has had these crazy expectations placed on him since he arrived at Ohio State.
His body language on the floor isn't great most of the time and I get that rubs a lot of people the wrong way. But Marc is a solid college basketball player and I think the biggest issue right now — and especially last year — is he's being asked to do things he's never had to do at this level. Some guys don't develop into superstars and that's totally fine, but when they're asked to do superstar things out of necessity it can get a bit messy.
I think Loving can be an all-conference player (second or third team) next year but I wouldn't expect him to all of a sudden turn into a superstar. He's best when he's playing off of others — a la his sophomore season before his suspension — so if Ohio State can adjust to playing through Lyle and Bates-Diop more rather than Loving, it will be better off.
He has his limitations. He's not super athletic and he can't really create his own shot — Turner was so good at creating his own shot — but when all he's asked to do is make open shots, he can.
Despite what most say, I've seen a good amount of growth in Loving the last two years, but to compare him to a Naismith winner seems a bit much. I get that it's frustrating to watch him a lot, but to me, he kind of is what he is at this point in his career.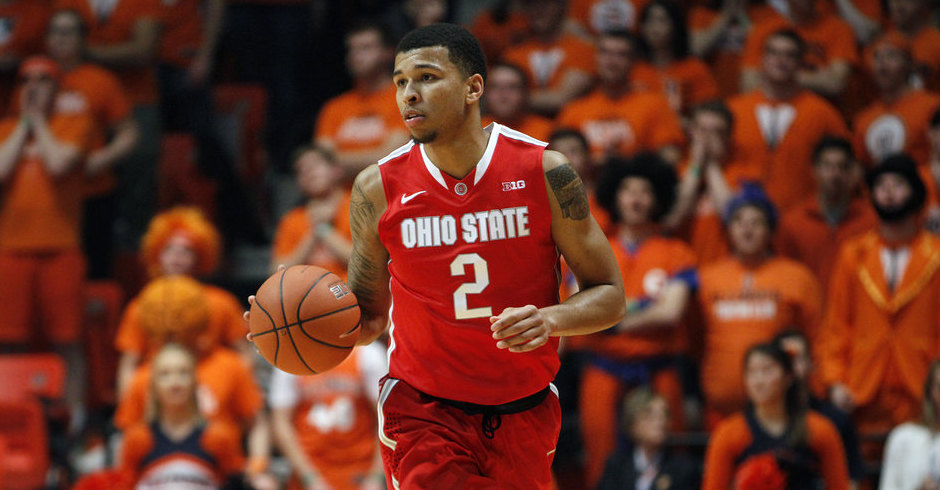 Who will be the next OSU basketball assistant to become a head coach? — BPOSU
Dave Dickerson was reportedly one of the finalists for the Delaware job and he recently made it clear he wants to be a head coach again someday so if I had to guess I'd say he would be first.
I think there's a strong possibility Chris Jent ultimately succeeds Matta one day at Ohio State — whenever that may be — and I also think Greg Paulus will eventually get a head coaching shot down the road. He's still relatively young, however, so it may not come for a bit.
Any updates on the revamped secondary?  How are the players responding to Schiano? — FitzBuck
This probably isn't what you want to hear, but with three new starters, it's certainly an area of concern. With that said — and this is the case with just about every position group with Ohio State — talent is not the question.
Gareon Conley will have one corner spot locked down and the staff is consistently impressed with the development of Denzel Ward at the other spot, though I think Marshon Lattimore will start if he's fully healthy. That's a huge if, though.
Malik Hooker seems settled into one safety spot with Damon Webb at the other. It was tough to evaluate Cam Burrows and Erick Smith there during the spring as both were hurt — though Smith has impressed me on special teams since his arrival. 
Schiano is a phenomenal coach and the players seem to enjoy playing for him and there won't be a ton of schematic change. Replacing Chris Ash was certainly a challenge, but it seems like Urban Meyer found the right guy. Anytime you can add a longtime head coach — and certainly one with NFL experience — you have to do it.
Do you know what staffs intention with Binjimen Victor as a freshman? He has the height yes, but does he have the weight to play right away? Or do you think Austin Mack will play the role of the only Freshman WR to play this year? — AlwayzABuckeye614
You essentially answered this question for me, as I think Victor is going to need to get stronger before he sees the field for Ohio State. He's got a great frame, but some guys need to get on a college weight program first.
The way the staff has hyped Austin Mack, I'd expect him to play as a freshman. The wide receiver room is really deep this year with a ton of inexperienced, yet talented players so the competition will be quite high. I just think it may take Victor a year or two to get on the field, which is fine.
Will Dylan Thompson be a factor in the defensive line rotation? — Browns88 
He has a long way to go, so I don't think he'll be much of a factor this year.
Right now, Mike Hill and Tracy Sprinkle are the starters at defensive tackle and guys like Jashon Cornell, Dre'Mont Jones, Robert Landers, and even DaVon Hamilton appear to be next in line inside.
Outside, Sam Hubbard and Tyquan Lewis will start, with Jalyn Holmes and (presumably) Nick Bosa in the rotation, as well.
So yeah, it's going to be tough for Thompson to crack the rotation this year.
Can you explain what the three-man weave is supposed to do offensively? —Zimmy07
I'm assuming you're talking about the action Ohio State runs quite a bit to begin its offense, and if so, I think it's probably best to show you rather than spell it out. I'll do that down below.
But the purpose is to try and create mismatches through switches or to give the player receiving the handoff an extra step of space to create off the bounce and attack the basket as the player giving the dribble handoff is supposed to get in the way just enough to create that space. 
Often times there is also a screen that comes from a big after the second or third handoff. The big man flashes from one of the blocks and tries to set a ball screen for one of the players who just received a handoff.
I found this random video on Youtube of the Denver Nuggets that illustrates it pretty well.
Who wins between Urban Meyer's best Ohio State team to date and Jim Tressel's best? — SFlaBuckeye13
I thought about breaking this down and doing a play-by-play before realizing that would take entirely too long, so I'll keep it simple as I'm sure it will be debated in the comments section below. It's a really interesting question.
My personal opinion — don't yell at me, please — is that Jim Tressel's best Ohio State team was in 2005 and Urban Meyer's was 2014 (The 2015 team had all of those talented players, yes, but they all played in 2014 as well).
With that said, I'll take the 2014 team over the 2005 team by the final score of 31-27.
*sets comments section on fire*
Will chamomile tea become the beverage of choice once again for J.T. Barrett in what's sure to become a pressure-cooker 2016 season for him and the Bucks? Or will he resort to another libation to save his savage breast? — GrandTheftHarley
J.T. Barrett is a tea guy. Forever and always.