Thad Matta couldn't stop smiling when asked about Evan Turner Tuesday night.
Turner, the 2010 National Player of the Year and heart and soul of a team that won the Big Ten Tournament and made it to the Sweet Sixteen, saw his No. 21 lifted into the rafters at the Schottenstein Center at halftime of Ohio State's game against Michigan. The Buckeyes won, 79-69.
"He told me they almost had to delay the game," Matta said of his former star. "He said, 'Coach, I got emotional.' He's so excited and he's a kid that loves Ohio State, loves his teammates and he's very, very proud right now. As he should be."
Turner's No. 21 becomes just the fifth number to be honored by the Ohio State basketball program, joining Jerry Lucas (11), Jimmy Jackson (22), John Havlicek (5) and Gary Bradds (35).
Countless great players have made their way through Ohio State, but a mere handful are in a class above all others. Chances are Matta has gone to war with the school to get more of his former players put in the same category as Turner, but none of them have a National Player of the Year award to their names. He will continue to try, however.
"It's really hard to get your number up there," Matta said Jan. 30, the day the school announced the date of Tuesday's ceremony. "I don't know, because I'm not going to lie to you, I've tried in my time here to put jerseys up but they've been very steadfast in terms of not doing it."
Ohio State no longer retires numbers, instead recognizing them for those individuals who won National Player of the Year — unless you're Havlicek, who played with a two-time Player of the Year in Lucas. The numbers in the rafters can be worn again, as long as permission is granted.
The same goes for football. For example, current freshman linebacker Justin Hilliard wears Chic Harley's No. 47, which hangs on the north end of Ohio Stadium. A.J. Hawk wore it from 2002-05.
What are some names Matta's wanted in the same realm as Turner, Jackson and others? You probably have a pretty good idea, but here are some we think are at least deserving of consideration.
---
Upper Tier

*Those we feel most deserving of consideration
Clark Kellogg (1979-82) — Kellogg averaged a double (14.9 points, 10.1 rebounds) over this three-year college career. He was a force as a freshman, averaging 11.6 points and 8.0 rebounds per game.
Special K rose his game further his sophomore year, averaging 17.3 points and grabbing 12.0 rebounds per game. Before leaving early for the NBA Draft, Kellogg earned first-team All-Big Ten honors as a junior when he averaged 16.1 points and 10.5 rebounds per game and shot 52.7 percent from the field.
Kellogg led the Buckeyes in scoring and rebounding both his sophomore and junior years, and teammates dubbed him Ohio State's Most Valuable Player after the 1981-82 season.
Dennis Hopson (1983-87) — Hopson earned second team consensus All-American honors and was named Big Ten Player of the Year his senior season after averaging 29.0 points and 8.2 rebounds per game. His scoring average that season is third on Ohio State's all-time list, behind Bradds (30.6) and Robin Freeman (32.9).
Hopson served as the staying power through a coaching transition from Eldon Miller to Gary Williams before his senior year, and led the Buckeyes to 20 wins and an NCAA Tournament berth in 1987.
Hopson owns a pair of Ohio State records, as well. The 2,096 points he scored in his career are 85 better than Herb Williams (more on him in a bit) for most all-time and the 987 points he racked up in 1986-87 are miles ahead of the next closest Buckeye. That is Bradds, who tallied 735 in 1963-64.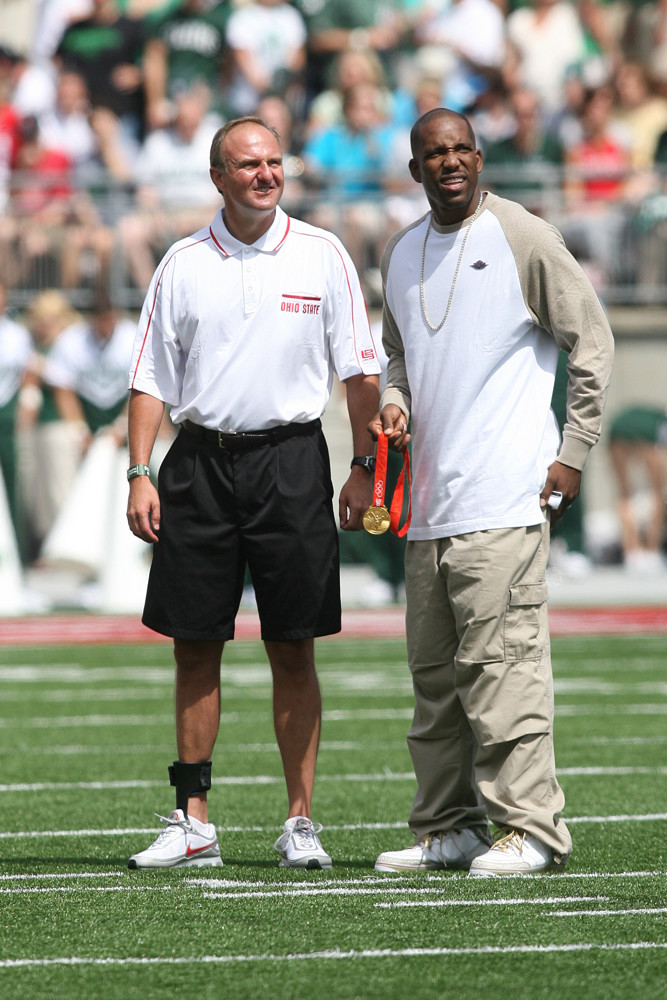 Herb Williams (1977-81) — Williams trails only Hopson on Ohio State's all-time scoring list, and is the only other member to break the 2,000-point plateau, with 2,011. He averaged a cool 17.6 points and 9.7 rebounds a game in his career and grabbed first-team All-Big Ten honors his junior season.
Williams is second all-time behind Jerry Lucas at Ohio State with 1,111 career rebounds, but made his presence felt defensively too. He is second at Ohio State with 328 career blocked shots, trailing only Ken Johnson (444).
Williams only played in the NCAA Tournament once, but was a stalwart in the post in all facets of the game.
Michael Redd (1997-2000) — Redd owns arguably the sweetest stroke in Ohio State hoops history and is in the top-10 of the program for field goals attempted and made both in a season and during his career. His 1,879 careers points is sixth-best, and 19.6 points per game career scoring average is good for seventh.
Redd also averaged 6.2 rebounds per game in his career. He was an integral part to the team's run to the 1999 Final Four, which was later vacated due to NCAA sanctions. During his three years in Columbus, Redd led the Buckeyes in scoring each season. He averaged a ridiculous 21.9 points per game as a freshman.
Redd is also one of three Buckeyes (William Buford and Jerry Lucas being the others) to record three 500-point seasons in his career.
The Maybe Tier

*Reserved for players just below the cusp of those above, but still meant plenty to the program
Kelvin Ransey (1976-80) — Started 111 of 112 games at Ohio State, is the highest scoring point guard in program history (1,934 points, fifth all-time), fourth all-time in career assists (516), three-time first team All-Big Ten selection, 1980 consensus second-team All-American
Jay Burson (1986-89) — Eighth all-time on career scoring list (1,856) and career field goals made (649), averaged 22.1 points per game in the 1988-89 season, first team All-Big Ten that year
Aaron Craft (2010-14) — Program leader in assists (694) and steals (337), set school record with 98 steals in 2011-12, averaged 8.9 points, 4.7 assists and 3.3 rebounds in his career, 2014 Big Ten Defensive Player of the Year and NABC Defensive Player of the Year, 2011 Big Ten Sixth Man of the Year
David Lighty (2006-11) — Program leader in games played (157), fourth in starts (125), third in steals (191), 10th in assists (374), member of the 1,000-point club, 2008 team captain — the most recent season Ohio State named captains
Scoonie Penn (1998-2000) — 1999 Big Ten Player of the Year, 2000 consensus second team All-American, scored 1,076 points in just two seasons at Ohio State, averaged 16.3 points, 4.3 assists and 4.1 rebounds per game, tied for fourth all-time at Ohio State with 153 3-point field goals made
Terence Dials (2001-06) — Named 2006 Big Ten Player of the Year after he averaged 15.3 points and 8.0 rebounds per game that season, led team in rebounding from 2004-06, fifth on career rebounding list with 876, fourth all-time in career field goal percentage (55.8 percent), member of 1,500-point club, two-time team MVP
The Early Exit Tier

*Reserved for players who left the program after one or two seasons but left lasting impact
Greg Oden (2006-07) — Consensus second team All-American in only season at Ohio State despite missing nine games, averaged 15.7 points, 9.3 rebounds, 3.3 blocks a game, first team All-Big Ten, NABC Defensive Player of the Year

Jared Sullinger (2010-2012) — Two-time consensus first team All-American, two-time first team All-Big Ten, Big Ten Freshman of the Year, averaged 17.3 points, 9.7 rebounds and shot 53 percent in career, made fifth-most free throws in a season in program history (188) in 2010-11, rebounds per game average good for eighth all-time
Mike Conley Jr. (2006-07) — Owns program record for assists in a season (238), third all-time for steals in a season with 87, co-MVP with Oden in 2006-07, first team All-Big Ten, averaged 11.3 points and 6.1 assists
D'Angelo Russell (2014-15) — Consensus first team All-American, Big Ten Freshman of the Year, first team All-Big Ten, led team with 22.7 points and 6.7 rebounds per game in his lone season, second with 5.9 assists per game
---
There are many more names that could be added to this list, and Matta will likely have his name recognized among past program greats by the time he calls it a career.
The only other men's coach to have a rafter bearing his name at the Schottenstein Center is Fred Taylor, who led the Buckeyes to the school's lone national championship in the sport in 1960. Matta passed him in career wins late last year, and now has 316 in what is now his 12th season.
All the players listed above have one thing in common: They didn't win National Player of the Year. That is probably the thing that will prevent Ohio State from ever recognizing them — no matter how much Matta pleads. The head coach has mentioned on multiple occasions how he wants a statue of David Lighty outside the arena, and can't put into words what Aaron Craft meant to Ohio State.