It's happened too many times to count.
Ohio State draws a foul on the floor or a loose ball squeaks out of bounds along the baseline, touched last by their opponents. A Buckeye guard, be it Shannon Scott, D'Angelo Russell, or one of many other options over the past four seasons, receives the ball from the referee and looks for a teammate to whom he can pass.
While the other nine players on the court begin jockeying for position and communicating signals, every other set of eyes in the arena is fixated on one player.
They know what's coming.
Every single soul in that arena knows that Sam Thompson has posterized dozens of well-meaning young men during his time on Thad Matta's team. Even as the senior prepares to take the floor of the Schottenstein Center only three more times, his opponents still haven't seemed to find a way to keep his signature play from happening over and over. During Saturday's matchup with Michigan State, ESPN broadcaster Dan Dakich even commented that it's so well known by now that the opposing assistant designated to scout the Buckeyes should lose their job if their team is still falling victim.
While it's easy to say that the opposing team should simply double-team Thompson, he's just the finisher in this equation. The senior from Chicago certainly is blessed with quickness and leaping ability that few can match, but the teamwork required to set up his monstrous dunks deserves some attention as well.
Looking at this example from the matchup with Maryland in late January, we can see Thompson joins Amir Williams and Marc Loving in a three-man stack just beyond the near block. But as the inbounder, Russell, signals the play to start, Williams skips across to the opposite side of the key, while Loving appears to move toward baseline.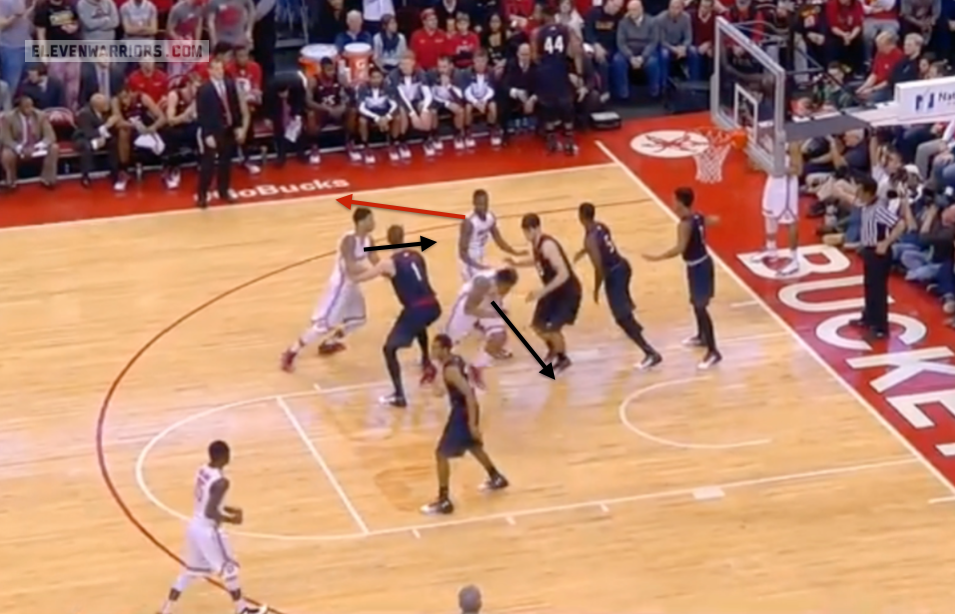 Thompson had intentionally begun fighting the Maryland center for position instead of his own defender, looking to create space when the Terps' big man follows Williams. By the time he and Loving swap spots along the left edge of the key, this action has created about six feet of separation between Thompson and his man, freshman guard Dion Wiley.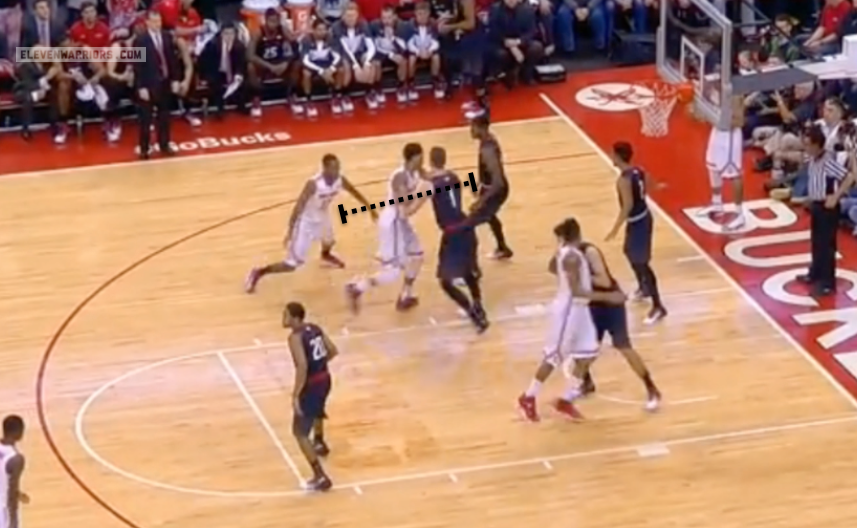 Perhaps expecting to switch with #1, Evan Smotrycz, Wiley remains stationary to prevent an easy pass to the oncoming Loving. But instead of swapping assignments, Smotrycz is fully engaged in a battle for position down low, showing no intention of letting Loving establish position just a few feet from the basket.
As we can see in the Vine above, Loving regularly sets up on the block nearest the inbounder to create an easy passing angle, regardless of Thompson's activity. But this time he isn't trying to set up for a pass, even though it appears like it with his outstretched arm calling for the ball. 
Everything about Loving's position is important here, as his upper body calls attention to an open lane to Russell, which #2, Melo Trimble, slides over from his original position under the hoop to take away. But Loving's lower body is taking on a totally different objective, setting a wide base to easily slide his hip into Wiley, who now realizes he has to chase Thompson out toward the top of the key.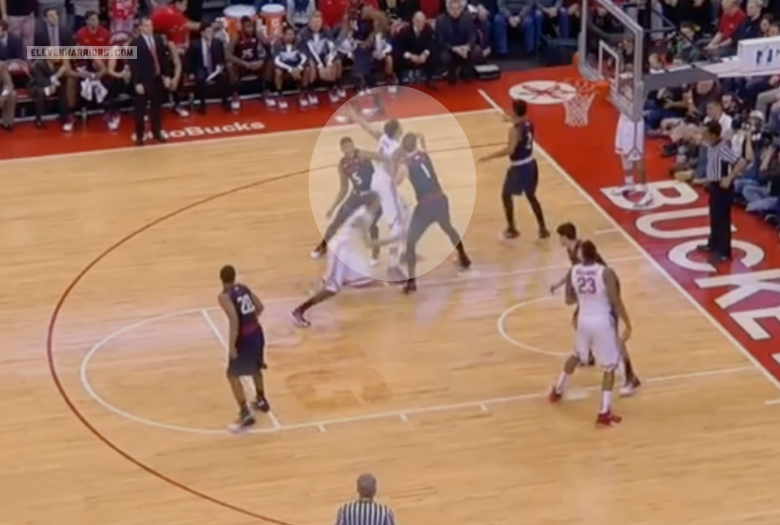 Although the Terps didn't cover Russell as the passer, effectively gaining a five-on-four advantage, the Buckeyes have now gained the edge as Loving takes three Maryland players out of the play. Thompson easily curls off the pick from Loving and takes off from a clear runway the width of the entire lane to meet the soft pass from the unobstructed Russell.
For opposing coaches and analysts like Dakich, breakdowns like this shouldn't happen, considering the Buckeyes have run this exact play before. In a matchup with North Dakota State in December of 2013, Thompson scored on the same set, just from the opposite block.
But to be fair to whichever poor soul was tasked with scouting the Buckeyes' inbounds plays, the Buckeyes had played 50 games between the two clips shown here. This is just one example of the many such inbounds plays that Thad Matta has to set up a once-in-a-generation finisher.
Basketball coaches often only have a few days in between games to review their previous game film, scout their opponent, hold a couple practices at most, and travel to or from their games, not to mention that whole recruiting thing. Teams rarely have the time to implement any kind of plan to stop Thompson, especially when there are bigger, more foundational aspects to the Buckeyes' attack that need to be addressed first.
Few teams spend as much time preparing for inbounds plays on both ends as the Buckeyes have under Matta though, to the point that other coaches look to the Scarlet & Gray when looking for inbounds ideas. But although these situations will continue to be a focal point for the Ohio State basketball team after the graduation of the greatest dunker in school history, they probably won't be as fun.