Thad Matta's Buckeyes will look very different in 2014-15.
Aside from the sad departure of Aaron Craft — Ohio State's all-time leader in steals and assists and one of the school's top 30 scorers of all time — the Buckeyes will also face life without departing senior guard Lenzelle Smith Jr. and underclassmen LaQuinton Ross and Amedeo Della Valle. Ross's departure was somewhat expected. Della Valle's was a bit of a surprise.
With three starters gone and a developing depth player off to Europe, Matta's team will be completely transformed next season. The two remaining starters will be seniors who have yet to reach their potential and the bench will be completely revamped.
It may be a bit early, but we'll take a look ahead to see what the starting lineup might look like in Year One A.C. (After Craft).
Amir Williams returns at center in what will hopefully be the long-awaited breakout season for the former McDonald's All-American. Likewise, Sam Thompson will be back, reprising his role at the three spot.
That's about 16 points per game returning to the starting lineup from an offensively-challenged squad that averaged 69.5 points and didn't get much from its bench. The Buckeyes said goodbye to their top three scorers and three of their top five rebounders. There is clearly a lot to replace when the ball tips off this fall.
Shannon Scott will step back into the starter's role he voluntarily vacated midway through this year. The difference is that Scott will become the primary point guard, taking over Craft's role. Scott has shown glimpses of becoming a formidable player. Already an elite defender and fine distributor, Scott has only scratched the surface of his scoring capabilities.
The smooth-shooting, confident version of Scott that showed up for the Big Ten Tournament semifinal against Michigan must become a regular part of Matta's offense for Ohio State to maximize its potential next year. He scored 18 against the Wolverines on 7/10 shooting (4/6 from distance), equaling his season high.
Scott opened the season strong, reaching double figures in three of the first four games. He accomplished that just six times across the final 31 contests. A more consistent Scott will ease the loss of Craft considerably.
After Williams, Thompson and Scott the starting lineup gets a bit more uncertain.
The shooting guard battle will likely be between incoming freshman D'Angelo Russell and redshirt freshman Kam Williams. Russell is a more natural fit at the position, but both are highly regarded prospects.
Russell has been impressive as a prep prospect, with a shooting touch that Ohio State certainly could have used this season. The Montverde (Fla.) Academy product is a fluid and confident shooter and should provide offense either as a starting two guard or a valuable contributor off the bench. He has good size for a guard at 6-foot-5, but he'll need to fill out his frame to take the physical pounding of B1G hoops.
Williams averaged 21 points as a high school senior, but an unfortunate case of mono forced him into a redshirt situation this year. A year in Ohio State's program may provide him with an edge over Russell.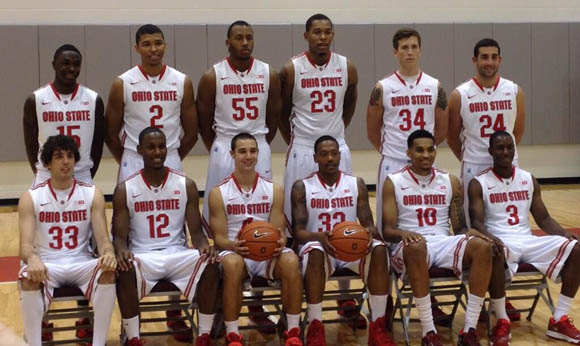 Whoever doesn't win this position battle may be the sixth or seventh guy in the rotation, but will almost certainly provide value to Matta off the bench.
The starting four spot will come down to sophomore-to-be Marc Loving and Temple transfer Anthony Lee, who committed to Ohio State yesterday.
Lee is an experienced power forward, who averaged 13.6 points and 8.6 rebounds this year for Temple in about 31 minutes per game. The 6-foot-9, 230-pound big posted 11 double-doubles this season, but has been knocked for having poor hands on interior passes — something we've seen way too much of with Amir Williams and Trey McDonald.
Meanwhile, Loving has shown a lot of promise over his freshman season, but stepping up to replace Ross may be a bit too much to ask. Loving is certainly the future, and his role will expand in 2014, but he'll have to earn it if he's going to step into a starter's role.
The rotation will still include McDonald, a high-energy, low-production (so far) post player who is prone to quick foul trouble. He'll continue to spell Amir when Ohio State features its larger lineup.
Bench experience will drop off sharply after McDonald. Freshman Keita Bates-Diop is a 6-foot-7 forward who may earn the kind of early minutes that Loving garnered this year (or maybe more). Guard/forward Jae'Sean Tate out of Pickerington will be coming off an injury his senior year of high school, but he's a talented kid who could compete to get into the rotation.
Matta's fourth true freshman, David Bell out of Cleveland, is a 6-9 inside player who many consider to be a guy with a lot of raw potential.  He may be a redshirt possibility, if Matta can afford to sit anyone next year — especially an interior player.
With five new faces all entering together this fall, Ohio State will be a team that looks very different in the fall. We'll have to wait and see if it's a good different.