Next season's roster will be a bit jarring for those who have followed Ohio State basketball the past four years. 
The Buckeyes will be considerably less physical on the perimeter, thanks to Aaron Craft, LaQuinton Ross and Lenzelle Smith Jr.'s departures. The shaggy haired, crowd-pleasing Amedeo Della Valle won't showcase an improved three-point arsenal – in Columbus, anyway, as he heads overseas to play professionally. 
As a projected second-round pick, Ross has reasons to join Craft, Smith and Della Valle in departing Ohio State. His absence, above all else, will truly lead to a massive overhaul. OSU has few, known scoring quantities and a significant lack of front court depth. 
Still, two members of the starting lineup return, as does Shannon Scott, who started a significant portion of the past season. We take a look at the current 2014-15 Buckeyes, position by position: 
Point Guard

Leaving: Aaron Craft (9.8 points, 4.7 assits, 3.7 rebounds., 2.5 steals)
Returning: Shannon Scott (7.5 points, 3.4 assits, 3.4 rebounds, 2.0 steals)
Incoming Freshman: D'Angelo Russell (composite No. 17 overall)
At multiple points throughout the past season, Thad Matta publicly challenged his senior core. 
From a defensive standpoint, there's not much more he can ask of Craft. Sure, Dayton's Vee Sanford hit the game-winning and a career-ending shot over Craft, but Matta might not find a defender with as much tenacity, knowledge or skill for the rest of his coaching career. 
Scott is a comparable replacement, but the shutdown duo – one that led Ohio State out of so many early deficits – will no longer exist. Offensively, Scott appeared to be gaining some positive momentum with his final two games of the Big Ten Tournament. As is the case far too often with him, he quickly faded.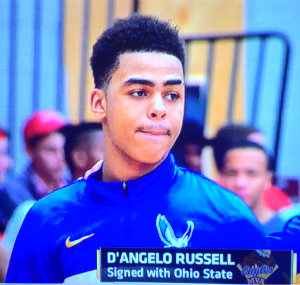 Russell's shooting and ability to create his own shot will be key components to next year's squad. He may play point guard with the bench group or when Scott is in foul trouble, but his primary role will likely be playing off the ball – that is assuming Scott is capable of facilitating the half-court offense. 
Shooting Guard

Leaving: Lenzelle Smith Jr. (11.0 points, 5.1 rebounds, 33.1 percent from three), Amedeo Della Valle (4.0 points per game, 32.4 percent from three)
Returning: Redshirt Freshman – Kam Williams (Redshirt). Senior – Andrew Goldstein (1 field goal attempt, 2 games played)
Incoming Freshman: D'Angelo Russell
We all expected more out of Smith and what we got, well, was still good enough to be the team's second leading scorer.
His inconsistencies mirrored the team's and magnified everything that went wrong on offense. Smith's three-point percentage decreased from both his sophomore and junior years, but it wasn't all wide-open misses. There were plenty of those, sure, and also little floor spacing to help him out. His defensive presence will be missed, especially with a freshman expected to replace him in the starting lineup. 
Between Russell and Williams' range, one of them will be counted on to spread the floor and consistently hit deep buckets. Early on, it might be Williams, with Russell coming off the bench as one of the top "sixth men" in the country. 
Small Forward

Leaving: None
Returning: Seniors – Sam Thompson (7.9 points, 2.7 rebounds, 35.5 percent from three), Jake Lorbach (0.8 points per game in 8 games played)
Incoming Freshmen: Keita Bates-Diop (Composite No. 27 overall), Jae'Sean Tate (Composite No. 60 overall)
Ohio State experimented with a three-guard lineup until Sam Thompson returned to his starting role from the year prior.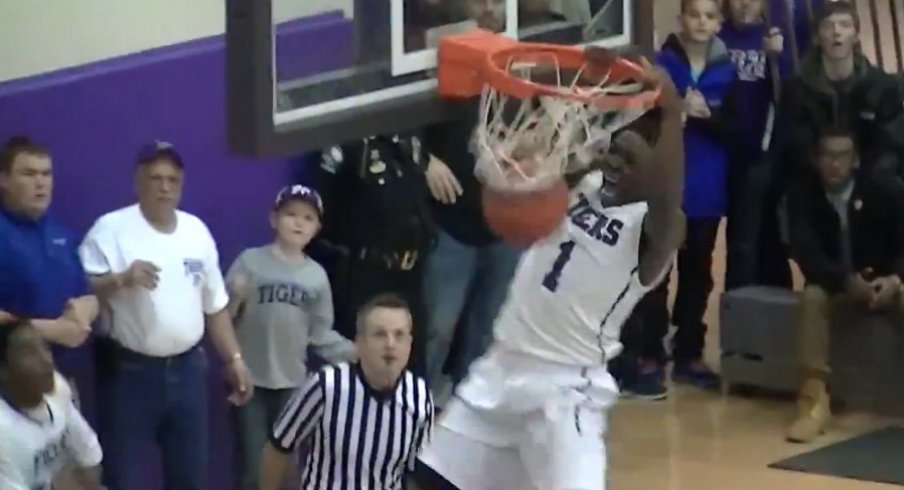 Since Thompson replaced Scott, following an overtime loss to Penn State, he averaged 8.6 points per game. Compare that to the 7.3 he scored before entering the starting lineup. That difference is somewhat insignificant, but he appeared to be more confident as the season went on. 
He'll be the presumed starter at this position, with the expectation that he'll make a leap and get his three-point shooting back towards the 40-percent mark. Thompson will still get challenged by a pair of incoming freshman – the sharpshooting Bates-Diop and the physical play of Tate (on his radio show, Matta said Tate reminds him of David Lighty, who was a key contributor on the 2007 Final Four team).
Power Forward

Leaving: LaQuinton Ross (15.2 points, 5.9 rebounds, 35.3 percent from three, 44.7 percent field goals)
Returning: Sophomore – Marc Loving (4.4 points, 1.7 rebounds, 25.9 percent from three)
Incoming Freshman: None
Without Ross, this team will look drastically different on offense. 
That's not entirely a bad thing, but Ross was the only consistently productive offensive threat. He did it all, as the team's leading scorer and rebounder, just like Deshaun Thomas in 2012-13. His overall game is not as refined as his predecessor, but his top attribute was creating something – please, anything – for a sputtering offense. He averaged 4.8 free throw attempts per game, slightly higher than Thomas' 4.57. Although he didn't necessarily capitalize on those as much as he would've hoped (73.2 percent from the line), it was still the best only option for Ohio State.
At this point in his career, Loving will probably not be able to get to the line as much as Ross. The physicality is not there and any low-post effort would be purely finesse. That would be fine if Loving could hit more than 36.8 percent of his shots. While he needs to be a bit more efficient, a few of Loving's stats are comparable to what Ross did in his Sophomore year (glossary, via sports-reference.com):
| Season | PER | TS% | ORB% | DRB% | TRB% | AST% | TOV% | USG% |
| --- | --- | --- | --- | --- | --- | --- | --- | --- |
| Ross, 2012-13 | 18.7 | .575 | 6.4 | 13.9 | 10.2 | 6.0 | 18.6 | 27.9 |
| Loving, 2013-14 | 13.7 | .512 | 6.0 | 13.0 | 9.6 | 3.8 | 11.8 | 23.7 |
Center

Leaving: None
Returning: Seniors – Amir Williams (7.8 points, 5.8 rebounds, 59.8 percent field goals), Trey McDonald (2.0 points, 1.7 rebounds, 71 total points, 70 total fouls)
Incoming Freshman: Dave Bell (Composite No. 184 overall)
Among other things, Williams and McDonald's constant foul trouble exposed Ohio State's lack of depth at this position.
The dream scenario is to land five-star recruit Myles Turner, which would solve many of the Buckeyes' problems. OSU needs a low-post scoring threat, shot blocking and a more active big.
If it's not Turner, the hope is to land Temple transfer Anthony Lee, who would be eligible immediately. The 6-foot-9-inch Lee averaged 13.6 points and 8.6 rebounds per game last season and is considering Indiana, Iowa State, Louisville and Notre Dame, in addition to Ohio State.
Neither appear likely, so they'll have to bank on the development of either Williams or McDonald. To say that has been an issue thus far would be an understatement. Barring an extremely productive summer and fall camp, Bell is not likely to contribute in his freshman year.