The 2005-06 basketball season wasn't a particularly memorable one for the Ohio State Buckeyes. They had a good run in the B1G tourney, but in the NCAA tournament they played a sloppy game against 15 seed Davidson, and then subsequently got destroyed by seventh-seeded Georgetown to the tune of an 18 point deficit.
It was a fairly unremarkable season, but the graduation of several seniors also meant the arrival of one of the greatest recruiting classes in Ohio State history. It was a class that would take the Buckeyes all the way to the national championship game, and set a precedent for success that has lasted for almost seven years.
Since that amazing 2006-07 run, Ohio State has either won or been the runner up in the Big Ten tournament five of the last seven years. Ohio State is the only team other than Michigan State to win back to back titles, and they also easily hold the record for most championship game appearances since the tournament was started in 1998, and this doesn't include their 2002 tournament win that had to be vacated because of the O'Brien scandal.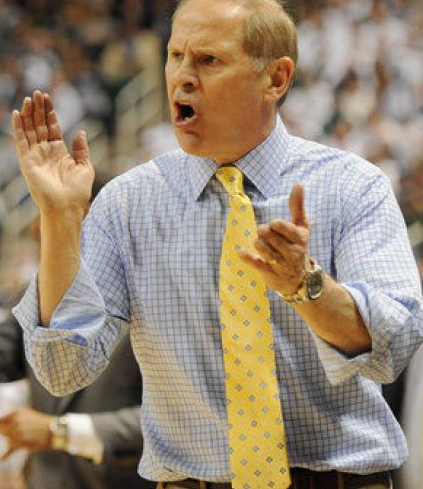 The regular season has been just as successful for Ohio State as the tournament has. From 2006 through 2012, Ohio State either won outright or had a share of the best overall conference record five times, including three consecutive seasons from 2010 through 2012. The last time that Ohio State had managed something like that was the 1960s, and since the the conference had been taken over by the likes of Indiana and Michigan State and sometimes Purdue.
That's kind of the thing about the Big Ten; just like every other conference and sport on Earth, dominance is cyclical. I'm not nearly old enough to remember the 1960s and they heyday of guys like Jerry Lucas, but I was at Ohio State during the Oden/Conley run in 2006-07, and given the recruiting classes that Thad Matta has brought in, I thought that it was reasonable to expect that those days of milk and honey were going to continue for the next few thousand years or so.
And the last seven years have been great, and despite some high profile misses in the recruiting department, it still seems like Ohio State will remain a huge force in the Big Ten for as long as Thad Matta decides he wants to keep coaching.
But it's starting to get crowded at the top, and a lot of that goes back to coaching. John Beilein has turned a Michigan basketball program that was a complete afterthought into a perennial threat to win the Big Ten and now looks like a threat to make consecutive Final Four appearances. Bo Ryan has never NOT taken the Badgers to the NCAA tournament, and appear to be on track for finally going beyond the Sweet Sixteen for the first time since 2005. Hell, Tim Miles at Nebraska has coached up what was thought to have been a laughingstock, and dragged them into March Madness for the first time since the late 90s.
There is now more parity in the Big Ten than there has been in years, and Ohio State no longer has the luxury of simply stepping up and accepting their role as the leader of the conference in basketball. Unless Matta and company are able to bring in classes on the caliber of what we saw in 2006-07, it is going to be a dogfight every single year.
And that's okay, because the truth is that Ohio State didn't really lose Big Ten hegemony, other teams took it away from us by simply improving their programs through solid coaching hires, player development, and good recruiting classes. That means a stronger overall conference with a better national profile, and is good for the conference as a whole.
That'll also mean more B1G conference losses for Ohio State in the long run, and maybe more seasons as frustrating as this one. That will suck.
But Big Ten basketball needs to continue to be both good and competitive, or else it'll fall into the embarrassing stagnation that Big Ten football has. All that's left is for Ohio State fans to ask themselves a simple question: do you want to sit on your throne as the best team in a dire conference, or have to fight to prove yourself every single year by going through a gauntlet of really good teams?
It'd be easy to say the former after this incredibly disappointing season from the men's basketball team, but for long term success, I know what the right answer is.