"If you're gonna be dumb, you gotta be tough" is probably more of the more accurate old timey kind of sayings that I can think of. Especially since if you're dumb but not tough, things tend to get exponentially worse for a person in the long run.
Ohio State has been especially dumb in this basketball season. Dumb in turnovers, dumb in shot selection, dumb in fouls, dumb in free throws, and they've occasionally gotten away with it because they've played tough defense and gutted out a few wins (and almost-wins) in the process.
Not yesterday afternoon.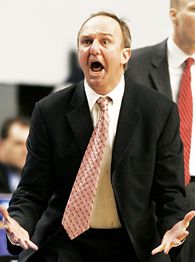 The Buckeyes were lethargic against a crappy Purdue team that came into the game losing six games in a row, and 11 of their last 13. Not exactly a squad on the rise, but since this is the same Ohio State team that managed to lose to Penn State twice this season, you'd hope that the Buckeyes would take their first round opponent a little more seriously.
During the game, Ohio State was predictably terrible from beyond the arc, going 1 for 14 and shooting a ridiculously bad 36% from the field overall. This is Thad Matta's worst three point shooting Ohio State team ever, which leads you to wonder why they keep jacking them up until you remember that they have no real inside presence offensively.
Part of that is simply personnel, but when you have 20 offensive rebounds in a game to go along with 10 blocked shots and nine steals, you'd hope that the intensity that you're supposedly kicking up a notch amounts to more than a three point win over a team that's had two of those in the last two months.
This interview from ESPN with Lenzelle Smith kind of summed things up:
"I'm not happy with the way we played today. We didn't come to play basketball. We didn't have the energy, the intensity, or the juice that we needed to win at this time of year. Luckily I think that we kind of got by today, but that's the name of the game ..."
All of this is a completely accurate summary from probably the best interviewee on the team, but you almost want to see the senior a little more angry. "Getting by" in March is one of the greatest sins that a basketball team can commit, and if Ohio State wants to make any noise at all, they're going to have to change their attitude. Quickly.
To make a further point, one thing that I've noticed is that sports fans, particularly Midwest sports fans, can abide a lot. Imperfections actually make players and teams more endearing, because then we can trick ourselves into thinking that elite level athletes are "like us" in more than just the sense that they're carbon based lifeforms that breathe oxygen and require water to survive.
But one thing that we really, really, REALLY hate is laziness. If you're bad at something, cool. Be bad, try to get better. But if the sum total of your abilities isn't reflective of the product that you're showing us, God help you if you're playing on your home court/field/arena/whatever, because you will get the booing of a lifetime with nothing to succor you but your massive talent, fame, and/or fortune.
Ohio State plays the Nebraska Cornhuskers today at 2 pm. They are one of the hottest teams in the Big Ten, having won 11 of their last 14 games and coming off an upset of Wisconsin where they took apart the Badgers in the second half and had two players who scored 26 points.
The Cornhuskers are playing for a potential NCAA berth, and if they're lucky, a shot at a Big Ten tourney championship, which would've been absolutely unthinkable at the beginning of the season. They are motivated and have all the momentum in the world on their side.
Ohio State, despite the talent disparity (maybe?) and the better tournament chances, appear to have neither motivation nor momentum. If they can wake up and get it back, the other teams in the Big Ten need to be on notice for the rest of the weekend. If not, it's time to look at what a loss in the second round will do to our NCAA seeding.