The debate about which conference is best will rage on this week as the major conference tournaments take place. The Big 12, Pac-12 and Big Ten are vying for the most tournament teams, while the ACC has heavyweights such as Duke, Syracuse, North Carolina and Virginia. A unanimous answer will never be found.
For sheer entertainment, it's hard to top the Big Ten. For years, the ACC Tournament in Greensboro was one of the toughest tickets in sports. The Big Ten Tournament is rapidly approaching that same status. It's been sold out two straight seasons and is routinely one of the top attended conference tournaments in the country. 
| Who | Where | WHEN | TV |
| --- | --- | --- | --- |
| Purdue (15-16, 5-13) | Bankers Life Fieldhouse | 2:25 p.m. | BTN (BTN2Go) |
Many believe this year's event could be the best of all. After 10 weeks of back-and-forth and sometimes bloodied jerseys, the 12-team league convenes in Indianapolis with no clear favorite, despite Michigan (15-3) winning the regular-season crown by three games.
"If you move forward with this league, we shouldn't assume we're going to beat anybody or assume any team is going to be easy," Minnesota coach Richard Pitino said. "It just shows it's a really balanced league."
One thing is certain, Nebraska will be the darlings of the week. Tim Miles' rebuilding project is far ahead of schedule. In just his second season, Miles has the Cornhuskers back in the NCAA Tournament for the first time since 1998. Terran Petteway, a first-team All-Big Ten selection, has been the catalyst in wins over Michigan State, Ohio State and Wisconsin.
Minnesota is the league's biggest bubble team. The Gophers finished the regular season 8-10 and need to sneak by a dangerous Penn State team – ask Ohio State – to play second-seeded Wisconsin. A 1-3 stretch run did Minnesota no favors, and it will likely need a championship game appearance to hear its name called on Selection Sunday.
"The people on the committee are very, very aware of the Big Ten and how good this league is this year in terms of how good the players are, the coaching is and the teams are," Ohio State head coach Thad Matta said. "I think they have a very good understanding of what we have been through."
And will endure for one more week. 
Opponent Breakdown

Purdue first played basketball in 1896. The university, located in the basketball-mad state of Indiana, has enjoyed a rich history filled with NCAA Tournament appearances and famous names such as John Wooden, Gene Keady and Glenn Robinson.
But the 2013-14 season ranks near the bottom in the Boilermakers' annals. They finished the regular season 5-13 in the Big Ten, in sole possession of last place, and enter the postseason on a six-game losing streak – four to Top 20 teams. Purdue's only won two of its previous 13 games.
In a way, the program has come full circle. The last time the Boilermakers finished in last in the conference was Matt Painter's first season as head coach. Eight years later, they've returned to the basement. Sunday's emotional Senior Day loss to Northwestern encapsulated the startling downward spiral.
But instead of placing blame on his roster, the man who constructed it – Painter – said the finger pointing starts and ends with him.
"First of all, it's my fault," said Painter, who makes more than $2 million per season. "It's my job to get guys to play together, it's my job to get guys to play, it's my job to get guys to play smart. And we don't do any of those. So that is my fault.
"When you start off, people will always give you a break. But when you're somewhere for nine years, they shouldn't. They absolutely shouldn't, because it is my fault we are in this position."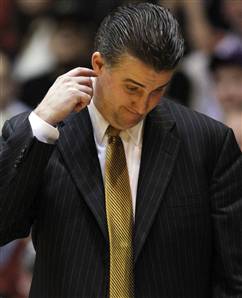 Purdue will miss the NCAA Tournament for the second consecutive season after not only reaching the tournament the previous six years, but also winning at least one game. In 2009 and '10, the Boilermakers advanced to the Sweet 16. But the days of Robbie Hummel, E'Twaun Moore and JaJuan Johnson seem as if they happened decades ago. Since Hummel's departure, Purdue is 31-34.
After hitting rock bottom, there's only one direction to go. Purdue is a young team with 10 underclassmen. If talent is developed, there's reason to believe the postseason will again be celebrated in West Lafayette. But coach and player must form cohesion.
This season was the most trying of Painter's career. The three-time Big Ten Coach of the Year had trouble communicating with his team, as immaturity, poor shot selection and shoddy defense doomed the Boilermakers. The same mistakes constantly reappeared.
For a coach who takes pride in discipline, efficient defense and an unselfish brand of basketball, 2013-14 couldn't have been more off track.
"We would take care of the basketball, we would take good shots, we would be able to stick with the game plan," Painter said. "As soon as you felt good about it then we would revert back where you didn't know in terms of an identity of your team. When we got some consistent play across the board, we gave ourselves a chance. We have to learn to play organized basketball and share the ball and take good shots."
The season finale against Northwestern brought forth all of Purdue's shortcomings. A team that had lost seven straight games dominated the Boilermakers. They shot just 19 percent in the first half and 35 percent for the game.
"There's a lot of talent in that locker room right now," senior guard Terone Johnson said. "It's sad that we didn't really get to perform to the best of our ability. But guys just have to open up to coaching, open up to playing hard and to putting it on the line for not only yourself but Purdue. Going into next year, I think, I know, Coach Painter's going to get it in check."
Said Painter: "We have to recruit a more unselfish player. We've got to recruit a tougher player. We have some of those guys in our program, some guys we don't. We've got to get that out of them, or maybe this isn't their place. That's my fault. This isn't a school district. I recruited these guys. So the position we're in, it's my fault."
Buckeye Breakdown

The postseason in any sport is dominated by momentum. In hockey, it takes a goaltender. Baseball teams can get by with a hot bat or arm. For basketball, it's sometimes a shooter, but also an overall good vibe surrounding the team.
One win could have sent Ohio State over a hump its been ascending for months. On Sunday, the Buckeyes dug down, displayed grit and dominated the final five minutes against a team many believe is the nation's best when fully healthy. Despite losing its previous two games, Ohio State has the appearance of a new team.
"Down the stretch, we all got together and fought," junior forward LaQuinton Ross said. "If you watch some of our old games, just at the end of the game, it looked like we didn't know what we were doing out there. [Sunday], we just showed what type of team we are – a team people need to look forward to when we get into the tournament."
The Buckeyes have an opportunity to back up their victory against Michigan State with another against Purdue, another against Nebraska, another against Michigan and another against Wisconsin. That's what Ohio State's path to the Big Ten Tournament Championship would look like if the seeds held true. And it'd signal a warning to the rest of the country that, once again, Thad Matta has his team peaking in college basketball's most important month.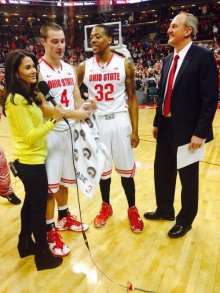 "It says a lot about our team," said senior guard Lenzelle Smith Jr., referencing Sunday's heart-stopping victory. "At this time of the year, teams are playing what's supposed to be called their best basketball. This is a huge step for our team. It shows that when we come to play, and when we fight for one another, we can beat anybody in the country."
Well, except maybe Penn State. But fear not, Buckeye fans, the Nittany Lions will not appear in the NCAA Tournament unless they pull off a stunner in Indianapolis.
Defense comprises Ohio State's biggest strength, and it was on full display against the Spartans. It's the same formula needed to neutralize superior teams in both the Big Ten and NCAA tournaments. That much has been known since November.
In the aftermath of Sunday's win, Sam Thompson pointed out just how solid the Buckeye defense had been down the stretch. He followed by informing the masses "that's the type of team we have to be."
In two games against the Boilermakers this season, the Buckeyes have seen what type of team it takes to beat them. Ohio State shot well in both games, scoring a combined 145 points. The average isn't Loyola Marymount-esque, but the 45 percent shooting percentage is robust for a team that struggles from every area on the court, free throw line included.
"Anytime we play Purdue we know it's going to be a battle," Thompson said. "They're one of the toughest playing teams in the Big Ten. They're going to rebound, they're going to play in transition, they're going to play hard. So we know that we have to bring our best basketball."
March basketball is the equivalent to Rivalry Saturday when the college football season reaches late November.
"It's a new season for everybody right now," Matta said. "We've seen them over the last couple of weeks play some unbelievable basketball. They're a team that we know what they're going to do defensively. They're going to pressure you, but we can't give up easy baskets in transition. We got down here early because we weren't as ready as we needed to be."
In a one-and-done setting, Matta needn't worry about his team lacking motivation. 
Etc

Ohio State is 22-9 all-time in the Big Ten Tournament. The Buckeyes have won 18 of their last 22 conference tournament games, including 11 of 12. 
Ohio State is 1-1 as the 5 seed. 
Thad Matta's tallied a 19-5 record in the Big Ten Tournament, winning championships in 2007, 2010, 2011 and 2013. The Buckeyes lost in the title game in 2006, 2009 and 2012. 
Purdue leads the all-time with Ohio State 83-81, but the Buckeyes have won the past five meetings. 
Matta is 15-5 vs. the Boilermakers. 
Three Ohio State players averaged double-figures scoring against Purdue this season – LaQuinton Ross with 21, Lenzelle Smith Jr. 15 and Shannon Scott 13.5. Aaron Craft had 14 assists and seven steals.