Brandon Fuss-Cheatham knows what it takes to run a successful business, and he also knows what it's like to be an Ohio State athlete.
A basketball player for the Buckeyes from 2001-05, Fuss-Cheatham is the CEO of Moby Dick Unlimited, a Columbus-based branding and marketing company. Now, Fuss-Cheatham is using his experiences both as a former college athlete and a current business owner to help current college athletes – including some of the most prominent athletes at Ohio State – create brands and businesses of their own and navigate the new world of name, image and likeness benefits in college sports.
Fuss-Cheatham and fellow Columbus entrepreneur Zach Beebe, who also has experience representing musical artists and is the owner of The Cut Columbus barber shop, are the co-founders of NIL Management, a company created to help college athletes capitalize on their name, image and likeness.
NIL Management has already announced seven Ohio State athletes as clients – football players Sevyn Banks, Haskell Garrett, Zach Harrison, Teradja Mitchell and Miyan Williams and basketball players Jimmy Sotos and Kyle Young – and has also worked with several other Buckeye football players, including C.J. Stroud, Jeremy Ruckert, J.T. Tuimoloau and Palaie Gaoteote.
Successful first annual @nilmanagement Camp Send Off for the squad! @CJ7STROUD @HaskellGarrett_ @JT_tuimoloau @SevynBanks @zacharrison_ @Jeremy_Ruckert1 @teeraaw__ @Miyann28 @PalaieGaoteote #OhioState #gobucks pic.twitter.com/W1HQMUSzWZ

— nilmanagement (@nilmanagement) August 8, 2021
Beebe says they are working with athletes at several other colleges as well, including Alabama, Florida State, Georgia, Miami and Oregon, but that their core business will be working with Ohio State athletes, as they believe their location and connections within Columbus will enable them to provide specialized services for those Buckeyes.
"We deal with a lot of people from New York and L.A. or around the world because they're celebrities, but now being able to work with some of the most influential and relevant people in the city of Columbus, it just made total sense for us to get into this business," Fuss-Cheatham told Eleven Warriors. "And at the core, we care about these guys. We want these guys to win not just on the field or on the court, but off the field and off the court, too."
Beebe says Garrett has been one of his closest friends for years, making it natural for him to begin working with Garrett and some of his teammates as a brand manager. Fuss-Cheatham, of course, understands what the life of an Ohio State athlete is like and everything the Buckeyes have to balance both within and outside of their sports.
"I understand what their days look like. I understand the stress that they go through. I understand the pressure," Fuss-Cheatham said. "So for me, just taking my experience when I played all the way through me understanding business and opening and running businesses, I understand both ends."
Banks, who said he signed with NIL Management as a client because he feels has a genuine relationship with Beebe and Fuss-Cheatham, believes it's beneficial to work with a brand manager who's been in his shoes as an Ohio State athlete.
"It's great that he was an Ohio State athlete and just an athlete, period," Banks said. "He knows what's going on. And it just gives us an advantage, because he knows, he understands, it's not just talking."
While NIL Management clients pay the company a commission for every deal it brokers, Fuss-Cheatham and Beebe say their business isn't solely about brokering endorsements for its clients. They're working with their athletes to create their own brands and businesses – for example, Mitchell has launched an apparel line called Above the Realm while Garrett has an apparel line called Impact by HG – and say their goal isn't just to help their clients make money now, but to set them up to continue building their brands after their Ohio State careers are over. 
"They own 100% of their business and brand," Beebe said. "And when aligning them with brands, we say, 'Hey, do you truly like this brand?' Yes. Or 'Hey, if you're a vegetarian, don't do a deal with Texas Roadhouse just because they're paying you.' Because that's not genuine, that's not real. So we want to build these relationships that are gonna take them into the NFL, so they're not just one-off deals."
Both Beebe and Fuss-Cheatham say they are educating their clients "that fast money comes in fast but it leaves even faster," so they're prioritizing building lasting partnerships with companies rather than one-off deals.
"Every deal isn't a good deal," Beebe said. "You don't want to look like a NASCAR where you have 50 sponsors and some are overlapping. You're CEOs now, so with that comes a lot of weight."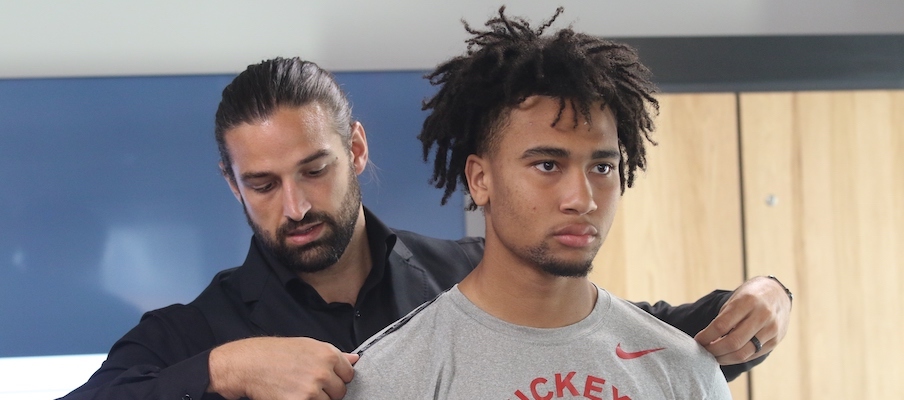 In the long run, Beebe says they would like to have NIL Management hubs working with college athletes on campuses all over the country. They say they are being cautious not to take on too much at once, though, because they want to be able to provide dedicated service to all of their clients.
Beebe said they are also working closely with each of their clients' schools to ensure everything they do is compliant with NCAA and university rules – and he praised Ohio State's compliance department for being "amazing" to work with.
"Everything we do, we run by their compliance team and the trademarking and everyone through Ohio State to make sure we're doing everything to put them in the best position," Beebe said. "So it's a great working relationship."
While Fuss-Cheatham wasn't able to make money during his own athletic career due to NCAA rules at the time, he believes Ohio State athletes are well-positioned to take advantage of NIL opportunities both locally and nationally now, and he wants to help them do it the right way.
"These guys are the heart and soul of the city. These guys, they're big-time," Fuss-Cheatham said. "We just want to set ourselves up and our guys up to know who they are and what they're about, and that allows them to go into the market and get the best value."