For Ohio State athletes like men's tennis player Kyle Seelig and women's lacrosse players Jill Rizzo and Liza Hernandez, the last 18 days were filled with uncertainty about whether their college careers were over.
After the NCAA and Big Ten canceled all competitions for the remainder of the academic year on March 12 due to the coronavirus outbreak, seniors from spring sports teams throughout the country faced the reality that they might never play in another college game. Some of them – like Hernandez, Rizzo and Seelig – already knew they would come back for a fifth year if the NCAA afforded them that opportunity, but that wasn't guaranteed until Monday, when the Division I Council voted in favor of giving all spring sports athletes an additional year of eligibility.
Schools still have to decide whether they will provide financial aid to seniors returning for an extra year, as some might simply be unable to take on the financial burden of additional scholarships, but Ohio State athletic director Gene Smith informed the Buckeyes' spring sports coaches less than an hour after the NCAA's announcement that Ohio State will provide financial aid to seniors who choose to take advantage of the opportunity to return.
In a conference call with reporters on Tuesday, four of Ohio State's spring sports coaches – men's lacrosse coach Nick Myers, women's lacrosse coach Amy Bokker, men's tennis coach Ty Tucker and baseball coach Greg Beals – all expressed gratitude to Smith and the rest of Ohio State's athletic department for their support, and excitement that their seniors who wish to return will have that opportunity after what was supposed to be their final seasons were cut short.
"Last night, in a lot of ways, was a massive positive because it brought some closure to the unknown," Myers said Tuesday. "When Gene reassured that he was going to support us and these athletes, I think that we all just paused and took the time to be thankful and grateful for what this means for these young men and women. I know me personally, I had the chance to make some exciting phone calls last night, and we're in the process right now of trying to support some men's dreams of coming back and chasing higher education and an opportunity to compete for Buckeye Nation."
That doesn't mean, though, that all seniors from Ohio State's spring sports teams will be back for another year. There are several factors that each of them have to weigh in individually making their decisions.
Unlike those playing football and basketball, most spring sports athletes only receive partial scholarships. Women's lacrosse, which has 12 scholarships to divide among a roster that had 37 players last season, currently has only one player on full scholarship. Baseball (11.7 scholarships for a 35-man roster), men's lacrosse (11.6 scholarships for a 45-47 player roster) and men's tennis (4.5 scholarships for a 10-player roster) do not have any.
While financial aid for returning seniors will not count against the scholarship limit for 2020-21, those student-athletes will still only be able to receive up to the amount of financial aid they received for 2019-20, which means they will have to make decisions about whether the cost to return to Ohio State for another year is worth it.
Many of those seniors are on track to graduate this semester if they haven't already, and many of them already have opportunities lined up to start jobs or attend graduate school elsewhere.
Each of the Ohio State coaches who spoke to the media on Tuesday said they are encouraging their seniors to make the decisions that are best for themselves, even if that means losing players who they would love to have back for one more year.
"I did have a conversation with all of my seniors," Bokker said. "Some are pursuing graduate school, they have been admitted to grad schools and that's their dream. Two others have great jobs lined up actually in Columbus, and they're ready to get out into the professional world. So we talked through all of that and what was best for each of them individually, and that's important to understand too is what are their individual aspirations or individual dreams, and how can we help them get there as Ohio State coaches, and I consider that a hefty part of my job and responsibility. I'm just glad they have the choice."
"When Gene reassured that he was going to support us and these athletes, I think that we all just paused and took the time to be thankful and grateful for what this means for these young men and women."– Nick Myers on Ohio State's decision to provide financial aid for returning seniors on spring sports teams
Given all of those factors, Bokker said Rizzo and Hernandez are the only two seniors who are planning to return to the women's lacrosse team, while the other seven will move on to other opportunities. Seelig is the only senior on the men's tennis team, and Tucker said he "would have done anything to get his chance to come back and play tennis," so staying was an easy decision for him. Myers, who has 10 seniors, and Beals, who has six seniors, have had conversations with each of their seniors about their decisions as well, but said their decisions had not been finalized yet.
"I think there's a lot that goes into it, it's very personal to each young man and family, and I think as coaches, we're working really hard to making sure that we're putting their best interest first," Myers said. "If their best interest is going and taking a full-time job, we're encouraging that, even if that means a competitive loss for us. We can't in good faith tell a young man to come back and take on more debt, as much as he'd love to suit up one more year for the Buckeyes, in times like this."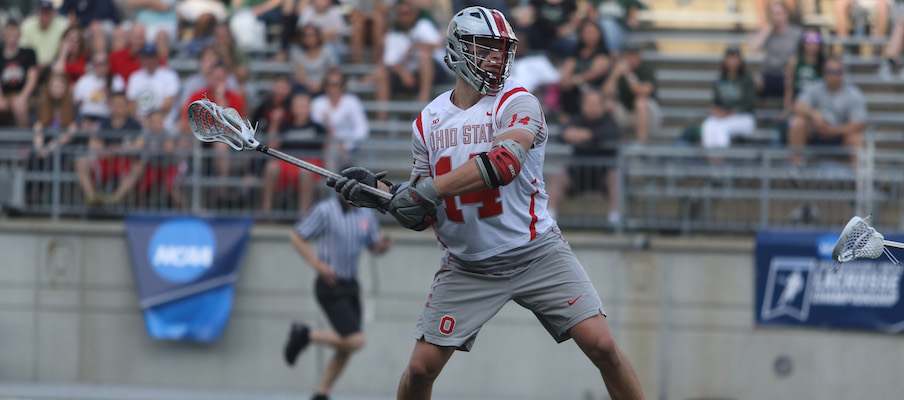 Since the returning seniors won't count against the teams' scholarship limits for 2020-21 and Ohio State is prepared to provide the allowable financial aid for all who do return, there's no reason for coaches to discourage any student-athletes from returning if that's in their best interest. Because the NCAA's ruling on Monday will provide an additional year of eligibility to all spring sports athletes, though, that could present some challenges in roster management for future years.
The baseball team, for example, had nine freshmen this year and have another 11 coming in next year, which means that class could make up more than half of the Buckeyes' roster by 2021-22. Beals' Buckeyes also already have six commitments for the recruiting class of 2021, so the potential for the roster to get backlogged is very real, and that could lead to some tough conversations in the years to come.
"While the roster is thick and strong, my lineup card's still only got nine slots on it," Beals said. "So that's where coach and player just need to make sure we're communicating very well together, and that we're helping make this mutual decision. It'll be a mutual decision at how we move forward in a lot of scenarios with individual players."
For now, though, all of the coaches are simply glad that their seniors have the option of coming back and finishing their college careers with a full season if that's something that makes sense for them to do. And they view Ohio State's immediate commitment to providing financial aid for those players as yet another example of how Smith, the athletic department and the entire university are committed to taking care of student-athletes.
"It is clear that Ohio State athletics and our leadership is about these student-athletes," said Bokker, who has been with the Buckeyes for just one season after previously coaching at Stanford. "And the welfare, the well-being, the education of our student-athletes first, and just giving them the option to have this amazing experience is something I'm really proud of."