Welcome to Saturday Spotlight! Here, we dive deep into the lives of Ohio State student-athletes and learn more about their journeys to Columbus, their love of the Buckeye traditions and who they are as competitors and students.
As the 2015 National Champions, the Ohio State wrestling team finished third overall at last season's finals — and are out to an 8-1 start this year. At the nucleus of the roster, Bo and Micah Jordan have been key to the Buckeyes success in 2016-2017, and face one of their toughest tests of the season in No. 2 Penn State next week.
Natives of St. Paris, Ohio, these brothers each won four consecutive Division Two state titles at national wrestling-powerhouse St. Paris Graham High School — where they were coached by their father, Jeff, who has won 16 consecutive state championships.
We had the chance to sit down with Bo and Micah to discuss their experience as teammates and siblings, as well as their responsibilities on and off the mat — and more specifically, Bo's duties as a husband and father of two.
When did you realize you may have a chance to wrestle in college?
Bo Jordan: I think in high school. In high school, I was pretty good, and I starting winning a lot. I really enjoyed wrestling and I really enjoyed competing. So, at that point, I kind of realized that I could do this collegiately, and competitively too. So after that point, I really started going after it.
Micah Jordan: Bo and I always dreamed of wrestling Division One, and competing. We went to the nationals growing up just to watch it, and watching it is so exciting. You want to go out there and wrestle and be in that environment. I always really dreamed of being in a Division One program, and once I got to high school, I was pretty successful and then I definitely wanted to do it. So Bo committed to Ohio State, and I followed the year after.
What drew you to come to Ohio State outside of wrestling?
BJ: Nothing really pulled me here besides the coaching staff, and the guys I knew I was going to be able to train with. I was getting recruited for a couple other places, and I kind of narrowed it down to Penn State and here. Coach [Tom] Ryan, I really felt like he cared more as a person than as a wrestler, and that was really important to me. All the other coaches were great, too. Coach [J] Jaggers, and I really like the guys here. So, I decided to come here, and I'm really happy about it.
MJ: I had a few colleges in choice, but the coaches here, the teammates, the atmosphere. I went and visited a few other colleges, but once I came here to visit, I knew it was the place to go.
What is the best part about being an athlete?
BJ: I would say the best part about being an athlete here is that we the opportunity to do what we love. They're paying for my college education, and I've got a wife and two kids. So they're keeping us afloat with my full scholarship, and I still get to do what I love and wrestle every day.
MJ: The best part about being an athlete would be competing in front of Buckeye Nation, in front of the crowd  — and no matter if you win or lose, it's always exciting to go out and wrestle.
What's it like to play on the same team as your sibling?
BJ: Oh, it's awesome. Me and Micah grew up wrestling on the same teams a lot, especially in high school. In college it's different because our dad's not our coach, but it's nice to still have that same aspect of being together. We still get to compete together, travel together, room together when we travel. So it's nice to have my brother right there beside me the whole time for support and to keep pushing me.
MJ: It's awesome. Ever since high school, he's been one year ahead of me. So in middle school, I'd see him wrestle as a freshman and he kind of paved the path for me. I knew what it would take because I could see Bo and everything he went through. So it was pretty easy for me, and I tried to follow him. He's like my role model, and it's awesome to have an older brother.
What's been your best wrestling moment?
BJ: Probably my freshman year. I had just lost in the semifinals, so I was kind of upset about not being able to wrestle for a national title. But I came back, and pinned my guy to kind of seal up the national title for the team. That was probably the coolest thing I've felt in college so far.
MJ: There's a lot of exciting moments in wrestling. A pretty cool one was when I got to wrestle at Penn State.There was a ton of people in the stands, it was stressful, but I did pretty well there. I couldn't really pick out one moment, but I just try to get excited for every moment I go out there and wrestle.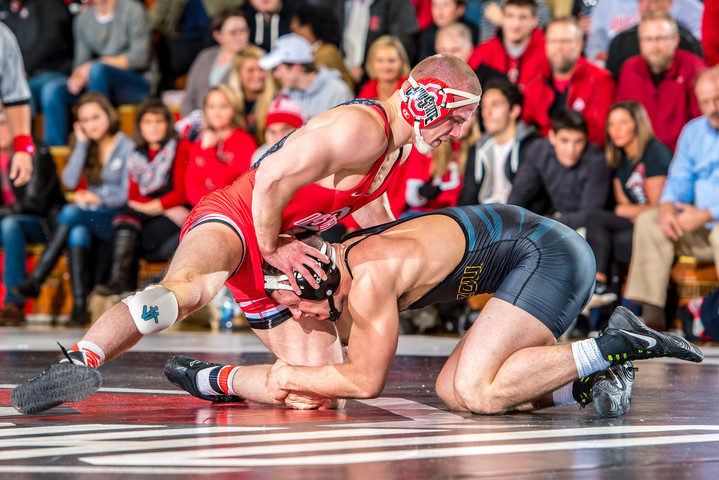 Do you or the team have any special superstitions?
BJ: I have a lot of weird things I do. I tape right foot clockwise, and my left foot counterclockwise. I tape my shoes, and put my socks on weird ways, and put my shoes on, like, 'right first, then left," and all kinds of different quirks and stuff. But, I try to stay away from that it, try to get off that. Sometimes when I compete now, I try to throw on socks that don't really feel right or I wouldn't normally compete in just to kind of mess with myself. But I just try to just go out there and be the best I can be every match.
MJ: Not really. I've always got to wear double socks, that's just how it is. Ever since I started, I've always worn double socks.
What are you studying?
BJ: Sports Industry.
MJ: My major is sports industry. I'm planning on staying involved in wrestling after i graduate, but I don't know if I want to be a coach, an athletic director, or go back and help my dad with camps. Something sports.
What's been your favorite class at OSU and why?
BJ: I don't think any particular class has been my favorite. I kind of just wanted to become a college wrestling coach, or work for my dad back home; so it's one of the two. I'm going to stay in wrestling my whole life, so that's kind of why I'm in the major.
MJ: I like the marketing class I'm in right now. It's pretty interesting to see all the different ways you can market products through sports and stuff. I think it's pretty cool.
What's your favorite part about/spot on campus?
BJ: I don't know if I really have a favorite aspect of campus. I remember when I came here I thought Ohio State was really big, just this huge school — but it's actually not as big as you think it is, and you can get around pretty easily. So I'm happy it's not as big as I thought it was.
MJ: I like the Oval. I actually live off-campus, but every time I go to campus, it's really nice and I enjoy it.
What's been your most embarrassing moment?
BJ: I'd say probably one time back in freshman year, my roommate and I couldn't find our way around campus, so we drove to about three or four of our classes the night before to just look where our classes were. We drove around for two hours just finding every class, making sure it was the right classroom. Then the next day, we figured out that there's this app that takes you right to the door of the buildings, and I just thought, 'this was the biggest waste of time.'
MJ: One time, I actually wore my singlet backwards when I went out for a match. It was actually in high school, but once I noticed it, I was able to run into the hallway and change it real quick. But that was pretty embarrassing.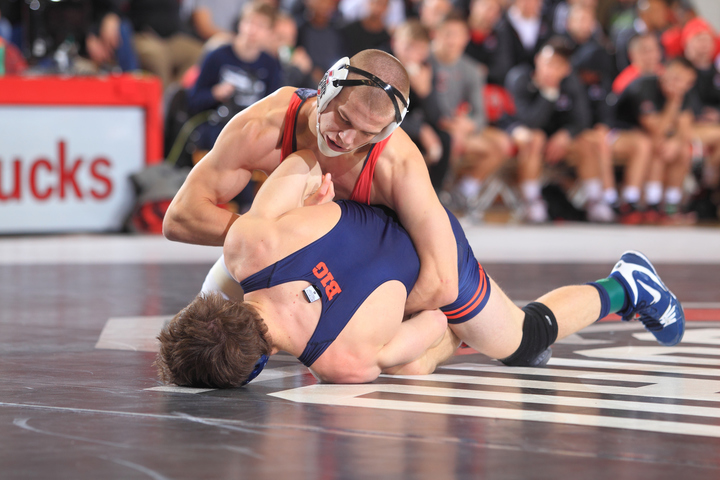 What's been your favorite aspect of/ meal you've had in Columbus?
BJ: I'm not a big restaurant guy, I'm a real home body. So my wife, kids, and I just kind of chill at our house, and we just relax there. I like Jeni's Ice Cream, Hungry Howie's; that was nice. I used to live close by that before I was married, and that was a nice pizza place.
MJ: Back in St. Paris, it's a really small town. But when i got to Columbus, it was a little overwhelming at first because I've never really lived in the city or anything — but I've gotten to really enjoy it. There's so many places to go out to eat, and there's so many people, too, so I've really enjoyed it here.
What's something that not a lot of people know about you?
BJ: Probably that I'm married and have two kids. At the end of my freshman year, myself and my girlfriend at the time found out we were having a kid and life kind of smacked you in the face. It was tough in the moment, but it kind of goes back to my decision to come here in Tom Ryan caring more about me as a person than as a wrestler. I called him up, and he said 'holy crap, holy crap,' and just started dying laughing. I didn't know whether to cry or laugh too, and it's one of the craziest things to happen in my life. So I put my big boy pants on, and he said, 'hey man, that's life, I love ya, how can I help you?' We ended up getting married, had our first daughter 10 days after we got married, and then we just had our second kid. It was crazy at the start because we hadn't been dating long, but it all worked out very well and I feel very blessed. These coaches here have helped me every step of the way, and it means everything to me.
MJ: I've got two nieces. My brother is married and has two kids, so I'm pretty pumped to be an uncle. But there's not a lot to know about me. Grew up in a small town, and wrestling has been basically my whole life.
What is something you would tell an incoming wrestling recruit about Ohio State?
BJ: For an athlete coming here, I'd say that we have a great wrestling team, great coaches, a lot of good guys around here. But the best thing by far is that these coaches care for you as more than a wrestler, as a human being. If you come here and you never win a wrestling match, but you work hard and you do your best, that's all they're going to ask for. They're not going to be mad just because you're not winning. They really care about you, and they back it up. A lot of coaches say that, but they really back you up, and that's what's important.
MJ: Looking back, when I first got here, it's tough to get adjusted to college wrestling; it's like another level. In high school, you have competition, but once you get to college, every athlete is really good. So I'd just say to stick with it, and keep training hard. The first few weeks are going to be tough, but once you get adjusted, it's really fun and enjoyable.