Coming off a weekend where Urban Meyer and the Ohio State staff hosted a couple of big visitors, they have a huge weekend forthcoming with a list of very impressive talent coming to Columbus.
If this coming weekend isn't enough, Ohio State's annual spring game is being played at Paul Brown Stadium in Cincinnati on April 13.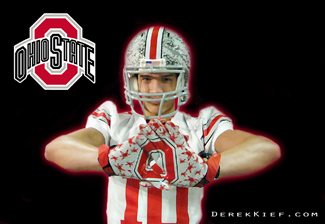 While the spring game visitor list won't be as big or impressive as last year's due to the game being played in Cincinnati, we can expect a couple more additions to a list that currently only includes two players.
Then in the not-too-distant future is the "evaluation period" where the coaches will be able to drop by players' schools and watch them perform. We could see a lot of offers going out during this period (starting April 15).
More on this weekend and the upcoming weeks after the jump.
Looking Back
This past weekend multiple prospects were on Ohio State's campus.
The two most highly rated targets on campus were Cincinnati (OH) La Salle WR Derek Kief and Red Bank (NJ) Catholic OT Quenton Nelson.
Some people thought there was a legit chance Kief would commit over the weekend; however, he came out of the visit without committing. The Buckeyes appear to be in a good position here, but Alabama is a team to watch out for.
All reports are indicating Nelson had a very good time on his first trip to Columbus. The Buckeyes definitely have a chance at landing him, but it won't be easy. Once again, Alabama will serve as one of the top competitors for this standout offensive lineman.
Other prospects on campus over the weekend included Lima CC DB Darius West, who I think could eventually land an offer; Middletown (DE) WR Chris Goodwin, who reports an Ohio State offer; and Manahawkin (NJ) TE Mike Gesicki, who was on campus Thursday.
Talented Slate of Visitors this Week and Weekend
The Buckeyes are hosting many elite prospect this week and weekend, starting off with LB Raekwon McMillan and ATH Myles Autry, who both hail from the great state of Georgia. The Bucks appear to be in pretty good shape with these two Peach State stars.
Continuing with the trend of Georgia visitors, WR Demarre Kitt arrives on campus Thursday for his third trip to Columbus, his second in the last two months. This is looking to be a battle between OSU and Clemson for Kitt's commitment.
Staying out of state, the Buckeyes will have the chance to impress a Cass Tech trio of sophomores including the likes of QB Jayru Campbell, RB Mike Weber, and DE Joshua Alabi. They will be accompanied by their teammate and 2014 Buckeye commit, Damon Webb, who returns to Columbus for the first time since committing back in January.
The top overall player slated to be on campus this weekend is probably Jabrill Peppers, who hails from Paramus Catholic located in the state of New Jersey. The Bucks and Stanford are thought to hold slight leads for his commitment.
Moving back to offense, wide receivers Dallis Todd, from the state of California, and Trevion Thompson from Hillside high school (Jamal Marcus' HS) in Durham (NC) are supposed to be on campus this weekend. The Bucks have a good chance at both of these standouts, especially Todd, who has the Buckeyes very high on his list.
The Buckeyes still need offensive linemen so it's a good thing they'll have two of their top targets on campus in Sam Mustipher, who has visited OSU multiple times and Chad Mavety (JuCo), who is making his first trip to Columbus this weekend. In addition to these two, 2014 offensive line commit Kyle Trout will be on campus with them.
Other prospects slated to be on campus this weekend include QB Darius Wade, RB Donte Thomas-Williams, OL Alex Bookser, OL Juwan Bushell-Beatty, and S Cortez McDowell.
The Spring Game
Right now only two prospects sit on the spring game visitor list: WR/TE Austin Roberts and LB Kyle Berger.
Roberts is an intriguing prospect who holds an offer from the Bucks. The staff has told him they want to use him how they used Jake Stoneburner.
Berger has been a top target for a while and appears to be down to OSU and Michigan. A visit to the Ohio State spring game would greatly enhance the Buckeyes' chances of landing Berger.
While this list is small now, I expect a fair amount of growth over the next two weeks.