Visitors List (Subject To Change)
May 30th - June 2nd (Columbus NFTC & Elite 11)
'15 QB Joe Burrow (The Plains, OH) - commit
'17 QB Danny Clark (Massillon, OH) - commit
'15 QB Alex Malzone (Bloomfield Hills, MI) (Michigan Commit)
'15 QB Lorenzo Nunez (Kennesaw, GA) (South Carolina Commit)
'15 QB Ty Storey (Charleston, AR) (Arkansas Commit)
'15 QB Tyler Queen (Kennesaw, GA) (Auburn Commit)
'15 QB Ryan Willis (Mission, KS) (Kansas Commit)
'15 QB Ben Hicks (Waco, TX) (Houston Commit)
'15 QB Billy Bahl (Woodstock, IL)
'15 QB Brett Kean (Lakewood, OH)
'15 QB Reese Ryan (Lexington, KY)
'15 QB James Morgan (Green Bay, WI)
'15 QB Riley Neal (Yorktown, IN)
'15 QB Austin King (Alpharetta, GA)
'15 RB L.J. Scott (Hubbard, OH)
'15 RB Andrew Dowell (Lakewood, OH) (Northwestern Commit)
'15 RB Deon Lewis (O'Fallon, MO)
'15 RB Damien Harris (Berea, KY)
'15 RB Michael Weber (Detroit, MI)
'15 RB Jonathan Femi-Cole (Aurora, ON)
'15 WR Alex Ofodile (Columbia, MO)
'15 WR Isiah Scott (Hubbard, OH)
'15 WR Jayson Stanley (Fairburn, GA)
'15 WR Elijah Ball (Cincinnati, OH)
'15 WR Maxwell McCormick (Toledo, OH)
'15 WR Immanuel Smalls (Woodbridge, VA)
'15 WR Justin Fitzpatrick (O'Fallon, MO)
'15 WR David Dowell (Lakewood, OH) (Northwestern Commit)
'15 TE C.J. Conrad (LaGrange, OH) (Kentucky Commit)
'15 TE Josh Moore (Olathe, KS)
'15 TE Kyle Oliver (Murfreesboro, TN)
'15 OG Matthew Burrell (Woodbridge, VA)
'15 OG Brice Hinton (Trotwood, OH)
'15 OG James Daniels (Warren, OH)
'15 OT Sterling Jenkins (Pittsburgh, PA) (Penn State Commit)
'15 OT Venzell Boulware (Faiburn, GA)
'15 OT George Brown Jr. (Cincinnati, OH)
'15 OT George Asafo-Adjei (West Chester, OH)
'15 OT Mason Wolfe (Henderson, KY)
'15 OT Tony Pilato (Greensburg, PA)
'15 DT Sterling Johnson (Clayton, NC) (very tentative - Clemson Commit)
'15 DT Tim Settle (Manassas, VA)
'15 DT Neville Gallimore (St. Catharines, ON)
'15 DT Eric Whitehead (Indianapolis, IN) (Virginia Tech Commit)
'15 DE Jashon Cornell (Saint Paul, MN)
'15 DE Darrell Taylor (Hopewell, VA)
'15 DE Darius Fullwood (Olney, MD)
'15 DE Marquise Copeland (Bedford, OH)
'15 DE Joshua Alabi (Detroit, MI)
'15 LB Justin Hilliard (Cincinnati, OH)
'15 LB Curtis Parks (Cleveland, OH)
'15 LB Darrin Kirkland Jr. (Indianapolis, IN) (Michigan Commit)
'15 LB Troy Henderson Jr. (Lakewood, OH)
'15 DB Cameron Ordway (Pulaski, TN)
'15 DB Tre' Johnson (O'Fallon, MO)
'15 DB Tyree Kinnel (Huber Heights, OH) (Michigan Commit)
'15 DB Hunter Dale (New Orleans, LA)
'15 DB Tyson Smith (West Bloomfield, MI) (MSU Commit)
'15 DB Kareem Gibson (Johnstown, PA)
'15 DB Jeff Christian (Cincinnati, OH)
'15 DB Dior Johnson (Southfield, MI)
'15 DB Kei Beckham (Trotwood, OH)
'15 ATH Nyheim Hines (Garner, NC)
'15 ATH Abu Daramy (Westerville, OH)
'15 ATH Kendall Bussey (New Orleans, LA) (Nebraska Commit)
'15 ATH Dorian Banks (Sevierville, TN) (Tennessee Commit)
'16 QB Messiah DeWeaver (Trotwood, OH)
'16 QB Elijah Cunningham (Springboro, OH)
'16 QB Brennen Wooten (Marble Falls, TX)
'16 QB Noah Wezensky (Fort Wayne, IN)
'16 QB Deuce Wallace (Reserve, LA)
'16 QB Jacob Harrison (Dayton, OH)
'16 QB Steven Frank (Oswego, IL)
'16 RB George Hill (Hubbard, OH)
'16 RB Miles Sanders (Pittsburgh, PA)
'16 RB Quinton Baker (Ashland, KY)
'16 WR Jalen Martin (Harper Woods, MI)
'16 WR Austin Mack (Fort Wayne, IN)
'16 WR Justin Layne (Cleveland, OH)
'16 WR Keion Wakefield (Louisville, KY)
'16 WR Kobay White (Harrisburg, PA)
'16 TE Jake Hausmann (Cincinnati, OH)
'16 OT Thiyo Lukusa (Traverse City, MI)
'16 OG Drake Jackson (Versailles, KY)
'16 DE Kyree Campbell (Woodbridge, VA)
'16 DE Jeffery Pooler (Dayton, OH)
'16 DE Jonathon Cooper (Columbus, OH)
'16 DT Jovanny Garcia (Saint Paul, MN)
'16 DT Michael Onwenu (Detroit, MI)
'16 LB Brendan Ferns (St. Clairsville, OH)
'16 LB Khaleke Hudson (Mckeesport, PA)
'16 DB Devin Taylor (Lansing, MI)
'16 DB Damar Hamlin (Pittsburgh, PA)
'16 ATH Tyrece Speaight (Akron, OH)
'17 QB Hunter Johnson (Avon, IN)
'17 QB Will Phillis (Lewis Center, OH)
'17 QB Lindell Stone (Southlake, TX)
'17 RB Todd Sibley (Akron, OH)
'17 WR Donovan Peoples-Jones (Detroit, MI)
'17 OG Kayden Lyles (Scottsdale, AZ)
'17 OT Emani Mason (Detroit, MI)
'17 DT Jerron Cage (Cincinnati, OH)
'17 DE Corey Malone-Hatcher (Saint Joseph, MI)
'18 RB Ricky Slade Jr. (Woodbridge, VA)
June 8th (One Day Camp)
'15 QB Joe Burrow (The Plains, OH) - commit/tentative
'15 QB Travis Waller (Anaheim, CA) - tentative
'15 TE Josh Moore (Olathe, KS) - tentative
'15 OL Grant Schmidt (Sioux Falls, SD)
'15 OL Chandler Cotterman (Anna, OH) (Toledo Commit)
'15 DE Darius Fullwood (Olney, MD)
'15 LB CJ Stalker (West Chester, OH)
'15 DB Ronnie Harrison (Tallahassee, FL) (UNC Commit)
'15 DB Jeff Christian (Cincinnati, OH)
'15 DB Tyler Green (Hyattsville, MD)
'15 DB Kei Beckham (Trotwood, OH)
'16 RB Demario McCall (North Ridgeville, OH)
'16 OG Drake Jackson (Versailles, KY)
'16 DE Jonathon Cooper (Columbus, OH)
June 9th - 11th (Kicking & Long Snapping Camp)
'15 C/LS Liam McCullough (Columbus, OH)
'15 DB Meiko Dotson (Daytona Beach, FL) - tagging along with coach
'15 ATH Ray-Ray McCloud III (Tampa, FL) - visiting on 11th
June 12th - 14th (Three Day Camp)
June 17th - 18th (Skill & Big Man Camp)
'17 QB Danny Clark (Massillon, OH) - commit
'15 TE Chris Clark (Avon, CT)
'16 TE Luke Farrell (Perry, OH)
'16 OG Tyler Gerald (Portsmouth, OH)
June 19th (One Day Camp)
'15 WR Deric Phouthavong (Columbus, OH)
'15 WR Abu Daramy (Westerville, OH)
'15 DE Darius Fullwood (Olney, MD) - tentative
'15 LB Nick Conner (Dublin, OH) - tentative
June 21st (One Day Camp)
'15 TE/DE Jake Pickard (Millburn, NJ)
'15 WR Kahlil Lewis (Miramar, FL) (West Virginia Commit)
'15 LB Nick Faulkner (Canton, OH)
'15 LB Nick Conner (Dublin, OH) - tentative
'15 DB Kendrell McFadden (Hollywood, FL) (West Virginia Commit)
'16 RB Matt Falcon (Southfield, MI)
'16 RB Robert Washington (Huntersville, NC) - tentative
'16 OL Gavin Cupp (Leipsic, OH)
'16 LB Ethan Tucky (Delaware, OH)
'16 DB Austin Andrews (Columbus, OH)
'16 ATH Tyrece Speaight (Akron, OH)
'18 OT Will Lawrence (Memphis, TN) - tentative
July 25th (Friday Night Lights)
'17 QB Danny Clark (Massillon, OH) - commit
'15 RB Damien Harris (Berea, KY)
'15 WR Tristan Payton (Jacksonville, FL) - tentative (Florida Commit)
'15 OT Drew Richmond (Memphis, TN)
'15 DE Darius Fullwood (Olney, MD)
'15 DB Will Sunderland (Midwest City, OK)
'16 WR Justin Layne (Cleveland, OH)
'16 DE Jonathon Cooper (Columbus, OH)
'16 LB Shaq Quarterman (Orange Park, FL) - tentative
247 $ - Final seven, co-leaders for Gibson '15 FL QB Torrance Gibson
Tennessee, Auburn, LSU, Oklahoma, Ohio State, Miami & UCF (in order with Tenn/Auburn tied at #1). Now says he'll take an official to Ohio State in the fall (no mention of a summer visit) and that he hasn't talked to Coach Herman in a while.
Recruiting Notebook: Latest on Branden Bowen, Luke Farrell, Gavin Cupp & More (11W)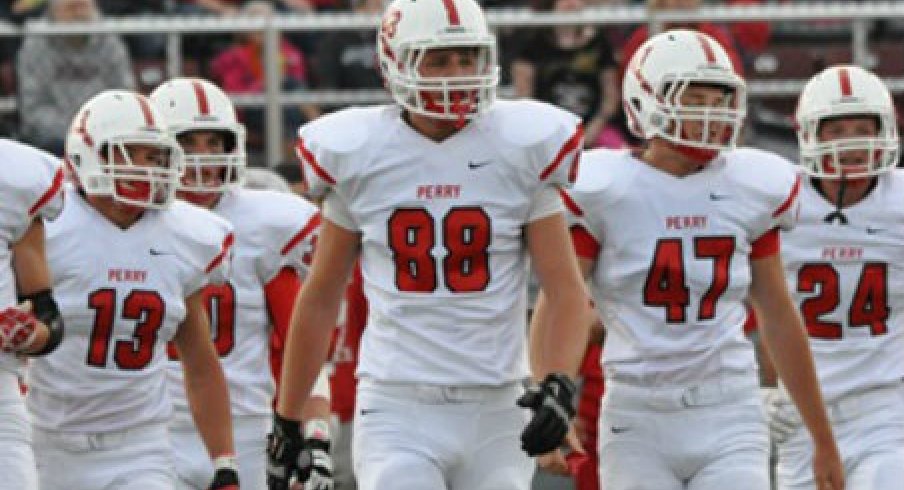 The long commitment drought is finally over, leaving everyone wondering "who's next?" One popular prediction is four-star Elijah Taylor, who plans to announce his choice by the end of June. In a recent message, Taylor said he is unsure if he will attend the Nike Football Training Camp at Ohio State.
cont...
Ohio State recruiting: State Secrets, 5/30- Torrance Gibson releases final 7, big weekend ahead (LGHL)
Land-Grant Holy Land gets you caught up on the latest Ohio State recruiting news.
cont...