Visitors List (Subject To Change)
May 30th - June 1st (Columbus NFTC & Elite 11)
'17 QB Danny Clark (Massillon, OH) - commit
'15 RB Natereace Strong (East Saint Louis, IL) (Mizzou Commit)
'15 RB L.J. Scott (Hubbard, OH)
'15 WR Alex Ofodile (Columbia, MO) - tentative
'15 WR Abu Daramy (Westerville, OH)
'15 WR Isiah Scott (Hubbard, OH)
'15 WR Jayson Stanley (Fairburn, GA)
'15 OL Matthew Burrell (Woodbridge, VA)
'15 DE Terry Beckner Jr. (East Saint Louis, IL)
'15 DT Sterling Johnson (Clayton, NC) (tentative - Clemson Commit)
'15 LB Justin Hilliard (Cincinnati, OH)
'15 DB Cameron Ordway (Pulaski, TN)
'15 DB Shaun Crawford (Lakewood, OH)
'15 ATH Nyheim Hines (Garner, NC)
'15 ATH Jerome Baker (Cleveland, OH)
'16 QB Dwayne Haskins (Potomac, MD) - tentative
'16 RB George Hill (Hubbard, OH)
'16 WR Jalen Martin (Harper Woods, MI)
'16 WR Austin Mack (Fort Wayne, IN)
'16 DE Kyree Campbell (Woodbridge, VA)
'16 LB Brendan Ferns (Saint Clairsville, OH)
'16 DB Devin Taylor (Lansing, MI)
'17 WR Jeff Thomas (East Saint Louis, IL)
'18 RB Ricky Slade Jr. (Woodbridge, VA)
June 8th (One Day Camp)
'15 QB Travis Waller (Anaheim, CA) - tentative
'15 QB Joe Burrow (Athens, OH)
'15 TE Josh Moore (Olathe, KS) - tentative
'15 OL Grant Schmidt (Sioux Falls, SD)
'15 DE Darius Fullwood (Olney, MD) - tentative
'15 LB CJ Stalker (West Chester, OH)
'15 DB Ronnie Harrison (Tallahassee, FL) (UNC Commit)
'15 DB Jeff Christian (Cincinnati, OH)
'15 DB Tyler Green (Hyattsville, MD)
'16 RB Demario McCall (North Ridgeville, OH)
'16 DE Jonathon Cooper (Columbus, OH)
June 9th - 11th (Kicking & Long Snapping Camp)
June 12th - 14th (Three Day Camp)
June 17th - 18th (Skill & Big Man Camp)
'17 QB Danny Clark (Massillon, OH) - commit
'16 OG Tyler Gerald (Portsmouth, OH)
June 19th (One Day Camp)
'15 WR Deric Phouthavong (Columbus, OH)
'15 WR Abu Daramy (Westerville, OH)
June 21st (One Day Camp)
'15 TE/DE Jake Pickard (Millburn, NJ)
'15 WR Kahlil Lewis (Miramar, FL) (West Virginia Commit)
'15 LB Nick Faulkner (Canton, OH)
'15 DB Kendrell McFadden (Hollywood, FL) (West Virginia Commit)
'16 RB Matt Falcon (Southfield, MI)
'16 LB Ethan Tucky (Delaware, OH)
July 25th (Friday Night Lights)
'17 QB Danny Clark (Massillon, OH) - commit
'15 WR Tristan Payton (Jacksonville, FL) (Florida Commit)
'15 OT Drew Richmond (Memphis, TN)
'15 DE Darius Fullwood (Olney, MD)
'15 DB Will Sunderland (Midwest City, OK)
'16 WR Justin Layne (Cleveland, OH)
'16 DE Jonathon Cooper (Columbus, OH)
'16 LB Shaq Quarterman (Orange Park, FL)
Cincinnati St. Xavier Star Justin Hilliard Breaks Down Top Five (11W)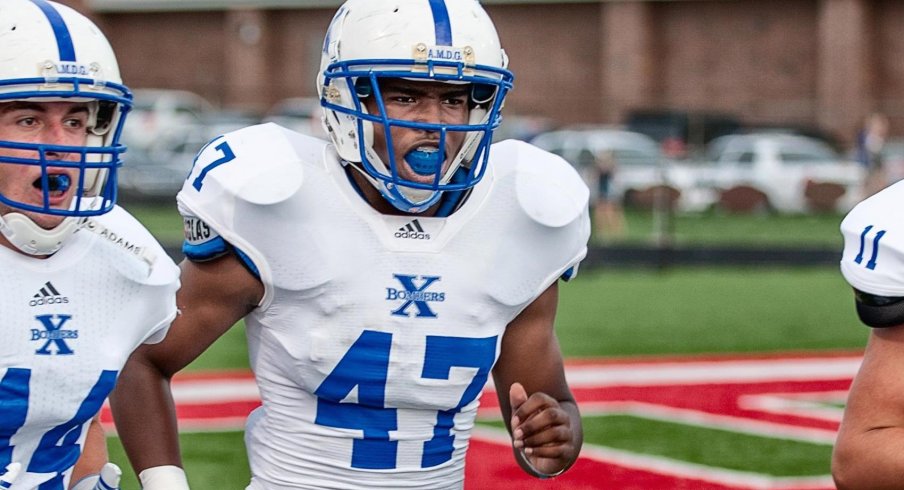 Justin Hilliard, one of the state's top prospects, named his top five schools tonight and Ohio State made his latest cut. The nation's top outside linebacker according to 247Sports.com, Hilliard is a consensus five-star recruit. While there's few players worthy of the "must get" label so leisurely tossed around, the 6-foot-2, 230 pound bruiser could certainly be considered as such.
cont...
Recruiting Notebook: The Latest on Tyler Green & Ash's Recruiting (11W)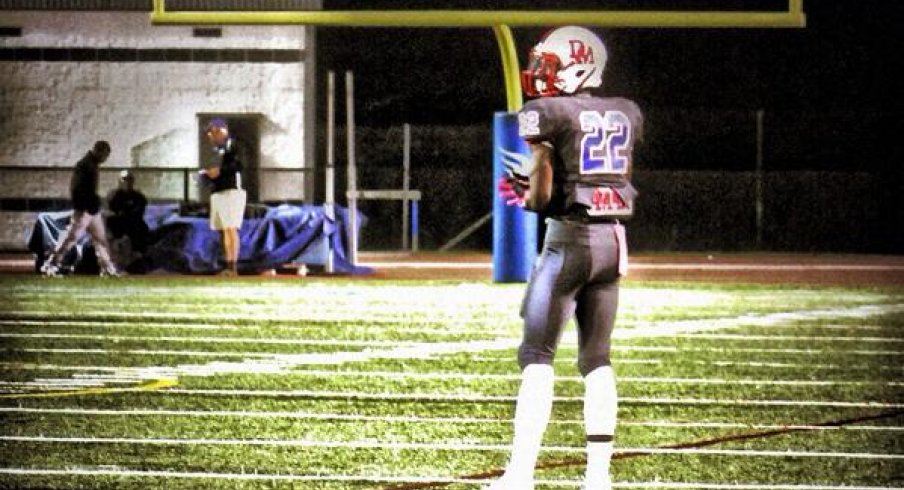 While Ohio State only has two commitments, it's no reason for anyone to panic. The Buckeyes have four-star prospects, one discussed below, that would love to commit if they land an offer. Let's get to the chase and talk some recruiting.
cont...
Ohio State recruiting: State Secrets, 5/23 - Justin Hilliard releases Top 5, Torrance Gibson latest, and more (LGHL)
Land-Grant Holy Land gets you caught up on the latest Ohio State recruiting news.
cont...
Report: Torrance Gibson suspended from high school (LGHL)
The five-star prospect has been suspended by his high school with rumors circulating he could transfer as a result.
cont...
Standout DE Darius Fullwood breaks down top five, talks decision timetable (SB Nation)
Good Counsel defensive end Darius Fullwood breaks down his recruitment with SB Nation.
cont...