Visitors List (Subject To Change)
May 17th
'15 DB Jordan Whitehead (Monaca, PA)
May 24th
'16 RB George Hill (Hubbard, OH)
May 31st - June 1st (Columbus NFTC & Elite 11)
'17 QB Danny Clark (Massillon, OH) - commit
'15 RB Natereace Strong (East Saint Louis, IL) (Mizzou Commit)
'15 WR Alex Ofodile (Columbia, MO)
'15 WR Abu Daramy (Westerville, OH)
'15 OL Matthew Burrell (Woodbridge, VA)
'15 DE Terry Beckner Jr. (East Saint Louis, IL)
'15 DT Sterling Johnson (Clayton, NC)
'15 DB Cameron Ordway (Pulaski, TN)
'15 ATH Nyheim Hines (Garner, NC)
'15 ATH Jerome Baker (Cleveland, OH)
'16 QB Dwayne Haskins (Potomac, MD) - tentative
'16 DE Kyree Campbell (Woodbridge, VA)
'16 LB Brendan Ferns (Saint Clairsville, OH)
'17 WR Jeff Thomas (East Saint Louis, IL)
'18 RB Ricky Slade Jr. (Woodbridge, VA)
June 8th (One Day Camp)
'15 TE Josh Moore (Olathe, KS) - tentative
'15 OL Grant Schmidt (Sioux Falls, SD)
'15 LB CJ Stalker (West Chester, OH)
'15 DB Ronnie Harrison (Tallahassee, FL) (UNC Commit)
June 9th - 11th (Kicking & Long Snapping Camp)
June 12th - 14th (Three Day Camp)
June 17th - 18th (Skill & Big Man Camp)
'16 OG Tyler Gerald (Portsmouth, OH)
June 19th (One Day Camp)
'15 WR Abu Daramy (Westerville, OH)
June 21st (One Day Camp)
'16 LB Ethan Tucky (Delaware, OH)
July 25th (Friday Night Lights)
'15 OT Drew Richmond (Memphis, TN)
'15 DB Will Sunderland (Midwest City, OK)
'16 LB Shaq Quarterman (Orange Park, FL)
Newly Offered: '16 GA QB Jawon Pass
Newly Offered: '16 GA QB Zerrick Cooper
Class of 2016 Quarterback Dwayne Haskins Dream Becomes Reality as Buckeyes, Others Offer (11W)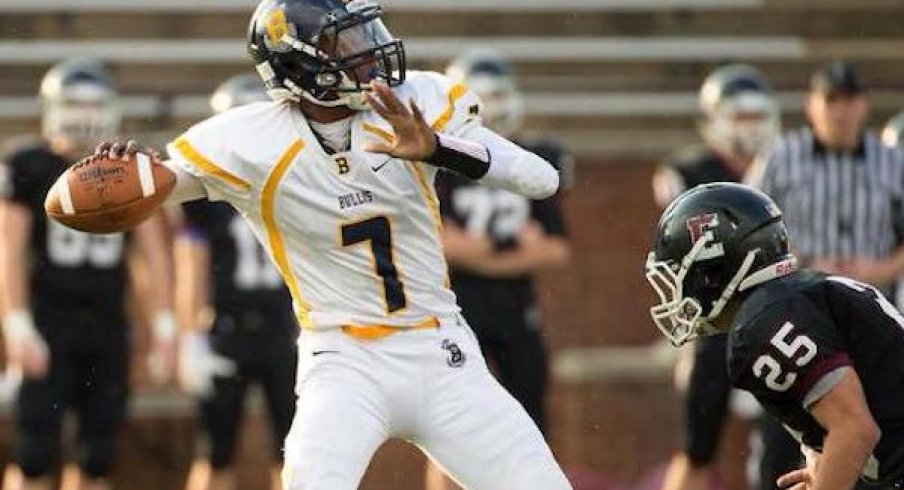 Before we dive too far into the story of Potomac, Maryland 2016 Dwayne Haskins, Jr., it's important that we slap a big fat disclaimer on it. There are fewer things in recruiting more overblown than the concept of a "dream school." Every player in the country grew up loving someone, dreaming of running out of some tunnel and wearing some uniform. Everyone has a dream when they're a kid. I wanted to be president of the United States. Dreams change, even when you become eligible to make them come true. Situations arise that force us to reconsider whether our dreams would actually be good for us.
cont...
Multiple Ohio Prospects Planning to Camp at Ohio State (11W)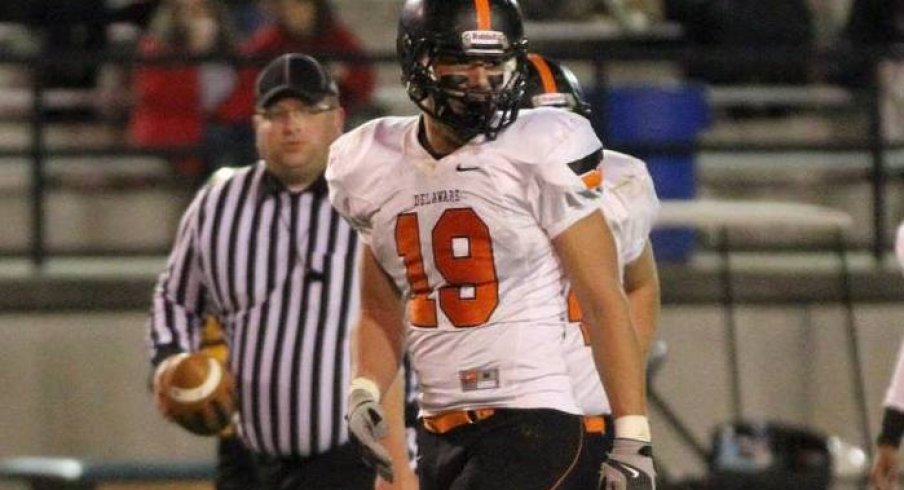 Ohio State signees Stephen Collier and Terry McLaurin helped to earn their offers from Ohio State camps last year. In June, football prospects will fill the Woody Hayes Athletic Facility hoping to do the same.
cont...
Ohio State recruiting: State Secrets, 5/12 - Andrew Fleming committing, Emmanuel Rugamba recaps visit (LGHL)
Just about every Saturday, the Ohio State football program plays host to at least a few prospects. That was no different this weekend as Hubbard's George Hill, a class of 2016 running back, and quite a few members of Core6, a recruiting and training firm based out of Chicago, checked out the Ohio State campus.
cont...
'The list can change - Ohio State could be No. 1': Top QB prospect Torrance Gibson explains his recent top 15 release: Buckeyes recruiting (Plain Dealer)
COLUMBUS, Ohio – When four-star quarterback Torrance Gibson released his first top 15 last week and Ohio State was No. 4 behind Tennessee, Auburn and LSU, he knew that would be a shock for Buckeye fans.
cont...