Visitors List (Subject To Change)
Today
HOOPS - '15 SG Austin Grandstaff (Rockwall, TX)
May 10th
Core 6 Day
'15 WR Miles Boykin (New Lenox, IL)
'15 DB Jared Payton (Columbus, OH)
'16 RB George Hill (Hubbard, OH)
May 31st - June 2nd
'17 QB Danny Clark (Massillon, OH) - commit
'15 DB Cameron Ordway (Pulaski, TN)
'15 RB Natereace Strong (East Saint Louis, IL) - tentative
'15 WR Alex Ofodile (Columbia, MO)
'15 DE Terry Beckner Jr. (East Saint Louis, IL)
'16 QB Dwayne Haskins (Potomac, MD)
'17 WR Jeff Thomas (East Saint Louis, IL)
June 1st
Columbus NFTC
June 2nd
Columbus Elite 11
June 8th (One Day Camp)
'15 TE Josh Moore (Olathe, KS)
'15 DB Ronnie Harrison (Tallahassee, FL)
July 25th (Friday Night Lights)
'16 LB Shaq Quarterman (Orange Park, FL)
Scout $ - Dream Offer For Haskins '16 MD QB Dwayne Haskins
Offered by Coach Meyer & has always dreamed of being a Buckeye. Visiting Penn State today, WVU on June 8th, LSU in July and wants to visit Ohio State on Memorial Day weekend.
RT @Lions247: Top #PennState target Sterling Jenkins set to announce on Tuesday. #Bolts http://t.co/bQoXsuTG7u via @247Sports
— Steve Wiltfong (@SWiltfong247) May 2, 2014
Newly Offered: '15 MD WR/DB Myles Robinson
Newly Offered: '16 NJ QB Jarrett Guarantano
Newly Offered: '16 NJ WR Brad Hawkins Jr.
Newly Offered: '16 TX ATH Maciah Long
Recruiting Notebook:: New Offers, Commitment Watch, Coaching Visits and More (11W)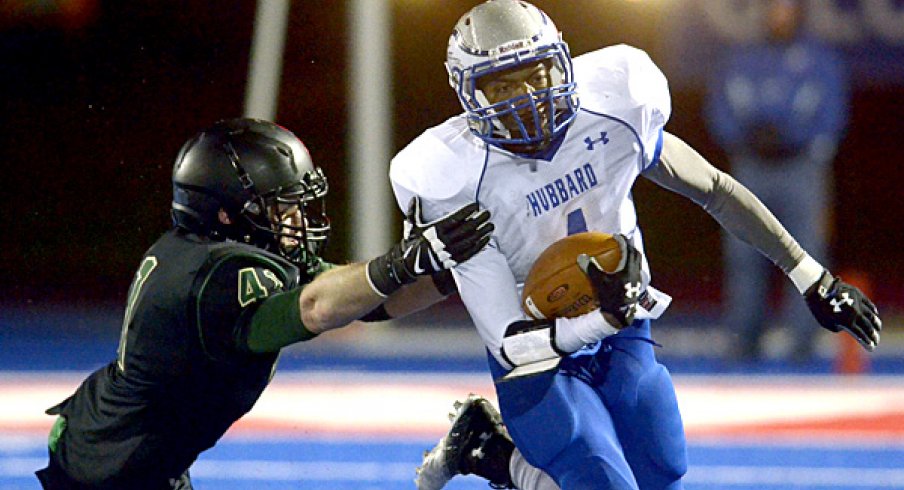 The offseason is in full swing, but that doesn't mean the coaching staff is taking any time off. Many of the assistant coaches have spent their week hitting the recruiting trail hard.
With a slow start to the 2015 class, the Buckeyes have plenty of work to do. As some have pointed out, it has been over 150 days since Ohio State's last football commit.
cont...
2015 South Dakota Grant Schmidt Star Talks Buckeye Offer (11W)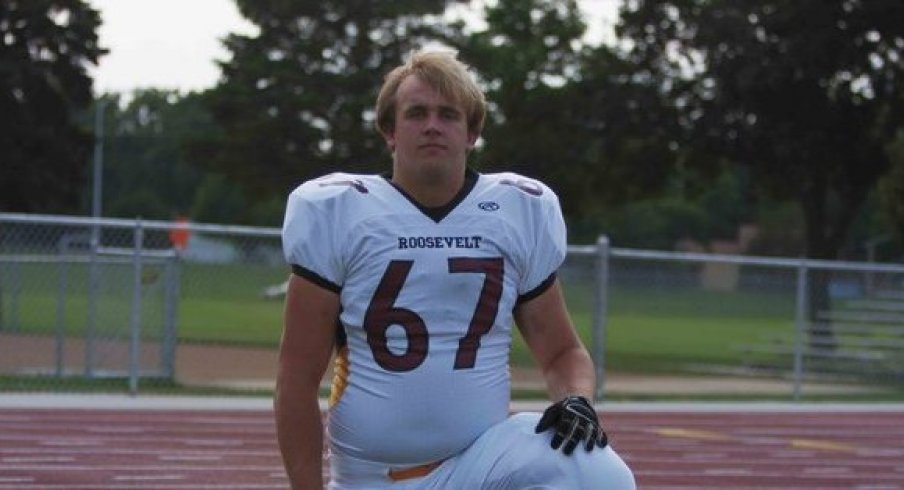 Not many high school football players, in the year 2014, can say that they were the first player ever from their state to receive an Ohio State football scholarship offer. Sioux Falls (S.D.) offensive lineman Grant Schmidt, the nation's 35th-ranked offensive tackle, can say exactly that.
cont...
Ohio State recruiting: State Secrets, 5/2 - Esa Ahmad offered (LGHL)
Thursday was a busy day in the world of Ohio State recruiting. While there wasn't any huge news, both the football and basketball staffs handed out scholarship offers to some of the nation's top players. We're here to catch you up on the latest happenings. Let's get started.
cont...