Visitors List (Subject To Change)
Today
HOOPS - '15 PF Esa Ahmad (Shaker Heights, OH)
Tomorrow
HOOPS - '15 SG Austin Grandstaff (Rockwall, TX)
May 10th
Core 6 Day
'15 WR Miles Boykin (New Lenox, IL)
'15 DB Jared Payton (Columbus, OH)
'16 RB George Hill (Hubbard, OH)
May 31st - June 2nd
'17 QB Danny Clark (Massillon, OH) - commit
'15 DB Cameron Ordway (Pulaski, TN)
'15 RB Natereace Strong (East Saint Louis, IL) - tentative
'15 WR Alex Ofodile (Columbia, MO)
'15 DE Terry Beckner Jr. (East Saint Louis, IL)
'17 WR Jeff Thomas (East Saint Louis, IL)
June 1st
Columbus NFTC
June 2nd
Columbus Elite 11
June 8th (One Day Camp)
'15 TE Josh Moore (Olathe, KS)
'15 DB Ronnie Harrison (Tallahassee, FL)
July 25th (Friday Night Lights)
'16 LB Shaq Quarterman (Orange Park, FL)
Michigan State stopped by St. Clairsville (Ohio) for 2016 LB Brendan Ferns. Ohio State and Iowa out to see five-star DE Jashon Cornell.
— Tom VanHaaren (@TomVH) May 1, 2014
Scout $ - Buckeyes to Watch Waller Monday '15 CA QB Travis Waller
Buckeyes are high on his list & wants to visit. Distance not a factor.
Rivals $ - Sheppard forming opinions '15 FL LB Dominic Sheppard
Wants to visit South Carolina, LSU, Texas A&M and Ohio State this summer. Looking for a school with a good engineering program.
Newly Offered: '15 SD OL Grant Schmidt
Ohio Native Shea Patterson Wants to Hear From Buckeyes (11W)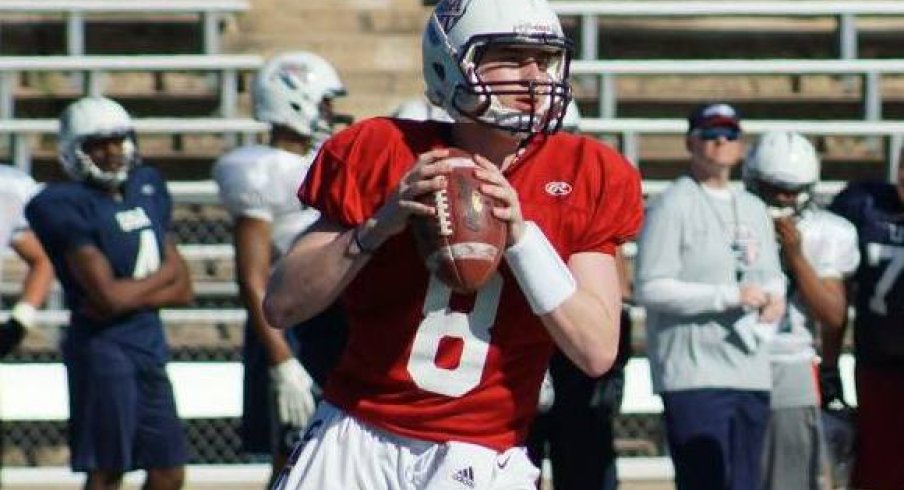 Growing up in Toledo, current Shreveport (La.) resident and star quarterback Shea Patterson is pretty familiar with Ohio State.
"I always liked (Ohio State) growing up," Patterson told Eleven Warriors. "Everyone in my family liked Michigan. We moved from Toledo when I was 12."
Patterson, who is a verbal commitment to the University of Arizona (and has been since December of 2012,) is the nation's second-ranked pro-style quarterback in the class of 2016, but don't let the label fool you; he's no statue in the pocket. Arizona notwithstanding, the talented signal-caller has a host of very impressive scholarship offers in his back pocket.
cont...
Ohio State recruiting: State Secrets, 5/1 - 4 new offers, Esa Ahmad update (LGHL)
Find out which four prospects picked up an Ohio State offer on Wednesday. Also, '15 PF Esa Ahmad will be on campus later today.
The Ohio State football coaching staff was very busy on Wednesday as they sent out four new offers to some talented prospects across the country and visited a few others. Also, the 3rd best hoops player in the state of Ohio for the 2015 class will be making an unofficial visit today.
'15 TE Josh Moore was one of the four recipients of an offer from the Buckeyes yesterday. Ohio State has joined Auburn, Florida State, Kansas, Missouri, TCU and a handful of others to send Moore a scholarship offer. The 6'5", 250-pounder from Olathe North High School in Kansas is currently rated as a 3-star prospect in the 2015 class. Moore currently sits at 27th in the country at the tight end position and 6th in the state of Kansas. Moore is currently predicted to wind up as a Tiger and play his collegiate career in Missouri. You can watch the newly offered tight ends highlights here.
cont...