Visitors List (Subject To Change)
April 27th
'15 QB Tommy Stevens (Indianapolis, IN)
'16 LB Levonta Taylor (Virginia Beach, VA)
'16 DB Anthony Womack (Virginia Beach, VA)
May 10th
Core 6 Day
'15 WR Miles Boykin (New Lenox, IL)
May 31st - June 2nd
'17 QB Danny Clark (Massillon, OH) - commit
'15 DB Cameron Ordway (Pulaski, TN)
'15 RB Natereace Strong (East Saint Louis, IL) - tentative
'15 WR Alex Ofodile (Columbia, MO)
'15 DE Terry Beckner Jr. (East Saint Louis, IL)
'17 WR Jeff Thomas (East Saint Louis, IL)
June 1st
Columbus NFTC
June 2nd
Columbus Elite 11
July 25th (Friday Night Lights)
'16 LB Shaq Quarterman (Orange Park, FL)
Newly Offered: '15 TX DB Kahlil Haughton
Newly Offered: '16 OH TE Jake Hausmann
Newly Offered: '15 GA RB Joshua Thomas
Newly Offered: '16 GA RB Xavier Gantt
Recruiting Notebook: Updates on Kahlil Haughton, Sterling Jenkins and Lorenzo Nunez (11W)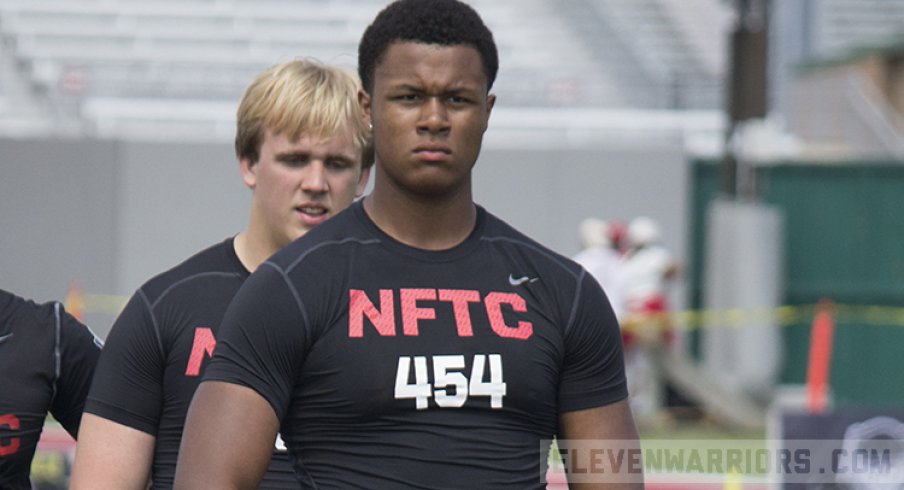 Good afternoon friends. I do hope your Friday has arrived sans dramatics and that whatever you've got planned for your weekend is interesting or whatever.
This week, Ohio State's football (and basketball) coaches were back on the recruiting trail, beginning their spring evaluation period of 2015 prospects. On Thursday, specifically, the Buckeyes had coaches all over Georgia and Tennessee among other places. Today's recruiting updates will touch on a few of those visits as well a few other potentially interesting tidbits.
cont...
Ohio State recruiting: State Secrets, 4/25 - Bucks make the cut for Austin Clark, Myles Turner to announce Wednesday (LGHL)
Yesterday was relatively quiet when it comes to Ohio State recruiting, but as always there are still plenty of things to talk about. Let's get started.
Two more offers sent out
The Ohio State coaching staff got things started quickly yesterday when they extended an offer to Tucker (GA) defensive end Jonathan Ledbetter, who is currently committed to play for the Alabama Crimson Tide.
If I had to guess I don't think much will come of this, but Ledbetter has shown he's still willing to visit other schools as he's been on trips to Georgia and Auburn since committing to the Crimson Tide back in January.
cont...