Visitors List (Subject To Change)
This Week
'10 TX C Chad Lindsay (Alabama Transfer)
Tomorrow
'15 DT Elijah Taylor (Cincinnati, OH)
April 18th-20th
'15 QB Brandon Wimbush (Jersey City, NJ) - tentative
'15 WR Van Jefferson (Brentwood, TN)
'15 TE Chris Clark (Avon, CT)
'15 OL Matthew Burrell (Fredericksburg, VA)
'15 LB Ricky DeBerry (Richmond, VA)
'16 DE Khalid Kareem (Farmington Hills, MI)
May 24th
Core 6 Day
May 31st
15 DT Tim Settle (Manassas, VA)
'15 DB Cameron Ordway (Pulaski, TN)
June 1st
'15 RB Natereace Strong (East Saint Louis, IL) - tentative
'15 WR Alex Ofodile (Columbia, MO)
'15 DE Terry Beckner Jr. (East Saint Louis, IL)
'17 WR Jeff Thomas (East Saint Louis, IL)
Ohio State was out to see Michigan commit Tyree Kinnel today. He says he's 100% with Michigan, though
— Tom VanHaaren (@TomVH) April 16, 2014
#OhioState in to see Brian Cole at Saginaw Heritage today
— Allen Trieu (@AllenTrieu) April 16, 2014
Ohio St. Just offered! #Buckeyes!
— miles boykin (@MBoykin814) April 17, 2014
Scout $ - Buckeyes Make Strong Impression on Washington '16 NC RB Robert Washington
Told by the staff he can commit when he's ready. Releasing a top 10 by his season & says Ohio State is very high on his list. Wants to major in Pre-Med and realizes Ohio State has one of the best medical programs in the country. Will return for Friday Night Lights & at least two games this coming season.
Brandon Wimbush Visit Update: No Go? (11W)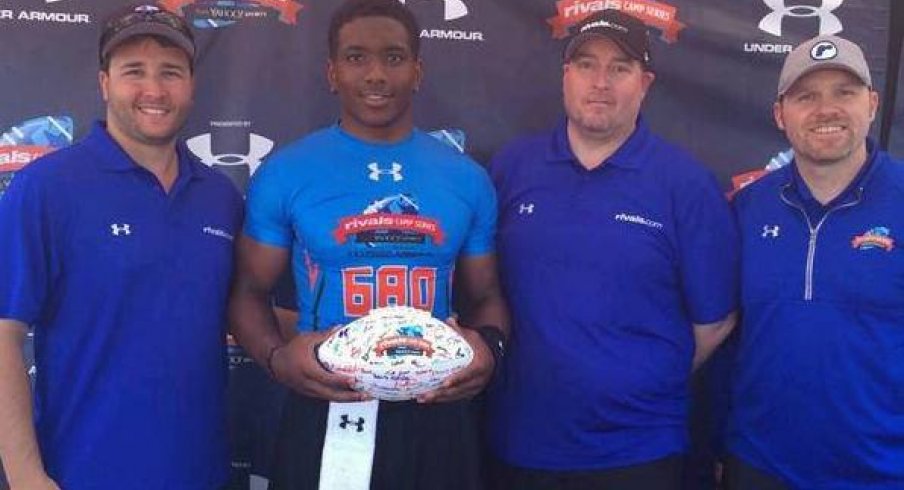 Quick update on Brandon Wimbush, who has been hoping to get back to Columbus this weekend to check out Ohio State.
"It's not looking so good right now," Wimbush told me about his hopes to visit Ohio State this weekend. "I'm having trouble arranging transportation."
Wimbush, a 6-foot-2, 205-pound signal caller from St. Peter's Prep in Jersey City (N.J.) has talked to the Buckeyes a number of times this week.
cont...
Ohio State recruiting: State Secrets, 4/16 - Robert Washington recaps visit, offer (LGHL)
It was a relatively quiet Tuesday in the world of Ohio State football recruiting, but there are still a couple of things we'll get you caught up on. Let's get started.
Top sophomore gets OSU offer
Ohio State also offered Huntersville (NC) South Lake Christian Academy running back Robert Washington yesterday when he was on a visit to Ohio State. The 5'10, 205-pound running back has a chance to be ranked as one of the top players in the 2015 recruiting class when the fist set of rankings for the class come out a couple of months down the road.
"I sat down with Coach Drayton and went over film. We did some white board work. He said he was impressed with my knowledge of the game, then said you have a offer here," Washington said. "Then Coach Meyer confirmed that my offer was committable."
cont...
Ohio State recruiting: 2016 OL Tommy Kraemer talks visit, offer (LGHL)
Earlier this month, the Buckeyes offered class of 2016 offensive lineman Tommy Kraemer during a visit to campus. See what the Cincinnati Elder standout had to say about the trip to Columbus, his thoughts on having a chance to suit up for Ohio State and more.
Recruiting doesn't have an off season. Coaches always have to be on their toes, trying to lock down the best of the best at all times. The Ohio State class of 2015 is off to a decent start, and with the Bucks currently sitting pretty with many of the main prospects on their board, the class should rank among the top in the country once again when National Signing Day comes rolling around next February.
Just because Urban Meyer and staff are knee deep in trying to bring a rock solid group of 2015 athletes to Columbus doesn't mean they are slacking on the underclassmen.
Over the last few weeks, the Buckeyes have had many visitors from both the 2016 and 2017 classes, including Cincinnati Elder sophomore offensive lineman Tommy Kraemer.
cont...
Ohio State recruiting: Josh Myers recaps spring game visit (LGHL)
Ohio State hosted quite a few visitors this past weekend for the spring game. The list included many top recruits in the 2017 class, including Miamisburg (OH) offensive tackle Josh Myers, who scored a scholarship offer from the Scarlet and Gray a couple of weeks ago.
The standout offensive lineman had a great time on his second trip to Columbus where he got to take in Ohio State's spring game.
"It was a great trip. My mom and I got there early and my mom hadn't seen all of the facilities yet, so they had a guy take us around and show us the facilities and the history of the program, which was pretty cool," Myers said. "Then we got on a bus and went to the game. We got to go on the field before and everything and that was pretty much my day."
cont...