Visitors List (Subject To Change)
This Weekend
'15 RB Larry Scott (Hubbard, OH)
'15 WR Van Jefferson (Brentwood, TN)
'15 OL Simon Stepaniak (Hamilton, OH)
'15 OL James Daniels (Warren, OH)
'15 OL Patrick Allen (Reisterstown, MD)
'15 OL Matt McCann (Indianapolis, IN)
'15 OG Brice Hinton (Trotwood, OH)
'15 DT Kraig Howe (Dayton, OH)
'15 DE Dre'Mont Jones (Cleveland, OH)
'15 LB Bryce Jenkinson (Greenville, OH)
'15 LB Matt Draper (Cleveland, OH)
'15 LB Justin Hilliard (Cincinnati, OH)
'15 LB Anthony McKee (Columbus, OH)
'15 DB Kareem Orr (Chattanooga, TN)
'15 DB Kei Beckham (Trotwood, OH)
'15 ATH Jordan Whitehead (Monaca, PA)
'15 ATH Brian Cole (Saginaw, MI)
'16 OL Sean Foster (Mundelein, IL)
'16 DE Jonathon Cooper (Gahanna, OH)
'16 DB Jordan Overton (Lyndhurst, OH)
'16 ATH Steven Smothers (Reisterstown, MD)
March 26th
'15 TE/DE Jake Pickard (Millburn, NJ)
March 29th
'15 TE C.J. Conrad (LaGrange, OH)
'15 OL David Robbins (Glenelg, MD)
'15 OL Jake Fruhmorgen (Tampa, FL)
'15 OL Quinn Oseland (Springfield, IL)
'15 DE Darius Fullwood (Olney, MD)
'16 OL Tyler Gerald (Portsmouth, OH)
Sometime in April
'15 TE Chris Clark (Avon, CT)
April 1st
'15 OL Gabe Megginson (Jacksonville, IL)
April 4th
'15 TE Hale Hentges (Jefferson City, MO)
April 5th
'17 OL Emani Mason (Detroit, MI)
April 10th
'16 OL Michal Menet (Reading, PA)
April 12th - Spring Game
'15 OL Larry Wells (Kenton, OH)
'15 OL Sterling Jenkins (Pittsburgh, PA)
'15 LB Sh'mar Kilby-Lane (Hallandale, FL) tentative
'16 OL Tommy Kraemer (Cincinnati, OH)
April 18th
'15 LB Ricky DeBerry (Richmond, VA)
June 1st
'15 WR Alex Ofodile (Columbia, MO)
247 $ - OSU holds strong with Hilliard '15 OH LB Justin Hilliard
Had a good visit & talked with Coach Meyer about playing in his home state. No other visits planned right now.
247 $ - Ohio State Out In Front For Allen '15 MD OL Patrick Allen
Visit was better than expected & Ohio State feels like home. Spent most of his time with Coach Meyer & Coach Warinner.
247 $ - Meyer Welcomes In Legacy Daniels '15 OH OL James Daniels
Being recruited as a Center & says everyone is even. Visiting Auburn next weekend.
Rivals $ - Cooper impressed by Buckeyes '16 OH DE/LB Jonathon Cooper
Visited yesterday for practice & then met with Coach Fickell. Wants to keep working towards an offer.
Newly Offered: '17 CA WR Keyshawn Johnson Jr.
Football Recruiting: Big Week Could Yield Big Results (11W)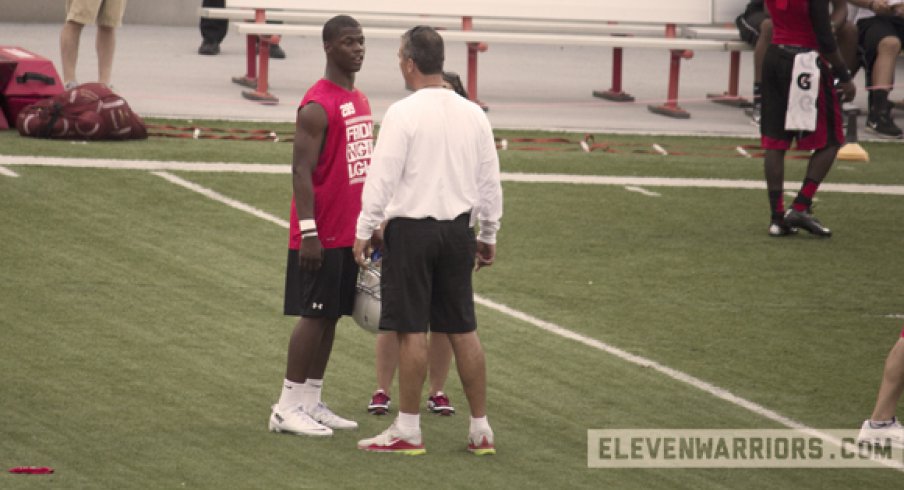 The first major recruiting efforts for Ohio State's 2015 class ended yesterday and it the Buckeyes put themselves into prime position for a number of key targets.
In what was essentially a week-long visitor-fest, Urban Meyer and his coaching staff hosted many of the region's best players — and two key of the state's top players — in what they hope turns out to be a fruitful first week of spring.
In todays' update, we'll do our best to update you on all the key targets who made their way to Columbus this week. More updates will be coming throughout the day, so please stay with us.
cont...
Ohio State recruiting: 2015 LB Anthony McKee talks visit (LGHL)
Find out how Anthony McKee's Saturday visit to Ohio State went plus much more.
As most of Buckeye Nation knows by now, Urban Meyer and the Ohio State football squad had a number a prospects in town to visit campus, check out the facilities and watch Meyer and his assistants get the Buckeyes ready for next month's spring game over the last week.
Walnut Ridge soon to be senior linebacker Anthony McKee once again made the short trip to OSU on Saturday after recently visiting programs such as Indiana, Kentucky and Purdue. While at Ohio State, Anthony had the opportunity to break bread with members of the Buckeye coaching staff. "I talked to a lot of the coaches but Coach Fickell mainly." McKee told Land-Grant Holy Land. "He (Fickell) mainly told me about the way they do things (at OSU)."
McKee, a four-star prospect, proved on the field last season that he is not just a top player in the Columbus area, but the entire state, accounting for over 100 tackles as a junior for the Scouts, earning an All-Ohio selection.
cont...
Ohio State recruiting: Justin Hilliard recaps OSU visit (LGHL)
Ohio State hosted a couple of the nation's top prospect yesterday for their fifth practice of the spring. It was probably the biggest recruiting day of the year so far.
One of the top recruits on campus was Cincinnati (OH) St. Xavier linebacker Justin Hilliard, who's one of Ohio State's top linebacker targets in the 2015 class.
Hilliard, who has been to Columbus on multiple occasions, really enjoyed his trip, especially getting to watch the Buckeyes in action.
"It was my first practice (at Ohio State) other than a walkthrough I went to last year, but it was my first real practice," Hilliard said. "There was a lot of energy at the practice. I really enjoyed it."
In addition to watching the practice, Hilliard got to do a couple of other things while in Columbus.
cont...
Ohio State recruiting: Jerome Baker recaps his OSU visit (LGHL)
There were multiple recruits on Ohio State's campus Thursday through Sunday who were checking out today's spring practice. There's no question that one of the top targets on campus was Cleveland (OH) Benedictine athlete Jerome Baker, who is one of, if not the best player in Ohio's 2015 class.
The versatile athlete who could end up playing running back or linebacker at the college level has been on campus many times and enjoyed all of his trips. This visit was no different.
"I got there Thursday. First I toured around a little bit, saw the trophy room, and talk to Coach Meyer in his office. Then we walked (Baker and his teammate Justin Layne) into the practice. Coach Meyer talked to me throughout the practice. It was really exciting," Baker told Land-Grant Holy Land. "Then it go to the point where my dad called and said he was coming down tomorrow, so I suggested staying the night and then meeting up with him when he came down tomorrow."
cont...
Ohio State recruiting: Patrick Allen has OSU on top following visit (LGHL)
Top prospects were flocking to Columbus this weekend for Ohio State's biggest weekend of visitors in 2014 to this date.
One of the top players on campus was Reisterstown (MD) Franklin offensive guard/tackle Patrick Allen, who was making his first ever trip to Columbus.
The 6'5, 270-pound lineman arrived in Columbus on Friday night and departed Saturday night. He had good things to say about his first trip to Ohio State.
"We got to the campus on Friday night and walked around the town just to see the area which was pretty cool," Allen said. "Then on Saturday it's when we went to the university to check everything out.
It was good sitting down to watch practice to see how coach Warinner was and how he worked with his guys. It was really cool," Allen told Land-Grant Holy Land.
cont...