Visitors List (Subject To Change)
March 17th
'16 ATH Demetris Robertson (Savannah, GA)
March 18th
'15 QB Tommy Stevens (Indianapolis, IN)
March 21st-22nd
'15 RB Larry Scott (Hubbard, OH)
'15 TE Chris Clark (Avon, CT)
'15 OL Simon Stepaniak (Hamilton, OH)
'15 OL James Daniels (Warren, OH)
'15 OL Patrick Allen (Reisterstown, MD)
'15 DE Darius Fullwood (Olney, MD)
'15 LB Josh Barajas (Merrillville, IN)
'15 ATH Jordan Whitehead (Monaca, PA)
'15 ATH Brian Cole (Saginaw, MI)
'16 OL Sean Foster (Mundelein, IL)
March 29th
'15 OL David Robbins (Glenelg, MD)
'16 OL Tyler Gerald (Portsmouth, OH)
April 1st
'15 OL Gabe Megginson (Jacksonville, IL)
April 4th
'15 TE Hale Hentges (Jefferson City, MO)
April 10th
'16 OL Michal Menet (Reading, PA)
April 12th - Spring Game
'15 OL Larry Wells (Kenton, OH)
'15 LB Sh'mar Kilby-Lane (Hallandale, FL) tentative
'16 OL Tommy Kraemer (Cincinnati, OH)
June 1st
'15 WR Alex Ofodile (Columbia, MO)
Newly Offered: '16 FL LB Shaq Quaterman
Tennessee Important to Buckeye Recruiting Success (11W)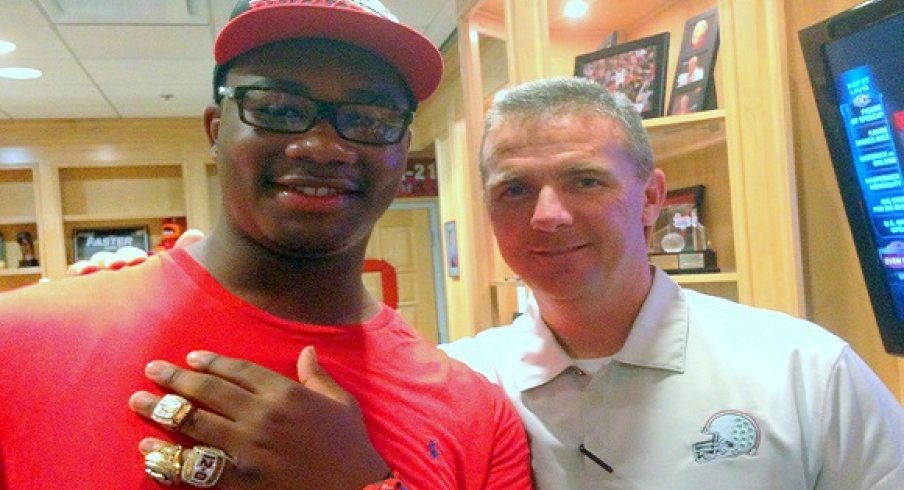 Continuing with our series of looking at priority states for the 2015 recruiting cycle, today we're taking a look at Tennessee. Meyer hasn't had much success in Tennessee yet as an Ohio State coach, but it is rich with talent and the Buckeyes are well-positioned to make a push in the volunteer state this year.
Drew Richmond / Memphis / OL
Richmond is certainly the physically biggest target for Ohio State in Tennessee, and he's also the most important. A nationally elite player at a position Ohio State needs to continue to recruit well, Richmond is the No. 6 offensive tackle in the 247Composite and the top ranked player in Tennessee.
He recently announced a Top 11 that included Ohio State, along with Alabama, Auburn, Clemson, Florida State, LSU, Memphis, North Carolina, Ole Miss, Tennessee and UCLA. He currently plans for a final announcement on September 9th (to honor a close friend who passed away).
Richmond grew up a Buckeye fan and had a great visit to Columbus this past fall, previously calling his time in Columbus "a dream feeling." Right now it looks like Ohio State, Alabama, Tennessee and Ole Miss are the main competitors for his services. Don't sleep on Auburn either - Richmond plans to visit them in the next few weeks and is impressed by Auburn's success on the field and putting linemen in the NFL recently.
cont...
Ohio State recruiting: State Secrets, 3/14 - Brian Cole visiting this month (LGHL)
Land-Grant Holy Land catches you up on the latest happenings in the world of Ohio State recruiting.
It has been another relatively busy week in the world of Ohio State football recruiting. We're going to get you caught up on yesterday's recruiting events and much more.
Torrance Gibson might visit soon
A couple of weeks ago, Fort Lauderdale (FL) American Heritage quarterback/athlete Torrance Gibson (who is one of Ohio State's top targets for the class) thought the earliest he would be able to make it to Columbus for a visit was the summer. But things may have changed.
Yesterday, the Heritage QB indicated that he could make his first trip to check out the Ohio State campus later this month over his spring break, but wasn't completely sure of any visit plans. He'll definitely make it on campus no later than the summer, but it would be huge to get him on campus as soon as possible.
I still like where the Buckeyes stand in this race, but there's still a long way to go before he commits. Right now, he's planning on announcing his college decision following his senior football season.
cont...
Justin Hilliard recruit scouting report: College-ready linebacker (SB Nation)
Why is Justin Hilliard so coveted by schools across the country?
Justin Hilliard is considered one of the top linebackers in the nation and perhaps the best prospect in the Midwest, and schools from around the nation are pursuing the top-tier recruit.
Hilliard attends Cincinnati (Ohio) St. Xavier High School, and is listed at 6'2 and 230 pounds. Scout, 247sports and ESPN all project him to play outside linebacker at the next level, while Rivals slots him at inside linebacker.
Rivals (which rates him as the top inside linebacker in the nation), ESPN and Scout all rate Hilliard as a four-star prospect, while 247sports gives him five stars. He is a composite five-star player, with the service ranking him as the 27th-best player in the class of 2015. He's also considered the second-best outside linebacker in the country and the best player in the state of Ohio.
Hilliard claims offers from Alabama, Michigan, Notre Dame, Ohio State, Oklahoma, Florida, Florida State and USC, among others. He can be found on Twitter @JHilliard47.
cont...