BN $ - Bucks Move Into Lead For Floridian '15 FL ATH Kaleel Gaines
By BK...up to 20+ offers with the latest from FSU...highest interest in Ohio State, Auburn, Florida State and USC...brother is Xavier Gaines who has also been offered by OSU.
Rivals $ - Offered QB plans to visit '15 FL QB Dwayne Lawson
Plans on visiting Tennessee, Florida, UCF & Ohio State in March.
24/7 $ - FSU still on top for 2016 QB '16 FL QB Xavier Gaines
By Nee...up over 20 offers...FSU, Auburn and OSU are the schools he's most interested in...brother is Kaleel Gaines...FSU leads.
Ohio State just offered....!! #Buckeyes
— Eric Swinney (@EricSwinney) February 18, 2014
Newly Offered: '15 GA RB Eric Swinney
20th offer from The Ohio State Buckeyes!! #blessed
— Christian Pellage (@CPellageNCT15) February 18, 2014
Newly Offered: '15 FL OL Christian Pellage
Just received my 27th offer from THEE OHIO STATE UNIVERSITY #TrulyBlessed
— *Next Level* (@MoneyMakeinAdam) February 18, 2014
4. Damien Harris
5. CeCe Jefferson
6. Kevin Tolliver II (LSU)
9. Minkah Fitzpatrick
10. Iman Marshall
11. Calvin Ridley
16. George Campbell
17. Rashad Roundtree
18. Tarvarus McFadden
21. Martez Ivey
22. Malik Jefferson
23. Christian Kirk
25. Shy Tuttle
27. Kendall Sheffield
28. Jerome Baker
31. DaMarkus Lodge
32. Drew Richmond
34. Sterling Jenkins
35. Terry Beckner Jr.
40. Soso Jamabo
41. Garrett Taylor
42. Jacques Patrick
45. Darian Roseboro
46. Christian Wilkins
47. Justin Hilliard
48. Jarrett Stidham
49. Torrance Gibson
51. Kyler Murray
54. Chuma Edoga
55. John Burt
56. Tim Settle
57. Jeffery Holland
58. Larry Scott
60. Richie Petitbon
66. Austin Clark
68. Josh Sweat
69. Joshua McMillon
70. Clelin Ferrell
73. Shawn Burgess-Becker
76. Marcus Lewis
78. Taj Griffin
80. Jake Fruhmorgen
87. Jashon Cornell
88. Darrion Daniels
90. Jahvoni Simmons
93. Bryce Love
96. Lorenzo Nunez
99. Brian Cole
100. Ricky DeBerry
101. Mark Fields
105. RayRay McCloud
106. Shaun Crawford (TTUN)
108. Adam McLean
110. Eli Brown
114. Miles Boykin
116. Eric Glover-Williams
123. Mike Weber
127. George Brown
130. Juwan Johnson
135. Matthew Burrell Jr.
136. Connor Dyer
137. Pat Allen
139. Devante Peete
142. Chris Warren
143. Garrett Williams
147. Preston Williams (Tennessee)
150. Hale Hentges
155. Kyle Phillips
158. Darrin Hall
159. Tim Irvin
162. Ben Edwards
164. Deon Cain
168. Jordan Cronkrite
174. CJ Conrad
176. Chris Clark
179. Steven Gonzalez
181. James Lockhart
183. Darrin Kirkland Jr.
187. Christian Pellage
190. Juval Mollette
192. Jalen Christian
203. Brandon Wimbush
204. TJ Simmons
211. Andre Robinson
212. Natereace Strong
222. Jordan Whitehead
225. Adonis Thomas
228. Kaleb Kim
240. Anthony Wheeler
241. Nick Conner
247. CJ Sanders
Ohio State Offers Maryland Standout Adam McLean (11W)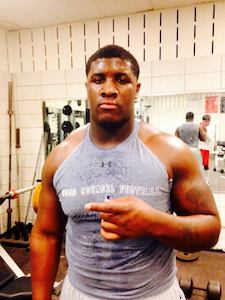 Last year, in April specifically, we ran a feature on Bethesda (Md.) Quince Orchard defensive lineman Adam McLean. At the time, McLean had two very early scholarship offers, one from Nebraska and one from eventual national champion Florida State, but he'd just been visited for the first time by Ohio State defensive co-ordinator Luke Fickell, and he felt an offer would be on its way soon.
"Coach (Luke) Fickell by came to visit me, and they told my coach that they really like me," McLean told 11W in 2013. "It was the first time I'd heard from them. They say they want me, so maybe the offer comes soon, but it hasn't come yet."
That offer came today — McLean's 27th offer — and was delivered by new Ohio State defensive line coach Larry Johnson; someone McLean is very familiar with.
"Coach Johnson (is who made the offer,) I've talked to him for a while," he said of the Buckeyes' line coach. "He said he would love for me to come play for him."
cont...
Best of the Midwest Superlatives (247Sports)
Top overall prospect - Damien Harris, RB, Berea (Ky.) Madison Southern
Harris was dominant throughout the event on Monday. He checked out in testing, running a 4.36 on the hand clock. He checked out in pass-blocking, dominating every linebacker in front of him. He then was smooth and natural as a route-runner and pass catcher out of the backfield. Harris also has a great build. Ohio State and Michigan are on top currently.
Top quarterback - Tommy Stevens, QB, Indianapolis (Ind.) Decatur Central
He's got an offer from Iowa as a safety. Several others have offered at quarterback. On Monday, Stevens looked every bit the part of a major college arm. All of 6-foot-4, Stevens ran and tested well in the combine portion but he also showed touch and accuracy as a passer. His dream offer is Oregon and he has already attracted some interest from the Ducks.
Breakout performer - Denzel Ward, CB, Macedonia (Ohio) Nordonia
Ward actually earned an offer during the event when Cincinnati got word to him. Perhaps the reason that the Bearcats jumped on it was due to word tricking out of the event that Ward posted a 4.31 40-yard dash on the hand clock as well as a 10-5 broad jump. He did that with a nice 5-11 frame showing all kinds of potential for his recruitment to blow up in the coming weeks and months.
cont...
Ohio State recruiting: Damien Harris talks Buckeye visit, process (LGHL)
2015 RB Damien Harris talks about his Ohio State visit, his interest in the Buckeyes, and more.
Urban Meyer and his staff have handed out offers to many of the top running backs in the 2015 class, but there's one player they've offered who stands out above the rest: Berea (KY) Madison Southern running back Damien Harris, who was once committed to Michigan.
Harris, who visited Columbus to watch the Ohio State-Michigan basketball game last week, reflected on his visit experience after performing at the Best of the Midwest Combine in Indianapolis. The standout tailback had great things to say about the visit.
"I really like Coach Meyer as a coach; I think he's a really great guy. He gives me that family feel that I'm going from one home to when I'm in college I'll be in another home, the place I belong. I think he's really good at what he does. He's passionate and intense in his coaching," Harris said. "He (Meyer) and Coach Drayton, the running backs coach, sat me down and took the time to tell me how they would develop me as a person and a player, how I would be successful at the university, how they would use me, what they would do with me, and stuff like that. It was a great visit overall."
The nation's top running back according to the 247Sports Composite rankings is a really big fan of Urban Meyer and is intrigued by not only what Meyer could do for him as a football player, but as a person.
cont...
Ohio State recruiting: State Secrets, 2/18 - Damien Harris shines at Best of the Midwest (LGHL)
The Best of the Midwest combine took place on Monday and Ohio State target Damien Harris was named MVP of the event for the running backs.
'15 RB Damien Harris participated at the Best of the Midwest Monday and dominated in just about all of his drills. Named as the MVP among all of the running backs, Harris performed exceptionally well. The 5-star running back was previously committed to Michigan, but has since been talking frequently with a variety of schools. Ohio State and Michigan remain the front-runners for Harris' services and recently, Kentucky has been among the schools said to be creeping closer to the two leaders.
Harris also received an offer from Alabama on Monday and I know that I'm certainly interested to see how that affects his recruitment moving forward. Land-Grant Holy Land's own Miles Joesph had a chance to chat with Harris, so check out that interview to find out more. Checking in at 5'11, 205-pounds, the No. 1 rated running back in the country for the class of 2015 is also the best prospect overall from state of Kentucky, and has plenty of top schools vying for his talents on the field. Those talents were showcased Monday, in drills such as the 40-yard dash, pass-blocking, and much more:
cont...
Ohio State recruiting: Nick Conner talks BOTMW combine, recruiting (LGHL)
2014 Dublin (OH) Scioto linebacker Nick Conner talks about his interest in Ohio State, Michigan State, Illinois, Indiana, and Kentucky.
The Best of the Midwest combine showcased many of the best players in the region for yet another year. The event featured almost 30 players with college offers, players with no offers but are close to "blowing up", and even some unknown players who are trying to make a name for themselves.
One player in attendance who has been piling up offers over the last month or so was Dublin (OH) Scioto linebacker Nick Conner. The standout linebacker was happy with some areas of his performance at the combine, but wants to improve his speed.
"I think I did well in the pro shuttle and the L-drill," Conner said following his workout. "I still think I should've done better in my 40-yard. I think I ran a 4.7 and I should be doing better than that."
Three schools close in proximity are recruiting him the hardest right now, Illinois, Indiana, and Kentucky. He's also working hard towards landing an offer from his hometown school, Ohio State. It sounds like the offer he wants to land might become a reality this summer if he performs well in one of Ohio State's camps.
cont...