THE PERTINENT INFO
When: Saturday, October 31, 2020
Where: Beaver Stadium, State College, PA
TV: 7:30 // ABC
Announcers: Chris Fowler, Kirk Herbstreit and Maria Taylor
This will be the 36th time Ohio State and Penn State have faced each other in football. The Buckeyes hold a 21–14* advantage in the all-time series and are 8–6 when playing the kitty cats in State College. 
Jimmy Franklin's team laid an egg last week and fell to Indiana, 36-35 in OT. Expect the Nittany Lions to play with feral ferocity to start the game. If Ohio State can jump on Penn State early, the Pennsylvania boys might fold.  
Below, you will find some interesting facts about the teams, key offensive player stats, coach information, and team stats.
*NCAA sanctions be damned.
THE LAST TIME...
Ohio State lost to a ranked conference opponent was 2015.
The Buckeyes lost a true road game to a ranked Big Ten team was 2011.
Ohio State played on October 31st was in 2009 against New Mexico State. The Aggies were handed a 45-0 ass whooping. 
The Scarlet and Gray lost on Halloween was 1987, No. 20 Michigan State left Ohio Stadium with a 13-7 victory.
Ohio State lost on the 31st of October away from Columbus was 1942.
ON THE HORIZON
Saturday will be the 16th time Ohio State has played on Halloween.
A victory will earn the Buckeyes their 13th on All Hallows Eve. 
The program is 56–17–4 when playing the second game of the season in October.
Since 1960, the smallest crowd to watch an Ohio State football game outside of Ohio Stadium is going to happen Saturday.
LET'S GO STREAKING
Ohio State has won 16 consecutive contests against ranked conference opponents.
The Buckeyes have a ten-game winning streak against ranked Big Ten teams in true road games.
Justin Fields has completed 12 or more passes in 15 consecutive games.
This is the fourth straight year ESPN's CollegeGameday has aired from the site of the Ohio State/Penn State game.
*NCAA sanctions be damned.
GET TO KNOW PENN STATE
Penn State University is located in State College, PA. 

The university was established in 1855 as Farmers' High School of Pennsylvania.

The Nittany Lions are 0–1 this season.

Since joining the Big Ten, Penn State is 140–81 (.633) against conference opponents.

Penn State's mascot is the Nittany Lion. It was created by a senior student in 1907.

The first recorded game in PSU history was played on November 12, 1881. Penn State went to Bucknell and won 9-0..

Notable alumni are: John Aniston (dude who blessed the world by creating Jennifer), Keegan-Michael Key (Jimmy Franklin look-alike and the less talented half of Key and Peele), Jonathan Frakes (Riker on Star Trek: The Next Generation), Lisa Salters (ESPN), Lara Spencer (co-anchor of Good Morning America), Tom Verducci (Sports Illustrated), Andrew Kevin Walker (wrote the movie Seven), Rake Yohn (Viva La Bam and Jackass), LaVar Arrington (linebacker), Todd Bleckledge (QB and ESPN), Courtney Brown (DE, No. 1 overall pick), Calvin Booth (NBA), Ki-Jana Carter (No. 1 overall pick)
PENNSYLVANIA IN MUSIC AND FILM
Billy Joel released the song "Allentown" in 1982. Bruce Springsteen won an Oscar and four Grammy Awards for "Streets of Philadelphia" in 1994. Michael Scott and Dwight Schrute performed "Lazy Scranton" and "Straight Outta Scranton" and likely took home Dundie Awards.
1993 had Tom Hanks and Denzel Washington starring in "Philadelphia" and Bill Murray and Andie MacDowell starring in "Groundhog Day". You might be surprised that Groundhog Day has an IMDb rating of 8.0 and Philadelphia comes in at 7.7
TODAY'S TRIVIA QUESTIONS:
The last time the Buckeyes lost an away game on Halloween was 1942. Who was the only team to defeat the eventual national champions? 
When was the last time Ohio State played its second game of a season in October?
In the road loss to Michigan in 2011, who were the starting quarterbacks for each team? Bonus, can you name the head coaches?
Answers at the bottom of today's article.
2020 Player Comparison
 
OFFENSIVE LEADERS
JUSTIN FIELDS

276 YDS // 2 TD // 0 INT

PASSING
SEAN CLIFFORD
238 YDS // 3 TD // 2 INT
JUSTIN FIELDS
54 YDS // 3.6 YPC // 1 TD
RUSHING
SEAN CLIFFORD
119 YDS //  7.0 YPC // 1 TD
GARRETT WILSON
129 YDS // 1 TD
RECEIVING
JAHAN DOTSON
94 YDS // 1 TD
DEFENSIVE LEADERS
PETE WERNER
7
TACKLES
SHAKA TONEY
7
HASKELL GARRETT
2 OTHERS
1.0
SACKS
SHAKA TONEY
2.0
NONE
0
INTERCEPTIONS
TARIQ CASTRO-FIELDS ///
JOEY PORTER JR.
1
SPECIAL TEAMS
GARRETT WILSON
11.5 YPR
PUNT RETURNER
NONE
NA
DEMARIO McCALL
10.0 YPR
KICKOFF RETURN
DEVYN FORD
28.0
DRUE CHRISMAN
49.0
PUNTING
JORDAN STOUT
39.7
5
EDGE
5
THE COACHES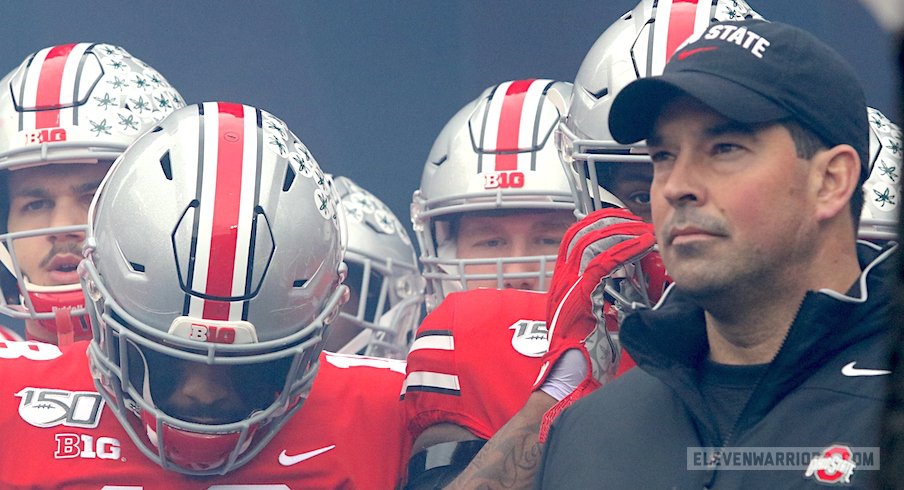 Ryan Day
17–1 (.944) at Ohio State
17–1 (.944) overall
Day's hometown is Manchester, NH. He attended Manchester High School and attended college at New Hampshire. Day has been in coaching for 19 years and is Ohio State's 25th head coach. 
Last season, Ryan Day and the Buckeyes outscored their opponents 656-192. That is an average victory of 47-14. 
After 18 games with Day as head coach, Ohio State is beating teams by an average score of 49-15. He has the program record for points scored after his first 18 games with 877. The Buckeyes are outscoring their opponents by a whopping 606 points under Day. 
Ryan Day and Urban Meyer are the only coaches in program history to start their careers with at 16 straight consecutive victories. Meyer won 24 straight between 2012 and 2013. 
Jimmy Franklin
56–24 (.700) at Penn State (7th year)
80–39 (.672) overall as a college head coach (10th year)
34–19 (.642) against B1G opponents
Franklin played quarterback for East Stroudsburg University of Pennsylvania for four seasons. He left the school with seven program records and a degree in Psychology in 1995.
Kutztown University of Pennsylvania is where Franklin started as a WR coach in 1995. He went on to serve as an assistant at the following schools: East Stroudsburg, Roskilde Kings, James Madison, Washington State, Idaho State, Maryland and Kansas State. Franklin was also an intern for the Miami Dolphins, Philadelphia Eagles and the Minnesota Vikings.
Before his stay at Penn State, Franklin was the head coach at Vanderbilt where he led the Commodores to consecutive bowl games for the first time in program history. He is currently under contract with PSU through the 2022 season.
CLIFF CLAVEN'S LITTLE KNOWN FACTS CORNER
1......incomplete pass for Justin Fields last week.
3......fourth quarter comeback victories in this series since 2014.
7.......straight conference true away game wins.
8.......number of Buckeye national championships.
9.......games in which Justin Fields has rushed and passed for a touchdown.
10.....players made their first career starts.
13.....starters from last year are not on this year's team.
18.....times Ohio State has finished a season with at least 11 wins.
24.....bowl wins for Ohio State.
25.....Ryan Day is the program's 25th head coach.
33.....victories for the Buckeyes when GameDay is at the game.
34.....true road game victories for the Scarlet and Gray since 2012.
38.....the number of Big Ten titles the football team has won.
46.....returning letterman are on the 2020 roster. 
48.....number of times Ohio State has been at the site of College GameDay.
55.....yards Sevyn Banks ran on his scoop and score against Nebraska.
84.....Buckeyes selected in the first round of the NFL Draft.
87.....Consensus All-Americans.
99.....this is the 99th season the Scarlet and Gray have played in Ohio Stadium.
151...the number of years The Ohio State University has been in the education business.
451...victories for the Buckeyes in Ohio Stadium.
595...offensive TDs by the Scarlet and Gray since 2012, best in the nation.
903...times Ohio State has been ranked in the AP poll.
925...number of official wins for the program (we know it's actually 937).
2020 Statistical Comparison
 
OFFENSE
52.0
1st
POINTS FOR
35.0
31st
222.0
16th
RUSHING OFFENSE
250.0
11th
276.0
27th
PASSING OFFENSE
238.0
46nd
498.0
13th
TOTAL OFFENSE
488.0
15th
.615
2nd
3rd DOWNS
.529
12th
1.000
3rd
RED ZONE
.500
95th
DEFENSE
17.0
14th
POINTS ALLOWED
36.0
80th
217.0
87th
RUSH DEFENSE
41.0
1st
160.0
10th
PASS DEFENSE
170.0
12th
147.2
67th
PASS EFFICIENCY DEFENSE
96.1
6th
377.0
40th
TOTAL DEFENSE
211.0
4th
.400
52nd
3rd DOWNS
.333
19th
1.000
88th
RED ZONE
1.000
88th
SPECIAL TEAMS
11.5
27th
PUNT RETURN
8.0
65th
7.0
98th
KICKOFF RETURN
11.0
96th
49.0
2nd
NET PUNTING
39.4
42nd
MISCELLANEOUS
+1.0
12th
TURNOVER MARGIN
-1.0
80th
3.0
3rd
PENALTIES
10.0
97th
12
EDGE
7

TODAY'S TRIVIA ANSWERS
The last time the Buckeyes lost an away game on Halloween was 1942. Who was the only team to defeat the eventual national champions? 
Answer: Wisconsin. All eyes were on Madison when the top-ranked Ohio State faced the sixth-ranked Badgers. In fact, a Camp Randall stadium record of 45,000 watched Wisconsin win 17-7. It was later revealed, due to WWII, the Buckeyes road on a dilapidated rail car with stale water. Many of the Ohio State players came down with dysentery. Not saying the team lost because of dysentery, but the Buckeyes lost because of dysentery. 
When was the last time Ohio State played its second game of a season in October?
Answer: October 3, 1970. Ohio State hosted Tom Harp and Duke. Leo Hayden rushed for a game-high 165 yards and The Scarlet and Gray won 34-10.
In the road loss to Michigan in 2011, who were the starting quarterbacks for each team? Bonus, can you name the head coaches?
Answer: Braxton Miller was under center for unranked Ohio State and Denard Robinson was Michigan's quarterback. Luke Fickell and Brady Hoke were the head coaches. This was the third straight loss in what would become four consecutive for the Buckeyes.
You Might Like
Snap Counts
Freshman Tracker