I believe this will be the 3rd post I have made after a discussion with my Uncle, although it has been quite awhile since my last one. To recap, he played football at Ohio University in the mid-90's, and now coaches at a small military academy in North Carolina. Despite this, he makes sure to watch every OSU game, mostly on DVR, which allows him to breakdown a game in a fantastic way. This week we talked about JK Dobbins, since that is what everyone seems to be talking about.
First off, he agrees with everything that everyone has been saying. "He needs to be more patient". I mentioned how having a running threat at QB should help, and he responded with "Well it depends how you use him". It was obvious to the naked eye that very few zone reads were called during the game. However, as my Uncle has pointed out many times, there are several forms of the Zone Read. Here is where I will jump in the time machine to, yet again, another fantastic piece by Kyle Jones. In this film study, Kyle breaks down the "Tight Zone", or more generally referred to as the "Inside Zone Read". With Braxton Miller and JT Barrett at the helm, this play was the absolute bread and butter of the offense.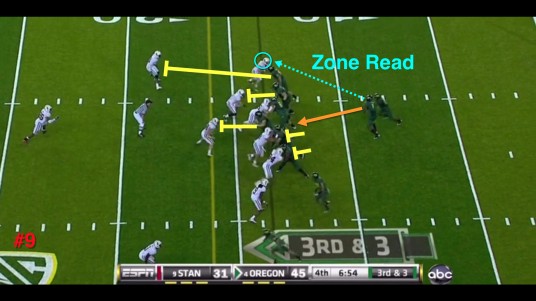 When the average football fan thinks "Read Option" the Tight Zone is probably the first thing to come to mind. But how does this affect JK Dobbins or any RB for that matter? "If the QB reads it right, and the O-line blocks, it is as simple as blowing through the hole as quickly as possible. The RB should have 3 yards before he even encounters a defender.", said my Uncle, "there is a big difference in making a move 3-5 yards downfield, versus at the LOS". In other words, there really isn't an instant strain on the RB to identify the hole to run through, as the QB should theoretically only give the ball if that hole is there, or if the defense just makes a fantastic play (Sam Hubbard vs. PSU anybody?)
Here, JT reads the DE charging, creating 2 holes for JK to easily score. The next play shown is the exact same. By the threat of JT keeping it, the LT moves up field, giving JK a huge hole, and alleviating the issue of "being patient and finding the gap".
Now jumping ahead to 2018. We heard the cries for a Tate red-zone package; however, they rarely worked. Mainly due to a combination of bad reads and penalties. But here is a case where the same zone read is used to perfection.
I will be very interested to see if Ryan Day and this staff go back to more of these looks. There were a couple in the FAU game, but not nearly as many as 2012-2017. There is no doubt the QB plays a major role, and we know both Braxton Miller and JT Barrett were magicians in reading this play.
P.S. While writing this I realize even more how great Zeke was at OSU. Dude was great in this zone-read play, but was also as patient as ever on outside zone plays, which OSU used a ton once JT went down.