We are down to two days until Ohio State finally plays Navy to start the 2014 season. Hopefully there won't be any more injuries reported between now and kickoff.
Below you will find a list of the 24 players who have worn No. 2 for Ohio State since 1934.
To me there are three jersey numbers that can vie for having the largest amount of great players: 10, 7 and 2. How special has the No. 2 been for Ohio State? Three players that donned No. 2 are featured in the Ohio State Team Guide. That is more than any other number. 36 and 68 are the only other numbers to have more than one player featured.
Today's featured players are: Cris Carter, Mike Doss, Malcolm Jenkins and Terrelle Pryor.
To see the list of players who were selected in the NFL Draft and those who have worn No. 2 since 1934 go here.
Cris Carter, WR (1984-1986)
Born: 1965 (Troy, Ohio)
High School: Middletown
Ohio State
The Buckeyes were 28-9 with Carter on the team.
1984 Big Ten Title.
1986 Big Ten Title.
1985 Defeated No. 9 BYU 10-7 to win the Citrus Bowl.
1987 Defeated No. 8 Texas A&M 28-12 to win the Cotton Bowl.
1985 Defeated No. 1 Iowa 22-13 in Columbus.
1984 Defeated That Team 21-6.
Honors
1986 Team MVP.
1986 All-American.
1985 All-Big Ten.
1986 All-Big Ten.
2013 Inducted into the Pro Football Hall of Fame.
Cris Carter was the wide receiver of my youth. I remember his great route running, one handed catches and confidence that oozed off of him. I remember the excitement surrounding the Buckeyes going into the 1987 season.
Then the excitement went silent when news broke that Carter is ineligible for the season for signing with an agent. I was only eleven at the time, but I knew that Ohio State wasn't going to be the same that year. In fact it took many years for Ohio State to return to dominance.
It was refreshing to hear Cris Carter apologize and acknowledge his regret and during his induction speech for the NFL Hall of Fame.
Cris Carter's Ohio State career per The Ohio State Team Guide:
In his three seasons as a starter, Cris Carter caught 164 passes for 2,725 yards and 27 touchdowns. His hands were exceptional, his route running was precise, his ability to stay in-bounds was uncanny and he possessed the ability to out-jump his defenders. He made the diving, leaping, acrobatic catch look routine.

In 1985, Carter set a Rose Bowl record with nine receptions for 172 yards. In 1986, Carter put together one of the great seasons in OSU annals with 69 receptions for 1,127 yards and 11 touchdowns. At the conclusion of that season, he became Ohio State's first All-America split end.

He left Ohio State as the school's all-time leader in career receptions, touchdown receptions and reception yardage and is without question one of the greatest receivers in OSU and Big Ten history.

A product of Middletown, Ohio, he played 16 seasons in the NFL and was an eight-time Pro Bowl selection. His No. 80 was retired by the Minnesota Vikings and he was one of only four NFL receivers with more than 1,000 career receptions (1,101).

He entered the NFL Hall of Fame in Canton, Ohio on August 2013.
Carter was elected to the Ohio State Athletics Hall of Fame in 2003.
Cris Carter's Career Statistics

| | | | | | |
| --- | --- | --- | --- | --- | --- |
| Year | GP | Rec. | Yards | Avg | TDs |
| 1984 | 12 | 41 | 648 | 15.8 | 8 |
| 1985 | 12 | 58 | 950 | 16.4 | 8 |
| 1986 | 13 | 69 | 1,127 | 16.3 | 11 |
| Total | 37 | 164 | 2,725 | 16.6 | 27 |
Mike Doss, S (1999-2002)
Born: 1981 (Canton)
High School: Canton McKinley
Ohio State
The Buckeyes were 35-15 with Doss on the team.
2002 National Champion.
2002 Big Title.
2003 Defeated No. 1 Miami, FL 31-24 in 2OT to win the Tostitos Fiesta Bowl National Championship Game.
2001 Defeated That Team 26-20.
2002 Defeated That Team 14-9.
Honors
2000 All-American.
2001 All-American.
2002 All-American.
2000 All-Big Ten.
2001 All-Big Ten.
2002 All-Big Ten.
2003 Fiesta Bowl MVP.
Mike Doss was one of the hardest hitting safeties I have witnessed to play the game. Jack Tatum was before my time, but I believe it is fair to put Mike Doss in the conversation with the assassin for collegiate careers.
I will be forever grateful that Mike Doss returned for his senior season and accomplished the goal he set for himself and his teammates...the 2002 National Championship.
Mike Doss' career per The Ohio State Team Guide:
Mike Doss was a three-year starter for the Buckeyes. In each of those years he was a first-team All-American. In doing so, he became just the seventh three-time All-American in Ohio State football history.

Doss was an inspiration both on and off the field. At the beginning of his senior year, he was chosen as one of the team's two co-captains.

At the end of his senior year, in his final game as a Buckeye, he was chosen as Defensive MVP of the Fiesta Bowl, where Ohio State captured its first consensus national championship since 1968 with a 31-24 double-overtime victory over Miami.

Mike Doss played in 50 games, starting 40, and collecting a combined total of 331 tackles, placing him in the OSU career top 10.

Doss started the last two games of his freshman year. From that point on he was a regular. As a sophomore, he finished the season with a team-best 94 tackles and was named to a first-team berth on The Sporting News All-America team.

He also led the team in tackles as a junior with 87 total stops and was again named to a first-team spot on The Sporting News team, as well as the Walter Camp squad.

After electing to stay for his senior year, Doss collected a personal high 107 tackles and was named first team All-America on the Associated Press, Football Writers, Football Coaches, Sporting News and Walter Camp teams.

A three-time all-Big Ten pick, Doss was the Big Ten Defensive Player of the Year as a senior. The Canton, Ohio, native played five seasons in the NFL.
Malcolm Jenkins, DB (2005-08)
Born: 1987 (East Orange, NJ)
High School: Piscataway (NJ)
Ohio State
The Buckeyes were 43-8 with Jenkins on the team.
2005 Big Ten Title.
2006 Big Ten Title.
2007 Big Ten Title.
2008 Big Ten Title.
2006 Defeated No. 5 Notre Dame 34-20 to win the Fiesta Bowl.
2006 Defeated No. 2 Texas 24-7 in Arlington.
2005 Defeated That Team 25-21.
2006 Defeated That Team 42-39.
2007 Defeated That Team 14-3.
2008 Defeated That Team 42-7.
Honors
2007 All-American.
2008 All-American.
2006 All-Big Ten.
2007 All-Big Ten.
2008 All-Big Ten.
2008 Jim Thorpe Award
Malcolm Jenkins continued Ohio State's excellence in the secondary.
His Ohio State career per The Ohio State Team Guide:
The premier defensive back in college football, cornerback Malcolm Jenkins earned consensus All-America honors during his tremendous senior season.

Foregoing the NFL draft to complete his college career with the Buckeyes, Jenkins' attention to detail and commitment to excellence were unrivaled, setting a splendid standard for the Silver Bullet secondary.

Lean and lithe, Jenkins was known for relentless intensity on the field, demanding the highest performance standards from himself and his teammates.Voted team captain as a senior, this no-nonsense vocal leader was a starter on four Big Ten title teams, twice playing in the national championship game.

Earning consensus All-America accolades and a unanimous all-Big Ten selection, Jenkins realized one of his long-time goals when he won the 2008 Jim Thorpe Award over players from USC and Tennessee. The Piscataway, N.J., product was the first-round draft pick of the NFL's New Orleans Saints and graduated in June of his senior year.
Terrelle Pryor, QB (2008-10)
Born: 1989 (Jeannette, PA)
High School: Jeannette
Ohio State
The Buckeyes were 33-6 with Pryor on the team.
2008 Big Ten Title.
2009 Big Ten Title.
2010 Defeated No. 7 Oregon 26-17 to win the Rose Bowl.
2011 Defeated No. 8 Arkansas to win the Sugar Bowl.
2008 Defeated That Team 42-7.
2009 Defeated That Team 21-10.
2010 Defeated That Team 37-7.
Honors
2010 Rose Bowl MVP.
2009 Academic All-Big Ten.
From the onset of his delayed decision to attend Ohio State I knew Terrelle Pryor was going to make a permanent impression on Ohio State football.
Unfortunately, Pryor's career ended with him missing his senior season in the Scarlet and Gray and his records being expunged from the team.
As terribly as everything played out I was a huge Pryor fan. I believe, had he played his senior season, Pryor could have arguably been considered the best quarterback to have played at Ohio State. At this moment I believe that honor goes to Troy Smith.
Some highlights of Pryor's Ohio State career per Wikipedia:
On September 20, 2008, Pryor threw for four touchdowns (an Ohio State record for a freshman) and one interception in his first career start for Ohio State. Ohio State beat Troy 28-10.

On October 4, 2008, Pryor ran for the winning touchdown against Wisconsin on an option play with running back Chris "Beanie" Wells.

On October 25, 2008 against Penn State Pryor threw for a career high 226 yards, connecting on 16 of 25 passes.

Against Illinois on November 15, 2008, Pryor had his first career 100-yard rushing day running for 110 yards and a touchdown.

In the Fiesta Bowl he lined up at receiver and caught his first touchdown pass in college.

Pryor led Ohio State to a 8-1 record as a starter in his freshman year; his only loss as a starter was against Penn State. (Todd Boeckman made the start in the Fiesta Bowl against Texas.)

Following the 2008 Big Ten Conference football season, he was an honorable mention All-Big Ten Conference selection by the media and Big Ten Freshman of the Year by the coaches.

In his sophomore year Pryor led the Buckeyes to another Big Ten Championship.

After starting the season slow he eventually developed into a better passer, and went on to earn the 2010 Rose Bowl MVP trophy after leading Ohio State to a 26-17 victory over Oregon. Pryor had the best passing game of his career, and also rushed for 72 yards.

For the 2010 season, Ohio State began second in most polls and Pryor began the season as a favorite for numerous awards.

On December 23, 2010, the NCAA ruled that Pryor and four of his teammates would be suspended for the first five games of the 2011 season, as a sanction for selling memorabilia.
Lowlights:
The 2010 season and this game never happened:
This was for sale:
This was made: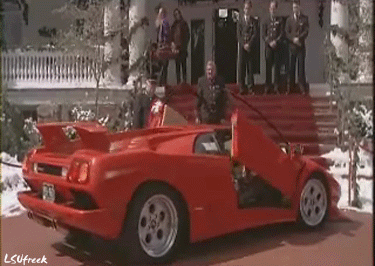 No matter what the NCAA says, I will always remember him for going 3-0 against That Team, defeating Oregon in the Rose Bowl and Arkansas in the Sugar Bowl.
I hope he can mend the bridges, and acknowledge his mistakes with Ohio State and Buckeye fans. Hopefully Pryor will follow the paths of a receiver who wore No. 2 and a running back who wore No. 13.
Sources- The Ohio State Team Guide and Wikipedia

92 days until The Game.