Are you ready to cheer on famous Buckeye athletes like Dare 2 Defy and Baconseeker? Ohio State's League of Legends team — the No. 1 LoL team in the Big Ten — faces Michigan this Saturday in conference tournament play.
From the Big Ten: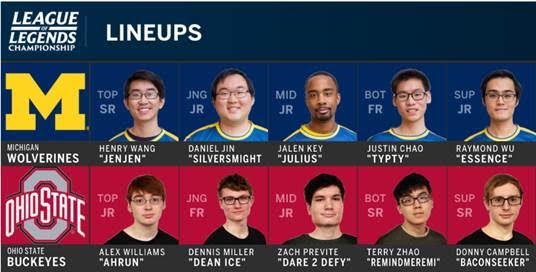 CHICAGO, Ill. – The BTN League of Legends Championship tournament begins on Friday as the top eight teams from the BTN League of Legends regular season face-off for a chance at the League of Legends College Championship. Teams from all 14 Big Ten Conference schools participated in the regular season competition, which features the most played PC video game in the world.

Ohio State earned the top overall seed after securing the Big Ten East division crown with a perfect 7-0 record, while Illinois captured the No. 2 seed with an undefeated (7-0) record in the Big Ten West. The Buckeyes and Illini also featured the league's two top-scoring threats, with Zach "Dare 2 Defy" Previte (OSU) and Joshua "Xeno" Kim (ILL) setting the pace.

The BTN League of Legends champion and runner-up will each earn berths in the College Championship play-in tournament, and the final eight will advance to the League of Legends College Championship. The championship is held in the North America LCS Arena in Los Angeles from June 7th – 10th.
Match starts Saturday at 3 p.m. BTN2Go and Twitch will stream all playoff games.
Full schedule:
Friday, April 6 at 5 p.m. ET
 (3) Iowa vs. (6) Purdue
Followed immediately by (4) Maryland vs. (5) Michigan State
Saturday, April 7 at 3 p.m. ET
(1) Ohio State vs. (8) Michigan
Followed immediately by (2) Illinois vs. (7) Wisconsin
Sunday, April 8 at 3 p.m. ET
East Semifinal
Followed immediately by West Semifinal
Monday, April 9 at 4 p.m. ET