 Another year and another loss for our rival in The Game. Ohio State has won 14 of the last 15 in the series and it never gets old.
The 2018 regular season started and ended with That Team losing. What a fitting beginning and end for The One Who Wears Khakis and his delusional fans. That Team is now 1–15 in the last 16 games when facing ranked opponents on the road. The lone victory came against Michigan State this year and snapped a 12-year losing streak.
Before digging in to how the fans of That Team responded after their beloved squad gave up the most points in a game that ended in regulation, let's compare the careers of Harbaugh and Hoke one final time.
Harbaugh vs. Hoke 
After 51 games, Brady Hoke and That Team parted ways. Let's take a look to see how their savior has done after the same amount of games.
Comparing Harbaugh's Record To Brady Hoke

| OPPONENT |   |   | HARBAUGH |   |   | HOKE |
| --- | --- | --- | --- | --- | --- | --- |
| RANKED OPPONENTS |   |   | 8–9 |   |   | 3–14 |
| OHIO STATE |   |   | 0–4 |   |   | 1–3 |
| MICHIGAN STATE |   |   | 2–2 |   |   | 1–2 |
| BOWL GAMES |   |   | 1–2 |   |   | 1–2 |
| OVERALL |   |   | 38–13 |   |   | 31–20 |
To add insult to injury, yesterday's loss makes Jimmy the fourth coach in their program's history to lose at least four straight to Ohio State. The others are Lloyd Carr, Bump Elliott and Harry Kipke. However, King Khaki is the first coach in their history to start 0–4 against Ohio State.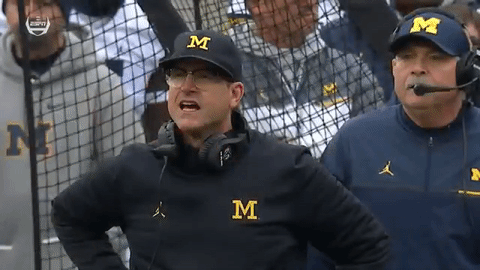 Harbaugh has separated himself from Hoke against ranked opponents and overall record. However, Jimmy boy is still below .500 against ranked teams. Perhaps most important is that Harbaugh has never defeated Ohio State. That's right, the Hokester can still hold that over Captain Khaki. 
A breakdown of how The One Who Wears Khakis has performed against all ranked opponents during his time in the land of stench:
2015: 3–2
2016: 1–2
2017: 1–3
2018: 3–2
Total: 8–9
The men who write about the men so blue are feeling quite sensitive these days as you must be a member of their site to comment in their liveblog. I guess that's what happens when your team is 1–14 after its last 15 games against Ohio State and is now 0–4 in The Game with Jimmy at the helm. It also doesn't help that Urban Meyer is 7–0 against their sorry asses and brought home Ohio State's second national title this century. 
In his first two seasons, The One Who Wears Khakis finished with three losses. Last year, his team lost five times. Another three loss season is still in play for 2018.
It was hazardous, but well worth the venture on mgoblog.com to read through the comments in the game recap on mgoblog. Now you don't have to read all 347 comments. If you want to read the mgoblog game day comments go to this tread created yesterday by Tbdbitlbuck.
As always, the words are theirs. It was difficult, but spelling and grammatical errors were not corrected. 
Note: This is written as a reminder on how not to respond when your favorite team loses or struggles. It's also nice to revel in their misery.

LOSING TO OHIO STATE...AGAIN...AGAIN...AGAIN...AGAIN...AGAIN...AGAIN...AND AGAIN
Perkis-Size Me
As long as Meyer is around, we're fucked in this game. Let's not bullshit each other. When he's around, we're not winning this game. He has a team stockpiled with five star talent who treat the Michigan game as if winning is the difference between living and dying. 

Clarrence Boddicker
Eh, screw it. As I watched all our confidence bleed away in the second quarter, I came to understand that I will probably never see Michigan win The Game again. Some things are the way they are.

Ryebreadboy
I really thought this year was our year. The kids we're recruiting have never seen Michigan beat OSU (except the Luke Fickell game that doesn't really count). Michigan probably will not beat OSU again while Meyer is there.

btn
Another senior class that has never beaten Ohio State, it's a shame

Harball sized HAIL
Sixty

Fucking

Two
Meyer is, simply, superior to Harbaugh in every way when it comes to winning at football....If he stays, we're fucked. – StirredNotShaken
TURNING THE FIGHT AGAINST THEMSELVES  

Battle No. 1 Lawyer12 vs. ak47
Lawyer12
Ever since I watched that Amazon Prime disaster about this team, I cannot help but feel they are incredibly soft and the exact definition of what makes this generation of kids awful. The opposite of Alabama, Clemson, and yes, Ohio State.  

ak47
Lol fuck off you sack of shit. The baby boomers have fucked literally everything including apparently raising children and then turn it around and try to blame the fucking people they raised to deal with the shit show they are leaving.
Winner: In this battle, it appears the gun is mightier than the pen.
Battle No. 2: Pugent Sound Blue vs. Mongo
Pugent Sound Blue
I'm not very confident right now that this team is ready for the next step. Let's see how the bowl game goes.

Mongo
Dude, who the fucks cares about the bowl game.  We just stunk up the world.  That was the most embarrassing game in probably Michigan history.   
Winner: Mongo. After losing The Game, nothing else matters.
HARBAUGH, SHOULD HE STAY OR SHOULD HE GO?
Let's read the highly intelligent and cordial discussions the fans of That Team are having about the future of their "savior".
unWavering
That game really sucked.

Anyone who even implies Harbaugh should be fired is a fucking moron.

Laeyale13
UnWavering, in what other delusional world could someone get paid the 3rd highest salary in the country, and after 4 years, only be able to produce what are results that put him as #2-#3 in the region he works in?  Not #2 or #3 in the country, but #2 or #3 in the MidWest.  In any area of corporate America, JH would be fired in the next 24-48 hours...

 

If after year 5, Harbaugh cannot beat OSU, he deserves and absolutely should be fired.  Period.

killerseafood3 (in response to unWavering)
Agreed. I want to keep losing to OSU. I want to give up a record amount of points to OSU. I want to crash and burn when everything is on the line. 

Hops (responding to killerseafood3)
Dumbass. 

I'mTheStig (writing to Hops)
What's Harbaugh's record against tOSU again?

What's Harbaugh's record against rivals again?

JFW (responding to killerseafood3)
...you want to piss that away because OSU beat the shit out of us at home. Well, screw you. UM football means more to me than one game.

I'mTheStig
All that writing, and @JFW cannot answer the questions.

If you're okay with beating up on Cupcake U and losing to rivals, so be it. 

JH is in year 4 and hasn't built shit.  His record is who he is.  The difference between JH and Hoke is Michigan doesn't lose to the MAC anymore.

BlueHills (to I'mTheStig)
Three ten win seasons out of four is 'hasn't built shit'? 

I understand being frustrated by today's game, but we haven't had a coach this good in a very long time. Yes, OSU has his number...But let's not talk about throwing out the baby with the bath water.

I'mTheStig
I'm not.  It's called FACTS!!!

Let me enlighten you:

JH against tOSU: 

0-4
JH is the first coach in Michigan history to lose his first four games against Ohio State. 
The 62 points yesterday was the most allowed by a Michigan team in the history of the U-M-Ohio State rivalry.

THIS HAS ZERO to do with fandom.  It has everything to do with results.

I dare you to debate the record above...I bet your bedroom is decorated with participation trophies.

Mason Jarhead
Shouldn't we expect more from Coach? I do!...I hate this! WE GOT OUT COACHED!

His Dudeness (to killerseafood3)
Fucking loser.

Flying Dutchman (to killerseafood3)
Go

Fuck 

Yourself

Fucker

Lawyer12
I think they should hire Nasar. At least we would know he was going to fuck our program. 
This program and this coach are bullshit. Harbaugh should absolutely be fired.– Unicycle Firefly
THE DELUSIONAL
Detroit Dan
Yeah, I'm not so impressed with Haskins.  He had time and receivers who can run after the catch.  Patterson has the better all around game, but had to scramble a lot.

Midukman
That dude (Haskins) is good at throwing short passes and that's it

dotslashderek* 
Most folks right now sound exactly like the 11W crowd after the purdue game.  The entire season was a disaster.  Urban had to go.  In a year where they're probably gonna be in the playoffs again.  Because those 11W people are morons.
*should this go under signs of intelligence?

Jevablue
It's the pit of hell when your greatest joy in the game is watching their starting left guard get carted off the field in garbage time because their satanic duchebag coach couldn't call for the victory formation in a game that was out of hand 10 minutes previous.   

Fuck them. All and every one of them. 
SIGNS OF INTELLIGENCE
After years of getting dominated by Ohio State, some of their fans are finally seeing the light. 
The Fugitive
turns out Urban Meyer and OSU were the godzilla.gif all along.

freelion
Fuck this game. I felt it all week but was in denial. We will never beat Ohio State again. Ever.

BlueHills
It was an execrable shitshow.

RockinLoud
Reality is that UM is still a good deal less talented and also got outschemed. I'd love to see any other defense try to stop that O when they're on their game. 

RobinRedmond
M has never done well with former players as coaches.  Oosterbaan had one good year with Crisler'a team, Bump has one good year in 64 and Kipke was a cheater.  Moeller and Carr never played here.  Our best coaches came from outside:  Yost, Crisler and Schembechler came from outside the program.  Harbaugh is Michigan's John Cooper.  

mitchewr
Talent is the last excuse people can cling to before they have to face the fact that Harbaugh is extremely overrated as a HC and his "superior" Xs and Os don't amount to a hill of beans at the end of the day. 

mackbru
For the first time in a long time, it felt as if the refs were consistently giving M the benefit of the doubt. We were bailed out plenty and still got destroyed. Could have been even worse. 

UM Indy
Not a little in our favor. Significantly in our favor.
They simply own our asses right now and have since the early 2000's. – MotownGoBlue
BE CONCERNED FOR THESE INDIVIDUALS
Wolverdirt
Game reminded me of the ass kicking in '91 by Florida State except this was worse, way fucking worse.  Time to eat and drink my sorrows away and root for Rutger and USC.

Winchester Wolverine
We do this to ourselves. We're mocked, laughed at, torn apart every year. 

I agree. The only form of solace that I can get, is that I'm not alone in this. Maybe all this suffering together will pay off one day. Maybe it wont. 

dcloren2121
This makes me feel like I was given a participation award after getting my ass kicked.

UWSBlue
Looks like I picked the wrong day to stop sniffing glue.

BlueinLansing
I really don't know what we did to piss off the football gods, but jesus.....

Crime Reporter
My takeaway is we are destined to wander the jungle with shit in our pants for eternity. Fuck it.

CoMisch
I go back to work Monday, in downtown fucking Columbus.  This shit sucks fucking fuck.  I'm still asking myself what the fuck happened.  

UM_Columbus
I'm in a similar, probably worse, situation. I live and work in the Columbus area  All my sales accounts, neighbors, etc know that I am a lifelong Michigan fan.  I will be taking shit all day, every day this week at  work and at home. Not looking forward to it!

BigOzzy86
This was bad...  like watching a pet get put to sleep.

Drinking a Bells Expedition stout and a Founders CBS to make the pain go away....

M-Dog
I got to watch the game in a room full of Ohio State fans in an event I did not want to attend, and listen to their mocking and then pity for the entire last hour of the game.  

Then because it was a social gathering, i had to be "mature" and fake niceness.

I want desperately to throw something against the wall and break the fuck out of it.

MgoBule-querqu
My soul dong hurts.
Not sure what a soul dong is, but it can't be good that it's hurting.
 
There is no such thing as joy in the world.  We will never beat them, we aren't even close.  There is no better coach for us, and it doesn't matter, for the rest of my life all I expect is a loss to them every Thanksgiving weekend, forever.– Victor70