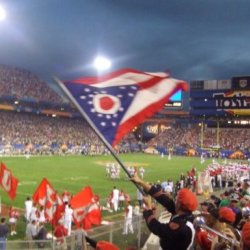 tbdbitlbuck
---
Member since 23 April 2013 | Blog
Recent Activity
A "blackout" at noon is dumb and totally on-brand for Ohio State
Pretty much every other year after a soul crushing loss, we've come out and just obliterated our next opponent. I think you're right, we'll know pretty quickly against Nebraska if this team is up to the task. I hate that it always takes a loss to get this team in gear, but maybe it's for the best. We'll see
After his 2007 four loss season at Florida he came out the next year and won a title.
One of the biggest predictors of future national titles by a coach is past national titles by a coach. There are two active coaches who have won multiple national titles, and we have one of them. I mean Urban has as many national championships at Knute Rockne and Barry Switzer. He's clearly an elite coach, regardless of what's happening right now.
Can he win another? Yes.
Do I think he will? I actually don't know.
And that's the thing---if we were to can him/part ways, who do we get? Because that person will be unproven and as we've seen recently, canning a successful coach has not resulted--typically--in success for that program. Miami has never won a national title since canning Coker. Texas hasn't won anything since Mack Brown. Tennessee is going on 20 years now. Auburn hasn't returned to their 2010 success since firing Chizik. We risk becoming the moronic program that fired its winningest coach for someone likely unproven.
This is a roundabout way of saying...I don't know. I don't know if Meyer will win another, and I certainly have absolutely no idea if the person who would replace him will.
Random Edit: I've never done this before so I feel like it's my chance:
Likes
Championship
Talk
Serious question, what was Meyer's worst loss at Florida?
I don't think we control our own destiny.
As of today the playoffs are Alabama, ND, Clemson and LSU. Alabama and LSU will pay and LSU is likely out with another loss (it will get harder for us if LSU beats Bama).
We have to play Michigan, but Georgia is still lurking in the weeds and if they can win the SEC championship they are in. A one loss Bama also would get in ahead of us.
And then there's the Big 12. Oklahoma and Texas both have strong cases if either wins the conference.
In all, I don't think we simply win out and we're in. I think we will need help after a 29 point loss to Purdue. That's a REALLY bad loss.
I think it's certainly clear that Urban Meyer needs a security blanket QB. He has a generational talent at QB but has no idea how to operate this offense. The OL is clearly unable to play the RPO to the level needed to be successful. Other teams have a pro style QB and can still come up with a running scheme that is successful. Meyer can't do it.
Next year Haskins will be gone and Martell can be his boy running the ball 20 times a game.
The roughing the punter. And then immediately after when Purdue took advantage and scored.
You shouldn't need PFF to tell you that a crappy OL is actually good
Here's what pisses me off. We're probably going to go out and just beat the ever loving shit out of Nebraska like we've done basically every year after taking an L.
2015: Lose to MSU, look sluggish. Following week, blow the doors of Michigan and then ND
2016: Lose to Penn State, two weeks later, beat Nebraska and Maryland by a combined 124-6
2017: Lose to Iowa, beat MSU by 45.
It's like Urban can't figure this shit out until we lose. Only problem is, I fear that a 29 point loss to Purdue could be a mortal wound that keeps us out of the playoffs.
LOL, yes Saban is probably thanking his lucky stars he only has to play games against Georgia, LSU, Clemson, and whoever else they play in playoffs and not Saturday nights in Ross Ade Stadium.
Dude, every team has fans, young and old, who are dying. I'm not trying to make light of the situation, but there's probably an entire wing at Nationwide Children's right now of young Ohio State fans battling deadly illness.
I realize the point of your post is to show perspective, but last night isn't a unique situation in life being larger than football. Of course there's shit more important than football, and there always will be. I'm sorry, that's not an excuse for our team consistently underperforming.
Urban seems disinterested this year. I don't know a better word to explain it, but yeah. He looks checked out and the fact that the team has only regressed over 8 weeks rather than improve is enough to show me that that is the case.
I feel like he should just hand over the game week preparation to Day and just serve in some sort of advisory role and just see if that helps.The team is starting to look just as disinterested as he is.
We just lost to Purdue by 29 points. We aren't making the playoffs. Our loss is ugly AF compared to any other team's loss.
It's not even games against elite talent—it's like you can "feel" in advance how this team will struggle. Why else would a 3-3 Purdue team get a Saturday night ABC game against us? It's because everyone just FEELS like this is a game Ohio State struggles in. And they are right.
Felt like it was time to bump this
This season has felt like we've been playing on borrowed time all year.
Correct. The problem is not the personnel on the field. It's the personnel on the sidelines
Lol we would/will get fucking worked by any other playoff team
11W mods will delete this because they are still sad about the game and can't stand coaching criticism but you're 100% right.
Coaching staff should be forced to fucking walk home
Coaching staff should be forced to fucking walk home
It's mods deleting. I've seen two threads that were positive when they were deleted
Lol at the mods deleting threads questioning the coaching staff. Fucking pathetic 11W