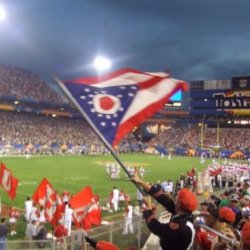 tbdbitlbuck
---
Member since 23 April 2013 | Blog
Recent Activity
You're reducing the impact that this may have had on the victim because of what you determine to be severity.
Is what Birm did really that much different from what, say, Louis CK did? What do you determine is an appropriate length of time where a traumatized woman can no longer come forward? Who are you to say that this isn't "as bad" as other situations when you weren't the victim?
Society does not deem unsolicited pictures on the same level as child rape, you are correct. But to minimize the impact it may have had on the victim, just to be able to defend someone is wrong no matter what the incident was.
If that's all you could get out of his post, I'm sorry.
Look, sexual harassment and assault affects every victim differently. I won't sit here and get into a debate of "which is worse" because I don't know how a victim feels. A woman can be just as traumatized and victimized by an unsolicited dick pic as a woman who experiences sexual assault.
The point being made was that Birm did what so many others have done—minimized an incident, either because of age/relationship status or poor "momentary" judgement because of work circumstances (which doesn't seem to be the case because of now multiple accusations), and then making it about themselves ("are you just trying to ruin MY life").
I already upvoted you, but this is an outstanding post.
That's not my call--that's his employer's call, and they deem what is/is not appropriate punishment.
If I was fired from a previous job for sexual harassment, I can't say I would be surprised if future employers held it against me. If I was fired for a job for sexual harassment AND it came out later that I exhibited sexual harassment on more than one occasion to my subordinates?
There is no statute of limitations in employment matters, I'm simply saying that he didn't get fired for this incident. He was fired for a separate sexual harassment incident AND he also did this.
It also depends on if The Athletic asked if he'd ever been fired from a previous job and how he answered that. I've never applied for a job without being asked if I'd been previously fired from another. If The Athletic asked, Birm answered truthfully, and they hired him--then that's that.
The Athletic and any future employer can do whatever they want regarding that.
It's no different than if you get fired from your job for stealing time or something. Even though charges are never pressed, if it comes up later in a background check or reference check, the company doesn't have to hire you, or can fire you.
Most employment applications these days ask if you've ever been terminated from a job. It would also depend on whether or not 1) The Athletic has that sort of question on an application and 2) if Birm answered truthfully.
There's no statute of limitations on past decisions when it comes to employment.
He didn't get fired for the incident reported in this article. He got fired due to a separate sexual harassment complaint.
It sounds like he was actually fired from a SEPARATE sexual harassment allegation--not the one that's being reported in this article.
I wasn't saying you were wrong either, haha, just expanding on your point. There's no real "right" or "wrong" way here.
There does, however, seem to be a way that will win you more national titles than the other way.
It's ultimately just the two "ways" these coaches choose to win.
Saban is the business executive, he makes his decisions based on what will win the game, point blank. And if he loses, meh, he's got 5 other national titles saying the way he does things is fine. And I from what I can glean from Bama fans, that's what they expect from him.
Meyer coaches through emotion, he wants to win the game, but he places a lot of value on loyalty. It wins you a lot of games, it gets you to 2-2 all-time against Saban, it gets you three national titles, but it won't always get the consistent championships like Saban gets. And knowing (most) OSU fans, they value it too. There's a lot placed on loyalty to players because of "what they've given".
Neither way is "right" or "wrong". But at this point in their respective careers, I wouldn't imagine Saban coaching like Meyer and I wouldn't imagine Meyer coaching like Saban. Urban will win his championships, but Saban will win more.
I'm watching highlights and what the hell was that coverage on the final play? 2nd and 26 and Mel Tucker's calling a Cover 2. And that safety gets looked off by a true freshman QB. Sheesh.
I can't blame Alabama for being able to take advantage of the opportunities to win a Natty that virtually no one else gets:
2011: get a rematch against a team that previously beat them (something Ohio State didn't get in 2006)
2012: get in the title game because Ohio State is on bowl ban and beat ND
2017: get in again largely on reputation after failing to win the division and an otherwise poor resume (something Ohio State didn't get in 2015)
Again, props for winning it when they get there but they get some huge luck
Weird thing is these were B1G refs who usually have no issue throwing tons of personal foul flags
And I bet all the Bama fans are just torn up that Jalen Hurts won't be able to set some longevity-related record like TDs responsible for now.
Urban's offense works exceptionally well with a QB that can sling it
The only thing keeping me going is that Ohio State is currently 1-0 against Alabama this century
Most TDs responsible for, Big Ten History:
1. JT Barrett
2. Drew Brees
3.......

Tommy Armstrong. Yeah.
I like to think of JT split into two: JT the Legend and JT the QB
JT the Legend more than once carried this team on his back to victory. Who willed himself for the extra yard on more than one occasion to save a game or save a season. Who deserves all the records he set while here, even if many of them are longevity-related.
And there's JT the QB, who you weren't sure would show up under the bright lights. Would it be 33 for 39/328 yards vs. Penn State JT or 19 for 35 for 183 and a pick vs. Oklahoma JT? Who deserves to be mentioned in the same sentence as Smith, Pryor, and Schlichter, but not Krenzel, Jones, and Kern.
One things for sure--I'll never not thank JT Barrett for what he did for four years here, because I never doubted his passion or commitment to this team.
That was the season that did in natural grass at the Shoe--I believe it had to be replaced twice during that season.
Yeah--as I've gotten used to the new artificial turf field and really don't mind it like I once did--I definitely miss those old endzones.
She was basically their primary reporter. Pretty much all the interviews you hear on The Fan were done by Lori. All the other more prominent people on The Fan are just studio talent/in-studio producers.
But she's been around for probably...15 years?
Scroll to the bottom of this page and you can see what the rooms look like in 360 view.
Hint: Looks like a hotel lol
https://housing.osu.edu/roomsearch/lawrence-tower