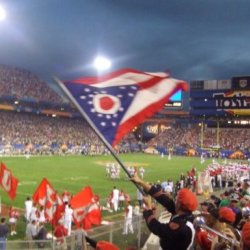 tbdbitlbuck
---
MEMBER SINCE April 23, 2013
Recent Activity
"Puck luck" is absolutely a thing
The Jackets have been to the playoffs for three straight years and are playing some of their best hockey in a few years. This team wasn't supposed to do jack this year and here they are...
I came here in hopes that you would mention the Jackets and was not disappointed.
Seriously people, the Jackets are on a really, really fun ride right now. 11-14-4 and 11 points out of even a wild card spot on December 7th. One of our two best defensemen, Zach Werenski was put on IR the week before. Emil Bemstrom put on IR the next day. Ryan Murray (a top 4 defenseman put on IR on the 20th. Savard and Harrington (two other defensemen) are out with injuries for multiple games. Somehow, the Jackets find a points streak during that time between 12/7-12/31 (going 6-0-4). Top line winger Cam Atkinson goes down with an ankle injury that keeps him out multiple weeks. Other top line winger Oliver Bjorkstrand is out 4-6 weeks with an oblique strain. Then our all-star goalie Joonas Korpisalo goes down with a torn meniscus and we have to play a rookie goalie, Elvis Merzlikins, that's never won an NHL game. How does he do?
Goes 9-2-0 the month of January with three shutouts and the Jackets are currently sitting in WC1 and one point back from third in the Metro.
This team at points was basically a glorified version of the Cleveland Monsters, and remember, all three of our big free agents decided not to re-sign this year.
Watching this team is a blast and there's plenty of room on the bandwagon.
Thank god basketball season coincides with hockey season. Jackets are on a tear or this would be a truly miserable football offseason.
When I went to the OSU-UM game with my dad in 1994, we parked around Indianola and 16th and walked to the stadium. I was around age 10 then and I can remember thinking that was the longest walk I'd ever taken in my entire life. We stopped at that old Wendy's that used to be at High and Woodruff and when my dad told that we were just about halfway there I couldn't believe it. I thought I'd walked hundreds of miles.
Then later when I ended up on campus, 15th and Indianola to the stadium isn't at all what I would consider far lol
Later, we stopped at one of our neighbor's daughter's apartments because he needed us to take her something. I remember thinking this place was like THE coolest place I'd ever seen. Only later did I realize it was Olentangy Commons, which I would later live in (it wasn't that cool)
Exactly. This is a futile exercise because there's an assumption that Joe Burrow, had he stayed, would have followed the EXACT SAME path as he did at LSU.
There's entirely too many variables to begin to understand the "what ifs" and "who was better" and "what was the better decision". It ultimately turned out well for both teams. Things aligned perfectly for LSU this year and Burrow stepped up.
Who knows if Burrow would have even stayed here another year if he played for us last year. Odds are he might have a Haskins-ish type year and like you said, bolted to the NFL.
He finished 3rd nationally in pass efficiency, 3rd in passing TDs, and his final three games of the year he threw for 320, 299, and 302. All while throwing about 200 fewer passes than Joe Burrow did.
Also, Fields did this as TRUE SOPHOMORE.
Okay. Nick Saban IMO the best coach that ever roamed our sidelines
I hope at the least we showed there's absolutely no reason why a Big Ten Champion OSU team should ever be left out going forward. We should be in the playoffs every year.
He's the best QB to ever wear scarlet and grey, even if ultimately achieved success elsewhere.
This isn't a thing, guys. I said this in another thread but Ohio State fans want wayyyyy to much credit for Joe's success. Dude threw 39 passes here and suddenly he's "the best QB to ever wear scarlet and grey."
Absolutely a natty is better, I think our fan base is being a little presumptuous about Burrow being who he was this year on our team.
Burrow was in basically a perfect situation at LSU this year with a perfect coach (Joe Brady) to succeed. He hasn't been here in over two years. I think we're taking way too much credit for Burrow and just assume that he would have done the same thing here. Sure, Burrow COULD have been this good here, or maybe he wouldn't have been. Maybe he, like other posters say, would have had a Haskins-type year here last year and gone pro?
If you're gonna consider "what could have been", you have to do it from both sides.
Mkay. Well Joe is a 5th year senior and Justin Fields is a true sophomore...
Dumb take. Burrow wasn't nearly good as Dwayne was last year.
Also--if Burrow was here for a senior season, I'm not sure Fields would have even transferred here. So you're assuming we would have had two years of Fields when we more likely would have had zero years of him
I agree--this was the best outcome possible for what was left. LSU controlling a game (it means that our game against them wouldn't have been a given, unlike if Clemson rolled) and Clemson getting multiple calls against them (ya hate to see it).
That said, I hope LSU goes down in flames next year.
I will always feel the injustice of 1) being snubbed by the committee for the #1 seed and 2) being on the receiving end of some of the worst calls we've seen this past year. Hope our boys are hungry.
I want LSU to win, but I agree that I think this is very likely, unfortunately.
Yeah same here. Not worth it for me to take any extra steps to watch the game. It's stupid as hell they broadcast this on cable but whatever
Exactly. I need LSU to win at least somewhat convincingly just so I can have some plausible deniability about our chances. If Clemson steamrolls them then I just don't think I'll ever get over this. I need LSU to win for closure.
$450 is still a lot for effectively a four hour event--and as MB stated, it's a lot of hassle.
It's not so much that it's not worth $450, I just think what I could get for $450 that has much more value to me. Rather watch the game at home and take the $450 and get round trip flights to a destination that I could experience instead of something I can watch in HD at home from my couch
Totally agree about consistency--that's the key. Urban had great teams, but had great inconsistency. And that was true of him at Florida as well.
If Day can be more consistent, he can definitely push this team into that top tier. We've seen what he did Year 1, let's see what this looks like Year 2 when he needs to replace a lot of key pieces on his defense.
Ohio State needs to 1) consistently make the playoffs. There's no reason Oklahoma should have more playoff appearances than us. A lot of that had to do with some pretty bad losses under Urban Meyer, but we need to--in the seasons where we lose maybe 1 game--still show a lot of effort doing it.
We then need to 2) make more national title games. We've been in one since the playoff era began. First round playoff losses make us no better than Oklahoma. And then we must 3) win multiple national titles. Not just one, multiple.
Right now I think you have essentially two "tiers" at the top:
1a) Clemson and Alabama
1b) Ohio State, Georgia, and Oklahoma
I would love to have the kind of sustained success that Alabama has under Day, or even the rush to championships and being a consistent contender like Clemson. Alabama is old money, Clemson is new money, and I just want to be in that conversation. We had our chance a week ago to make that push, but we couldn't get it done. Step 1 is getting that part done.
And looking at past coaching success, year two is the year that a coach wins a national title.
The trophy cases suggest otherwise. You want to be in the conversation as the best, you must beat the best. We have not yet beaten the best.
From there, you need championships. We have two since 2002. Not bad, actually pretty damn awesome when you consider that, since 2002, only 8 teams have won national titles. But we haven't done something like winning 2 titles in three years.
My first meal on campus was at the "old union" at the Mark Pi's that used to sit in the food court. It was about 2 hours after the last tryout for the OSUMB and therefore about 3 hours before we found out whether or not we made the band. I remember not being hungry at all from nerves but the Mark Pi's was so good...